D.I.Y. projects that add an easy pop of color…
This past weekend I was very fortunate to retreat up to the mountains with my family for a little R & R where we enjoyed picture perfect weather, a tour of Lake Arrowhead on my cousin's speed boat, way too many gourmet-style meals, and lots of reading and lounging around. Catching up on my magazines, I came across this cute nursery in Parents (June 2011 issue) and thought I would share a few of mom Amanda Kingloff's ideas to spice up a nursery scheme on a budget.
VINTAGE YO-YO'S for cabinet knobs: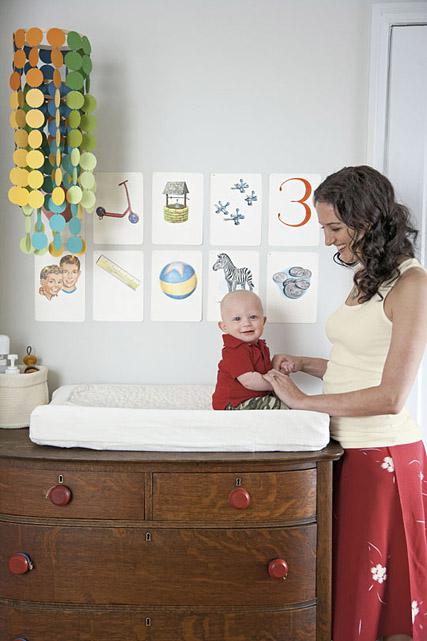 What you'll need:
Wooden yo-yos, drill, 1½"- to 4″-long hanger bolt depending on thickness of drawer panel, pliers, nut
Make it:
1. Pre-drill a hole slightly smaller than hanger bolt into back center of yo-yo.
2. Twist hanger bolt into hole with pliers until it's at least ¼" into yo-yo.
3. Insert bolt into hole in front of drawer and fasten tightly with nut.
PAPER DOT MOBILE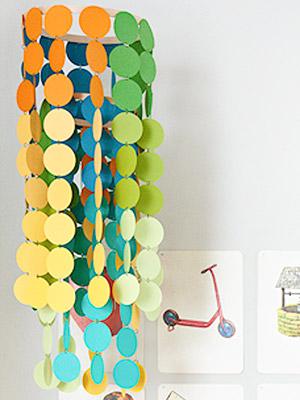 What you'll need:
9 pieces of 12″x12″ cardstock, 2″ circle punch, small hole punch, 8mm jump rings (small split metal rings commonly used in jewelry design, $3.30 for 200), needle-nose pliers, hot-glue gun, 2 embroidery hoops (8″ and 6″), fishing line, screw hook
Make it:
1. Cut circles with 2″ punch.
2. Punch holes about 1/8″ from the top and bottom of each circle, and string 9 circles together using jump rings. For the top and bottom circle, only punch one hole. Make 12 strands.
3. Hot-glue top circle of each strand to 8″ embroidery hoop; space them about ¼" apart.
4. Make 9 more strands and repeat with 6″ hoop.
5. Glue fishing line to three equidistant spots on inside of each hoop. Hang from hook, with 6″ hoop about 5″ lower than 8″ hoop.
SUSPENDER CURTAINS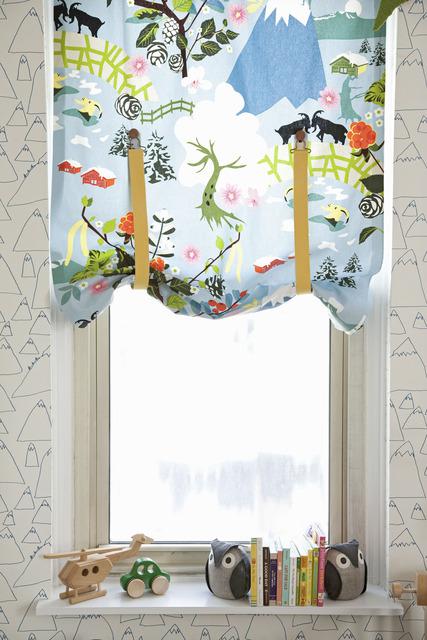 What you'll need:
Fabric (Annamoa in blue, $8 per yard; Ikea stores), Fusible Bonding Web (Stitch Witchery, $2), iron, scissors, overall buckles ($3 for 2), 1″-wide canvas straps, hot-glue gun, 2 buttons, needle and thread, curtain tension rod
Make it:
1. Measure height and width of window. Add 3″ to 4″ to width and 6″ to height and cut fabric to fit.
2. Fold sides and bottom in about 1″ (press with iron) and use fusible bonding web to hem (follow package directions).
3. Make rod pocket by folding top of curtain down 5″ and securing with bonding web.
4. Lay curtain flat on work surface to decide how high the shade will be when drawn. Position buttons on front with straps behind fabric and fold straps over to front. Cut straps to suit panel.
5. Insert strap into overall buckle and secure with hot glue. Repeat.
6. Sew button to front of curtain panel and then sew end of strap directly behind it. Repeat.
MONKEY CHAIR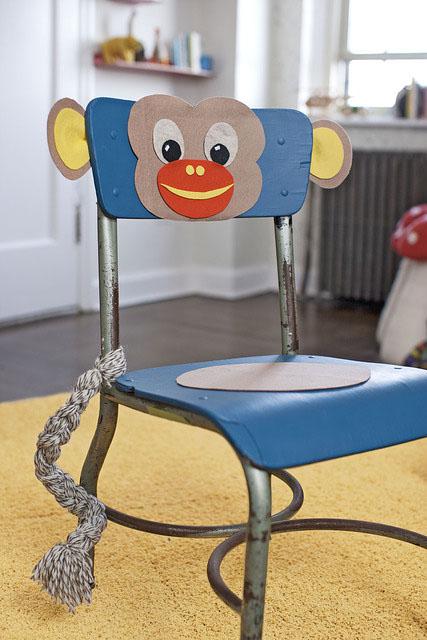 Make it: Amanda shares, "I found this old school chair in the trash and gave it a kiddy makeover with paint, felt, and a braided yarn tail. A piece of covered floral wire gives the tail its shape." Download the monkey face templates here.
STUFFED ANIMAL STORAGE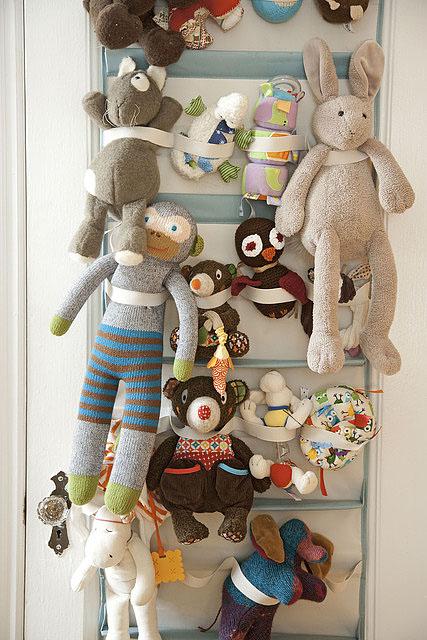 Make it: A basic shoe rack solves the storage problem for Oliver's plush pals. (shoe organizer, $20)
YARN PENDANT LAMP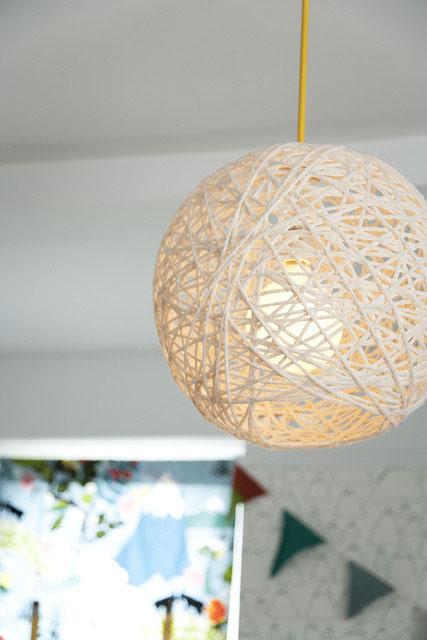 What you'll need:
Brown paper or plastic sheeting, 24″ beach ball, small paper plate, masking tape, yarn or string, rubber gloves, Aleene's Fabric Stiffener & Draping Liquid ($7 for 16 oz.), bucket, scissors, Hemma cord set ($4; Ikea stores), craft stick
Make it:
1. Protect your work surface with paper or plastic.
2. Tape small paper plate over ball's air valve.
3. Roll yarn into a loose ball, if it does not come that way. Put your gloves on, and submerge yarn in fabric stiffener. Then, work liquid into the fibers of the yarn.
4. Place two strips of tape parallel across bucket, leaving a slim gap in between, and pull end of yarn through the slit. This creates a squeegee to remove excess liquid.
5. Starting on opposite end of ball from plate, begin wrapping yarn tightly so it does not slip. Avoid wrapping plate, as this will be hole in bottom where you will have access to lightbulb.
6. Continue wrapping to desired fullness. Let dry for 24 hours.
7. Remove plate and deflate ball; pull through bottom hole.
8. Cut Hemma cord to desired length, leaving room for bulb to hang in center of the ball. Insert end of cord through top and wire into ceiling (or hire an electrician to do this for you).
9. Tie a knot in cord and insert craft stick through knot as the stopper. Let shade rest on stick and screw in lightbulb.
D.I.Y. FAUX-HIDE RUG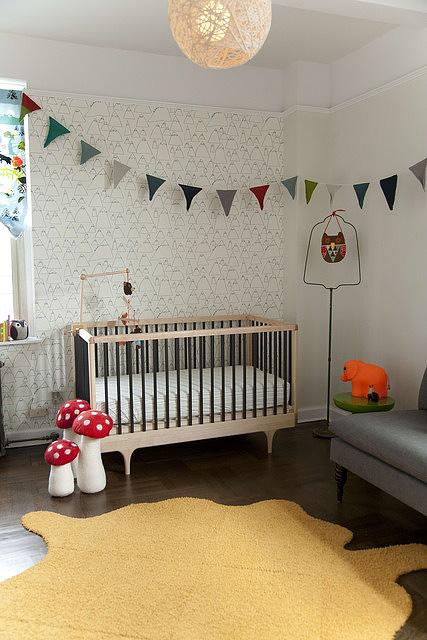 Make it: This carpet-tile set from FLOR comes with a utility knife and easy-to-follow cut guides. FLOR D.I.Y. faux-hide rug set, multiple colors, $273.99
Cute, right? Thanks Amanda and Parents!