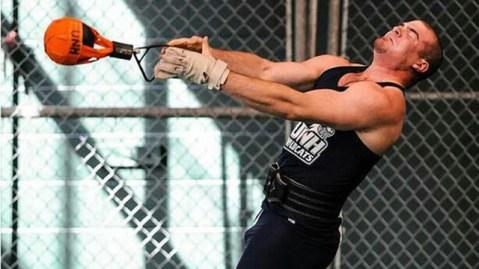 This week I am offering my praise of the week to Cameron Lyle.  Cameron is a senior at the University of New Hampshire.  The 21-year-old recently learned he is a 100% bone marrow match to a complete stranger in need of a transplant.  Cameron entered the bone marrow database as part of a university-driven registry during his sophomore year.  The chances of being a 100% match with a stranger are 1 in 4 million.  Usually you find a perfect match from a close family member or relative.
Cameron learned the patient had only 6 months left to live.  Without hesitation the young man agreed to donate.  His selfless decision effectively ended his athletic season.  You are unable to lift more than 20 lbs over your head for a few weeks after the procedure.  Unfortunately that meant Cameron wouldn't be able to participate in his last two events, which of course included shot put. 
Cameron says: "basically they're putting needles in my pelvis between one and two hundred times, taking all the bone marrow out…it took the whole second half of the season out of play for the championships."  All Lyle knows about the recipient is that he's 28 years old and suffering from acute lymphoblastic leukemia. Cameron simply wants to give the recipient a second chance in life.
His selflessness his truly inspiring.  He doesn't have to donate his bone marrow.  No one would have known of this story had he said no.  Therefore, he wouldn't have been subjected to ridicule or public debate.  My point is that he didn't make his decision because he sought fame nor did he make it because of peer pressure.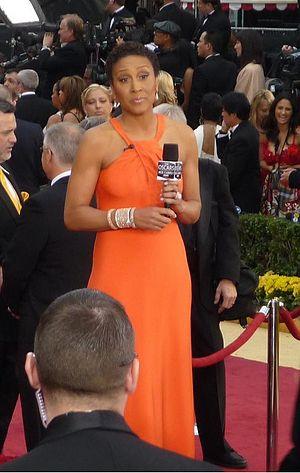 English: Robin Roberts, newscaster on ABC at 81st Annual Academy Awards. (Photo credit: Wikipedia)
Many people know of ABC's "Good Morning America" co-anchor Robin Roberts.  Robin, a recent breast-cancer survivor, was diagnosed with Myelodysplastic Syndrome (MDS) as a result of her chemotherapy for breast cancer.  She received a bone marrow transplant from her sister last October.  Roberts is very involved in bringing awareness to MDS and other diseases in which a transplant is necessary.
Roberts helped bring attention to the Be the Match website.  There, potential donors can easily be added to the registry.  Who knows maybe you are a match to someone you don't know.  By simply taking a cotton swab you might be informed that you could save someone's life.  If you are interested in joining you can click here.
I think what Cameron did was pretty awesome.  It's nice to know there are some great representatives of people in this country, especially people around my age.  Many times we millennials are depicted as a selfish and celebrity-obsessed group.  Glad to prove them wrong.
Email: [email protected]
Twitter: @adrakontaidis & @talkrealdebate