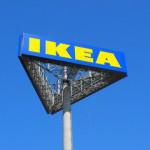 After reconnecting on social network site (probably Facebook), Julie Rodgers and Willie Pittman aka Bunny and Bear were married on April 17th, at IKEA.  The two grew up together in DC, attended the same schools but Willie always thought Julie saw him as a big brother. 
I believe the big brother misconception has been cleared. 
The two had their first "date' at IKEA on April 17th of 2011.  Their April 17th, 2012 wedding was handled by the staff at the College Park IKEA.  All items used for the wedding and reception were provided by IKEA; they even catered the event.
It's a cute story: