Ermanno Scervino's collection for the spring/summer 2014 season really caught our eye as it seems to be very practical and still rough, classic and modern and something many men can enjoy.
It looks like they got their inspiration from men who embody or embodied a while ago style in the popular perception. The collection has a little of everyone: from Steve McQueen to James Dean and from Mick Jagger to Barack Obama.
This set of contradictions and intersecting directions are the things that make this collection so special. It's both a casual formality and a formal casualness. This result is achieved by combining rather formal fabrics with more casual ones, and the tone is therefore, undecided or, better put, mysterious.
It's really a collection based on oxymorons: a continuous contradiction that eventually transforms itself into something original and new.
In terms of fabrics, we see a lot of leather, followed by silk, cotton,  suede, technical mesh, mohair, cashmere and lacquered denim. The predominant colors are beige,followed by sage green, orange, army green, dusty and denim blues, and black. As accessories, we can see that they like derby shoes, cotton scarves, slim leather belts, silk scarves,  and silk ties with rhinestones.
Have a look at some photos from the runway show and make up your own commentaries about the collection.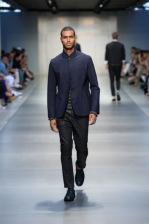 It looks like fit is the norm for this collection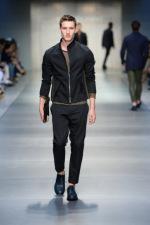 Don't forget those shoes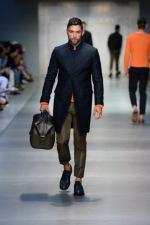 A great coat that we really liked.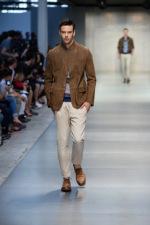 Casual with a not-that-obvious pattern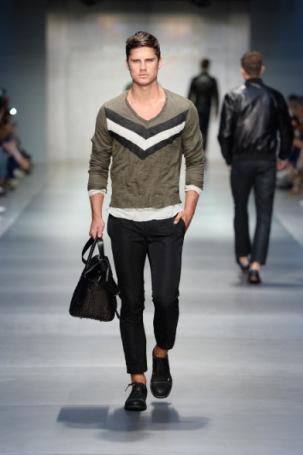 Don't forget to bring those prints.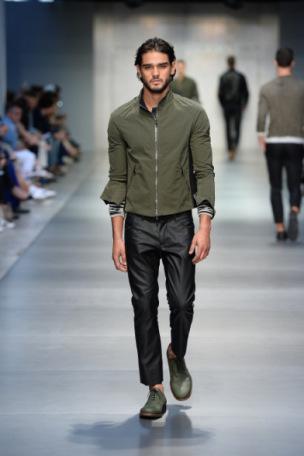 Simplicity at it's best.
Fraquoh and Franchomme
P.S. What do you think of the collection? Share your thoughts in the comments below!
If you liked this article, don't forget to subscribe to our site or follow us on Facebook!