Storm Ciara blasted through the UK recently. At the start of the storm I was on a sewing weekend in West Yorkshire and we had to evacuate late Sunday morning due to flooding. We relocated for lunch higher up before a long drive home avoiding yet more floods. I feel for every one affected in their homes and businesses by the recent storms and the seemingly constant rain. I was glad when I got home and it was still light and so I went for a wander around the still very blustery garden. All looked well until......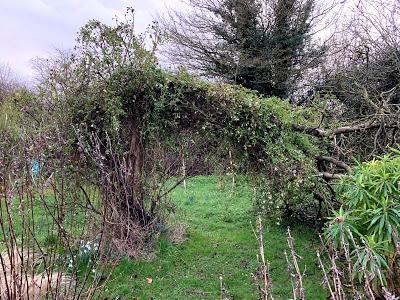 .... the eating apple tree had snapped in half. It is an old tree, I think most likely planted when the house was built around ninety years ago. The climber on the tree is a rather lovely Clematis cirrhosa that is flowering very well. I cannot decide if it helped pull the tree down or was holding it up. I suspect both.
The light was going fast and there was no time to deal with it there and then, so I thought to myself that I would tidy it when the weather allowed. It was not going to damage anything crucial if it collapsed further so I was not worried about leaving it.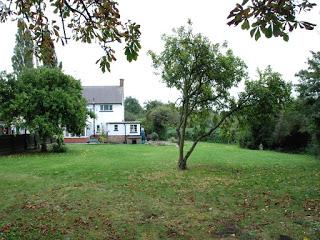 This is how the apple tree looked the week I moved into this house back in 2007. You can see that there are two trunks with one leaning quite a long way out. I was advised to have this removed as it would only fall at some point. This duly done, the tree has remained a tall single trunk since then, with the apples too high to pick.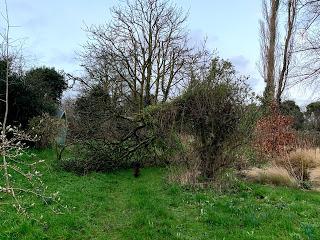 I walked around the tree to consider how I will tidy it up and I saw that ....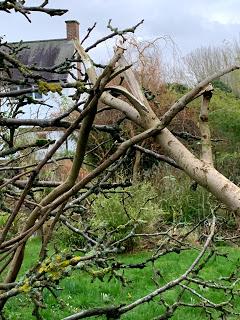 ....the catalpa tree had been caught in the fall. Catalpa trees are fairly forgiving and generally want to grow so I am fairly sure that this will grow anew. It might have a better shape when it regrows as it was a bit wonky.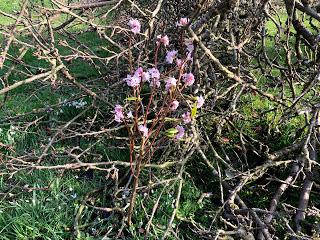 Then I remembered the Daphne Jacqueline Postill, a relatively new addition to the garden and it had been flowering really well. As Jacqueline is still quite young she is still quite bendy, so I managed to release her with little apparent damage.
Storms, rain and wind raged for the next couple of weeks. We said farewell to Ciara and saw Storm Dennis arrive. There was no chance to get out into the garden and tidy up the tree.
Then there was a pause, a sort of pause. It was a windy day and it did keep raining but there was a lull and I was going to take it. I was struggling quite badly from not being out to get into the garden. It is where my heart lies and not being able to get outside and work is very hard for me.

The time had come to tidy up. Not for the first time I blessed day I was given a Stihl battery powered chainsaw to trial some years ago. Four years later and it is still going strong. I started to remove branches so I could lessen the weight on the fallen trunk and also see what was actually going on. It was apparent that the tree had pretty much snapped in half.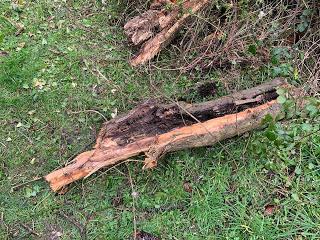 Soon I was left with just lumps of trunk to remove. As I looked at it it was not hard to see that this poor tree was quite rotten in the middle and so it was no wonder it had snapped.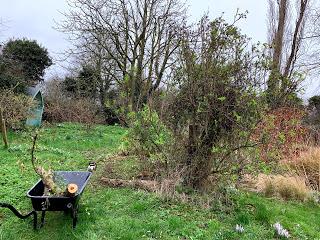 The job was eventually completed. It took an hour or so and I got rained on a couple of times, but never enough for me to think I should give up and go inside. As I stood and looked at it I know that I still have to tidy up the clematis and the rose that grows around this tree, Wild Edric. That will be for another day if the rain ever stops.....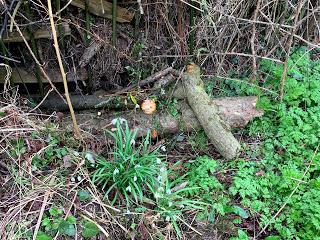 The sections of tree have been put around the edges of the garden to provide some nice rotting wood for wildlife and insects. Nothing has been wasted.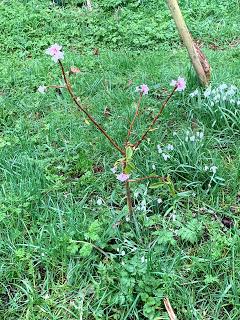 Jaqueline did unfortunately take a bit more damage though as, like the sky falling on Chicken Licken's head, a branch landed rather heftily upon her. She will recover though I am sure.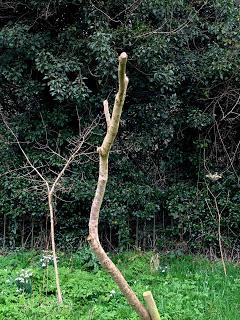 I tidied up the Catalpa as well; I am sure this one will be fine once we get to Spring.
I am also hopeful that the apple tree might start to regrow from the trunk that is left. Maybe when it regrows it will be possible to reach the apples again; time will tell. This whole episode has been a lesson in how the garden moves and evolves irrespective of my wishes. I can plant things here and move things there, but there is not much I can do when nature decides what will be. There is a strange vacuum of space around the tree where the height is no more. Soon I will get used to this, the edges will gently seal themselves and the view will resume normality. The garden, as ever, continues.