Northern Irish artist Colin Carruthers' gorgeous seascapes evoke specific memories in non-specific ways. His non-representational, but rather idyllic oil paintings of coastal scenes depict the landscape free from distractions or tell-tale landmarks, leaving the image natural and carefree, as in our memories.
Colin earned a BA Honours in Fine Art from the Birmingham Institute of Art. Although based on actual locations, he removes telling landmarks, people and other signs that detract from the emotional memories attached to a place that the viewer may remember from their own travels. In essence, they are physical representations of a memory or idyllic place. Colin aims to create the feeling or sensation of a particular place without overtly stating where the place is, aside from in the title of the painting.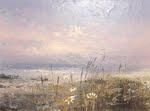 Many of his seascapes are based on the Scottish coast, particularly the Fife coast.
Colin regularly travels to Scotland and finds the drama of the Scottish coast to be a source of influence and inspiration for his work. He views his work as a challenge, searching for more than just pure aesthetics. 'There's a challenge involved in my art work,' he says. 'With every canvas I attempt, I am searching for something. Beyond simply looking at my paintings and gaining an aesthetic pleasure, I do think it's important that they offer up space for thought. Colin's paintings, often created in a variety of subtle colours, blues, purples, greens, depict the landscapes at their best, with bright sunset light, or strong clouds, white crests of waves or wildflowers overlooking sandy beach.

While Colin's paintings are not what a camera might capture of the same location, they evoke more memory and emotion than a snapshot, allowing for the changing nature of the landscape. Many of his paintings, including 'Cloudburst' and 'Cowslips, Buttercups' are painted as diptychs or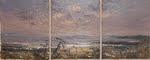 triptychs, a single scene covering multiple canvases. Each separate section of a diptych or triptych is a complete composition of its own, depicting a beautiful section of land, made all the more dramatic by its inclusion in a larger composition.
Colin's style is reflective of the fact that land changes constantly. 'What adds to the experience of my paintings is the sense of ongoing changes in perception… The coast keeps 're-making itself'. I want my canvases to reflect that,' Colin said.
We have a number of Colin's dramatic pieces here in Artery in a variety of sizes and styles. Pop into the gallery and see how his work brings back holiday memories for you or to find a souvenir of your travels to Scotland.
www.arteryuk.com