A clove of garlic a day keeps the doctors away…..

The happy coincidence is that I love garlic and this cold soup is one of my favorites just because of it.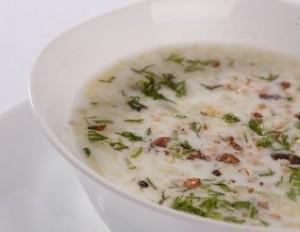 Serves 5 - 6
Prep time 10 minutes
Cook time 10 minutes
Total time 20 minutes
Meal type Soup, Starter
Misc Serve Cold
Region European
A simple, refreshing and delicious summer cold soup with Greek yogurt, water, grated cucumber, smashed garlic, fresh dill and walnuts.
Ingredients
30oz Greek yogurt (preferably organic e.g. Stonyfield)
30oz cold water
1 large cucumber (peeled and grated)
2-3 cloves garlic (smashed)
10ml olive oil
a bit of finely chopped fresh dill
walnuts (raw and chopped)
salt (preferably Himalayan)
black pepper
Note
This recipe may be prepared without adding water. The result will be a Greek "dzadziki" salad.
Directions
Step 1
Mix the yogurt with the cold water. Add the grated cucumber, smashed garlic and chopped dill. Pour the olive oil and stir well.
Step 2
Finally, add salt, black pepper and walnuts.
Step 3
Store in the fridge.