Saw this video on Instagram and since it is in Japanese, I have to guess my way to create it.
This Cold Chicken Salad is simply delish on this hot weather.  Good enough for lunch or dinner.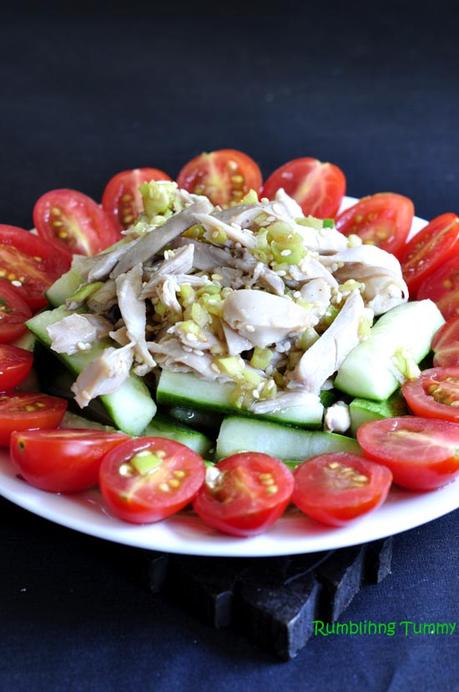 After attempting it, I think this can be an easy dish to bring to a party.
What you need:
2 Chicken Thigh or chicken breast


½ tsp salt


2 Japanese cucumber (I only have cucumber on hand)
Cherry Tomatoes
1 spring Spring onion
1 tbsp mirin
Seasoning


½ tsp sugar




½ tbsp vinegar




1 tbsp soy sauce




½ tsp white pepper




½ tsp sesame oil




1 tbsp toasted white sesame


Method:
Cut the spring onion, leaving the stalk for the seasoning.
Season chicken with salt, place the spring onion on the chicken and steam until cooked.
To prepare the seasoning:
Dice finely the spring onion stalk.
Combine the rest of the seasoning together.
Once chicken is cooked, removed 3 tbsp of the juice and add into the seasoning.
Shred the chicken up and place it back into the remaining juice.
Cut cucumber the into wedges and slice tomatoes into half.  Arrange on serving plate.
Place shredded chicken on top.
Drizzle in the seasoning.
Serve
Enjoy!


If you have enjoyed this post by Rumbling Tummy, be sure to follow her on Facebook, Instagram, Pinterest, Twitter and Google+ .