Rafael Nadal and Maria Sharapova led a parade of former champions into the Wimbledon second round after Marion Bartoli briefly lit up Centre Court without swinging her racket.  Wimbledon champion Marion Bartoli burst into tears on her return to Centre Court before taking the best seat in the house for an occasion in which she might have played the leading role. The 29-year-old Frenchwoman's retirement within weeks of her career's crowning glory last July means she is in London for this fortnight to offer choice analysis on television and savour the final days of her reign.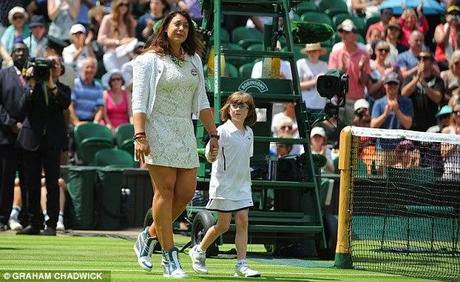 It was an appropriate occasion for Wimbledon to pay its own tribute to former British number one Baltacha, who died of liver cancer at the age of 30 on May 4, and Bartoli and her young assistant performed the coin toss before the match as they met at the net with Lisicki and Glushko. The young girl was from the  Elena Baltacha Academy of Tennis . To update on field happenings, the entertaining Cypriot Marcos Baghdatis went out to Argentine Leonardo Mayer 7-6(4), 4-6, 6-1, 6-4 in a second round match that never showcased the best of his talents.
Miles away, Italy coach Cesare Prandelli tendered his resignation in the wake of the country's elimination from the FIFA World Cup in Brazil. Italy's 1-0 defeat to Uruguay in Natal meant they missed out on progression to the knockout stages from Group D. 

The most ruthless soccer players often use their hands or elbows or knees to rough up opposing players. The most reckless — or dirtiest — might even use their cleats. The entire scene was surreal: The referee — a Mexican named Marco Rodríguez, whose nickname is Dracula — did not notice and paid no mind to Chiellini's attempts to pull his collar aside to show what appeared to be bite marks on the back of his left shoulder. Moments later, Uruguay scored the only goal of the game.

The 1-0 victory simultaneously eliminated Italy from the tournament and made certain that the Suárez incident would become an unappetizing reference point in the annals of soccer history.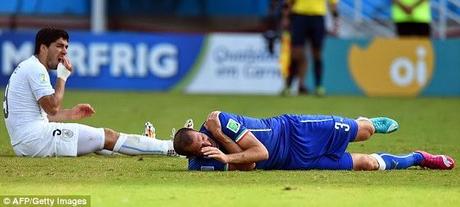 Suarez checks his teeth ... Chiellini writhes in pain....
Among the animals, Lions do not find the top position in terms of power of the bite.  Lions reportedly  are so cooperative when they hunt that this might be one of the reasons they have a evolved to have the weakest bite of the genus Pathera or big cat. Another reason might be that their hunting habit, strangling its prey by biting its trachea, lacks the need of a strong bite.  Well, it need not be a jungle animal – we fear dogs ….. and we read that horses bite other horses: the most submissive ones don't get to bite anybody! Biting another horse is usually about establishing or reinforcing herd order, where the more dominant horse bites a less dominant horse, usually for failing to move away in response to a lesser gesture such as ear-pinning, head-snaking or just a glare. Horses bite for a number of reasons. In the pasture, they may bite in play, to defend themselves, their food or offspring, or to discipline a young horse or one lower in the pecking order. A horse that is aggressive, or has a lot of pent-up energy may act out by biting. Stallions, in particular, can become dangerous biters.  Horses bite, or try to bite, people, too ……..
FIFA can confirm that disciplinary proceedings have been opened against the player Luis Suarez of Uruguay following an apparent breach of art in match Italy-Uruguay played on 24 June 2014.  According to art. 77 lit. a of the FIFA Disciplinary Code (FDC), the FIFA Disciplinary Committee is responsible for sanctioning serious infringements which have escaped the match officials' attention.
~ and all the news is about the powerful Forward with 79 International caps in 29 years of age having scored 41 International goals.   Telegraph writes biting is an act borne of frustration, stress and loss of control. Luis Suárez is likely to have felt humiliated and put down in some way that he wanted to get one over on his opponent. Most people faced with these emotions would try to walk away and simmer down. According to the newspaper, researches show  that the most violent period of our lives is when we are between three and four years old. That is the most aggressive stage of development, because if we don't get what we want, we fight and lash out. It's also the stage when the Id takes over; a basic instinct when we can't control our temperament 
–

the way Suarez with moniker Cannibal made his incisors exhibited on another player deserves strong condemnation and strict punishment. This is the 3rd time Suárez has been accused of using his pearly whites during a game. He was suspended for five games for biting at the beginning of the season.
The victim - Giorgio Chiellini
 is an Italian footballer who currently plays for Serie A club Juventus and the Italian national team
– Walter Mazzarri once labeled him "a force of nature, from another planet" – with a penchant for scoring headers from set-pieces. He made his debut for Italy in 2004, and has since earned over 70 caps.
With regards – S. Sampathkumar
25th June 2014.