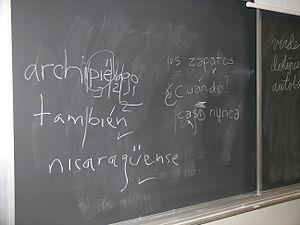 Image via Wikipedia
Based on facts, there are actually 100 public schools in the U.S. that allow young learners to learn language in all its varieties. As far as language methods applied in language schools are concerned, the most appropriate way to let these learners get the maximum results of learning foreign languages is through immersion.
There has been a research on immersion programs that show how learners become properly structured when they are engrossed with the target language. Whether learners are as young as five years old to as old as thirty five, both young and old learners alike can be equally effective in developing oral proficiency. Both also can achieve functional levels of bilingualism when they immerse themselves with the language.
Yet, there is indeed an edge for the younger generations when they learn languages in their early age. We all know such advantages right? But let us just elaborate such benefits.
According to Caccavale, children who start learning a second language before puberty seem to outperform, over the long run, older children and adults who begin the study of a second language after puberty and continue to study that language for the same number of years. "Similarly, children who start learning a language at young ages have better opportunities to develop native pronunciation and intonation."
As for Abbott, young learners who are exposed to language learning are a lot more advantageous. They actually have the ability to mimic closely the native pronunciation and intonation of a new language. "In addition, literacy skills that are being developed in the native language transfer to the learning of the new language. For this reason, research studies have shown academic gains by students who have begun learning another language at an early age."
Lastly, Stewart expresses that immersion programs are the closest to providing students with the intensive language experience they need to become proficient, no matter how young or old the learner is. "Not everyone has the means to study or live abroad, but immersion programs can do a lot to bring the language and culture to them. There are some excellent models in place in certain advantaged areas of the country. Every child deserves the chance to become a citizen of the world in such a rich experience."
If your child is currently learning foreign language using immersion method for learning, congratulations! You have decided to learn the language on its most effective manner. If you are still yet planning to let your child learn, take immersion courses for their advantage. Evidences above have expressed how advantageous it is when it comes to your child's cognitive effects!