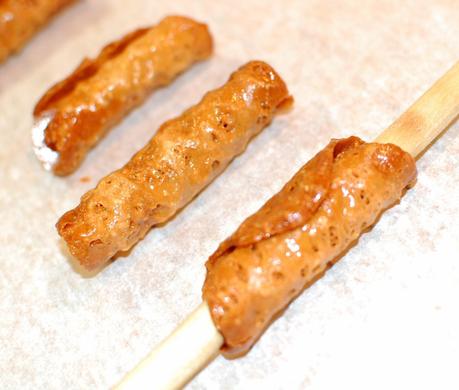 With a little cognac, a pinch ginger and some chopped cashews, these crispy and buttery cookies, which are  yummy by themselves, will elevate your favorite ice cream to new heights.. They are much like tuile cookies, with a thin, gooey batter that spreads a good bit during during baking. They can also be folded, rolled, or formed into small baskets to hold custard or ice cream. To shape these into spirals, you have to work quickly to fold them around the handle of a wooden spoon while still more than a little warm!
4 tablespoons unsalted butter
1/4 cup granulated sugar
1/4 cup brown sugar
1/4 cup light corn syrup
1/2 teaspoon salt
¼ teaspoon ginger, ground
1/4 cup all-purpose flour, spooned and leveled
1/2 cup cashews, finely chopped
2 tablespoons cognac (or brandy flavored extract)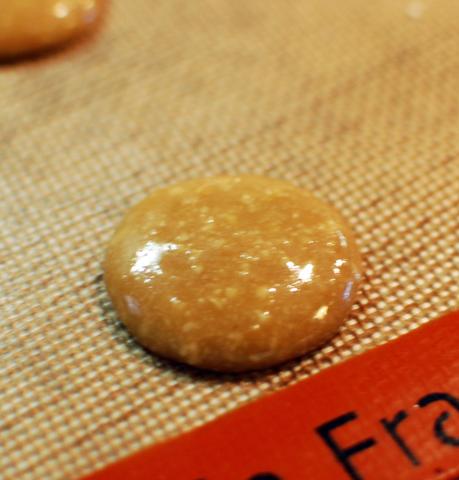 Pre-heat your oven to 375° F. In a medium saucepan, heat the butter, sugars, corn syrup, ginger and salt over medium-low heat, stirring occasionally, until smooth. Remove from heat and mix in the flour and ground cashews until just incorporated. Stir in the cognac and let the batter cool just slightly.
Drop level teaspoons of the batter onto parchment-lined baking sheets, spacing them 4 inches apart. I use two spoons because the batter is incredibly sticky. Do not underestimate how much the batter will spread; leave plenty of space between spoonfuls.
Bake until golden brown; about 10 minutes. The cookies will continue to cook a little more when you remove the sheet from the oven, but not significantly. If you want that "brown butter-caramel" crunch, let the cookies get golden to dark brown, not merely blonde. Blonder cookies will be chewier and milder.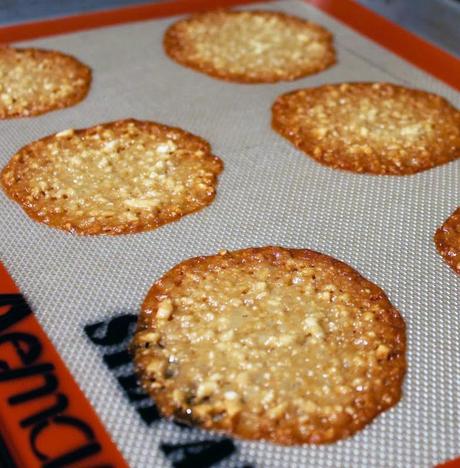 If you want to form tubes, quickly wrap the still warm and pliable cookies around the handle of a wooden spoon and let set. If the cookies start to harden before you have shaped them all, return the pan to the hot oven for 30 seconds to soften.
If you choose to leave them flat, cool them on the baking sheets until firm, 6-8 minutes, and then transfer the cookies to wire racks to cool completely. (Slather some Nutella between two of these wafers… just saying.)