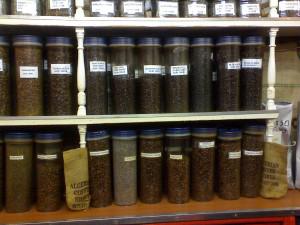 Coffees at the Algerian Coffee Store, Soho, London
For those who place purity above all, I do have lots of appreciation, although I do not believe that purity is at all possible – not in nature, not in the psych. When, i.e., Italians, other Europeans or North Americans create or produce a coffee in accordance with what they consider to be pure, I often experience great joy and they become my respect in return.
However, when I become a coffee in Mexico, Yemen, Turkey, Ethiopia and in many other countries where coffee is not only prepared, but cultivated, the word purity does not seem to be in their vocabulary. Not only water is added to their coffee. Dependant of Country and tradition, the addition might be cardamom, cocoa, cloves, rose-water, pepper, saffron and many other spices and ingredients.
Furthermore, most coffees we drink are a mixture, not single origins, and even the single origins are a complex creation of nature, each a complete victim of the nature composed in the very spot where the plant has grown.
Until now I had often worked with coffee and spices in a mortar, but this is the first time I have added pepper and can strongly recommended. I am looking here for a gentle kick, perhaps only a gentle edge, but not for a spicy hot coffee.
Put the following in the mortar:
20 – 25 g coffee seeds
1/2 a cardamom pod
one clove head (use ONLY the head)
1/2 a pinch of salt (preferably coarse types)
a small piece of cinnamon
one peppercorn
Independent of where you get the ingredients ground, avoid using too much water. Coffee and water should produce more of an oil flow, than one of water. Oils always linger better in the mouth.
Foto: At Algerian Coffee Stores, London