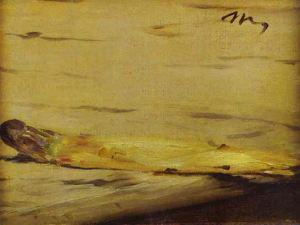 Asparagus from Édouard Manet (1832 – 1883)
One of the most wonderful times of the year has arrived. In some countries farmers and their helpers are arduously working in the fields to interrupt the natural growth of the Asparagus officinalis linnaeus, thus obstructing the plant from having its sprouts becoming proper fern bushes. They are call vegetable, but eating an asparagus is eating what would have grown to be a green bush, which – if female - could produce cute, but poisonous red berries. Birds, however, do eat this fruits, while contributing to a most interesting joint venture reproduction system of nature between vegetation and the animal kingdom.
In centuries of the past huge mammals ate avocados directly from the trees. After their digestion the seeds fell elsewhere and the avocado reproduction was on its way. When some squirrels crack a brazil nut and inevitably leave rests behind, further brazil nut plants could grow. And this is not different from the Luwak in parts of Indonesia who loves eating ripe coffee berries, thus contributing to the coffee production cycle in that part of the world. It is thus only the limited amount of this natural activity what thrives the horrendous prices for Kopi Luwak, but such ingestion and digestion activities are common in nature. To an extent, through our consumption of seeds – as opposed to fruits and vegetables - we have been contributing to natures evolution.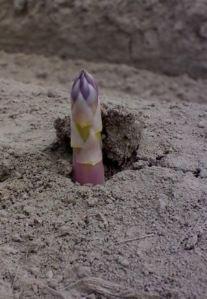 Asparagus turning purple: the 'problem' with the light / 15.may2010 Germany
Although some countries have been producing asparagus outside of its season, in Europe, where it originated, April, May and June are the only months of harvest. Last year I was so busy visiting asparagus fields, talking with farmers and trying out new recipes that the 2010 season came to an end and I was sitting on my thoughts. So now it is time to publish some of my recipes and have some of my readers enjoying along.
Herewith I proclaim the begin of the asparagus season (dramatized with coffee, of course). By the way, the asparagus seeds are one of the many products that have been used as so-called "coffee surrogates". In the history of coffee there were many individuals and movements trying to stop its path of success. This is one of the reasons roasted asparagus seeds, figs, chick peas and many other products, have been used to imitate, or replace the taste and use of coffee.