Coffee Quote #32 / Poverty without Coffee in Puccini's Opera "La Bohème"
Posted by sila on March 29, 2011 · Leave a Comment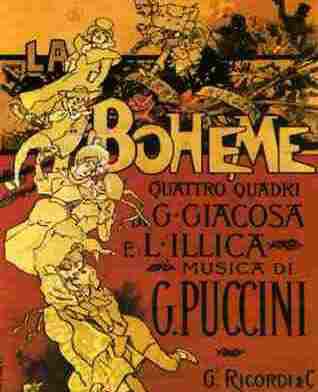 MUSETTA
I heard it said that Mimi, having left
the viscount, was dying.
Where was she living? I searched
and searched, then I saw her
pass in the street
hardly able to crawl.
She said: I can't go on …
I'm dying! I feel it .
I want to die with him.
Perhaps he's waiting for me …

MARCELLO
Hush!

MIMÌ
I feel much better.

MUSETTA
continuing
… Come with me, Musetta?

MIMÌ
Let me look round.
Oh, how nice it is here!
I feel stronger every moment …
… I feel life again here.

RODOLFO
Dear lips, …

MIMÌ
No,…

MUSETTA
to Marcello
What is there in the house?

MIMÌ
… you will …

RODOLFO
… you speak …

MARCELLO
to Musetta
Nothing!

MIMÌ
… leave me no more!

RODOLFO
… to me again!

COLLINE
Nothing!

MUSETTA
No coffee? No wine?

MARCELLO
Nothing! Oh, what it is to be poor!
(Shortly before Mimi dies) In the Opera 'La Bohème' (1896), from Giacomo Puccini (1858 – 1924), libretto Luigi Illica.