Coffee Quote #26 – Biblical (adapted) and with Recipe
Posted by sila on February 13, 2011 · Leave a Comment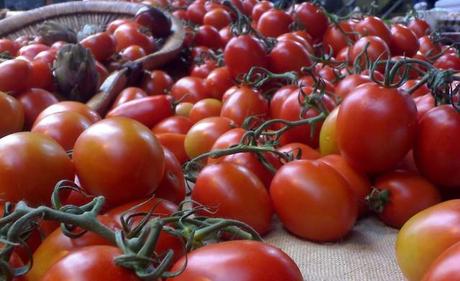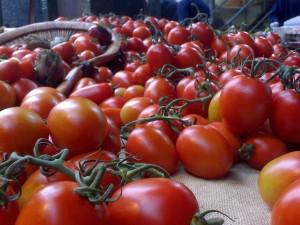 Tomatoes at the Borough Market, London / Oct. 2010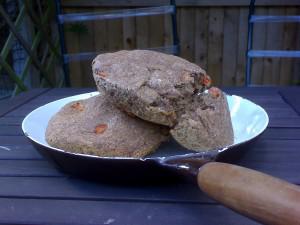 Broken Bread (with tomato and coffee) - oct.2010, London
And upon the first [day] of the week, when the disciples came together to break [coffee] bread, Paul preached unto them, ready to depart on the morrow; and continued his speech until midnight.
Acts 20:7 / King James Bible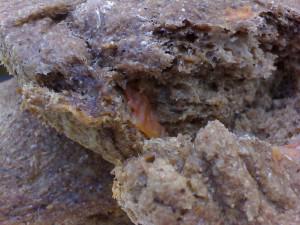 Broken Bread (detail) - with Tomato and Coffee
 With or without bible or bible knowledge, you may bake and break this bread yourself.
500 g whole-wheat flour
3 tomatoes (mid-size)
9 g salt
7 g coffee powder (very fine grind)
yeast for 500 g flour
7 tbsp olive oil
about 330 ml warm water
Mix flour, salt, coffee, and yeast with the olive oil, add the chopped tomatoes and finally start adding water slowly until the right consistency is obtained. Because of the juicy tomatoes you will certainly need less water than usual. Knead the dough about 20 minutes. In a bowl lightly covered with olive oil, put the dough to rest for about 40 minutes, covered with a moist towel. Knead the dough once more about 10 minutes.  Then, prepare the bread mold - again with a bit of olive oil - and let it rest and rise until it doubles in size. After covering the form lightly with aluminium foil, the bread bakes 15 minutes by 175° and after taking the aluminium foil off, another 30 minutes.
You might want to dip slices of fresh-baked tomato bread in olive oil with crushed garlic.
Enjoy!