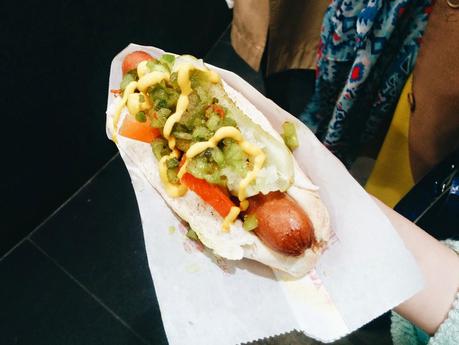 Chicago Beef Hotdog, Coffee Dogs, Kings Cross. Southern Square, Kings Cross London N1C 4AP. Open 7am-10pm.
So last month I fully whet your appetite with my frozen yoghurt treat at Coffee Dogs. Yeah, you read that right - frozen custard. And while that went down a storm for both you and I, I was pretty interested in heading back for some of their main menu.
Following another standard old work friends night out in Marylebone,
Carina
, Sophie and I took a jaunt to Coffee Dogs for a quick bite before venturing home. I'm a confessed member of the inaugurated and unspoken Londoners' Burger Appreciation Club, but the hotdog thing is yet to be experimented with.
I went for the Chicago Beef (£5), a beef hotdog 'dragged thru the garden' with crispy fried onions, sport peppers, Dill pickle and mustard. I think I was expecting much more because I was slightly disappointed. The casing was a pretty average bun, similar to those at at-home barbecues, and the toppings made the whole shebang quite messy. The beef sausage was full of flavor with just the right amount of bite; not too firm. I also ended up taking the peppers out because the flavor didn't quite mix with pickle and mustard.
In hindsight, I wouldn't order the Chicago Beef again but this still hasn't put me off going back to sample something else. Next time I shall be headed back for the British Bulldog (£4) - British Cumberland pork sausage with onions & mustard. It's also worth noting that they have really friendly service and a veggie option too, for the veggies out there!
Disclaimer: I have been given press credentials for Coffee Dogs and this meal was complimentary. All words remain my own honest opinion.