Looking for unbiased comparison between Codecademy vs Udacity? We got you covered here.
The world is moving with the speed of light, with everything going digital, it becomes a necessity to learn how to code or at least to know the basics about it.
But I know why you are here and trust me, this blog is going to answer all of your questions if you plan to pursue coding.
This blog will guide you through every basic detail about Codecademy and Udacity starting from its history. But if you feel that you already know about it, skip to the mid part where you will find the most important details about both the code teaching platforms.
Codecademy only offers courses related to coding while Udacity offers a lot of other courses as well. Bottom Line: Both Codecademy and Udacity are cloud-based learning platforms that offer a wide range of programming courses. Their prices are competitive and they are quite popular because of their rich programming languages. Try Codecademy here. You can get started with Udacity here.
Codecademy Vs Udacity 2021 | Which One To Choose (Pros & Cons)
Every educational institution has a mission that they need to fulfill, the one reason which thrives and motivates them to move forward and keep offering courses for the better scope of student development.
It is highly important, that even as students we understand what the company is willing to offer. Therefore, before we move on to the details of the platforms, here are the mission statements of both Codecademy and Udacity.
Codecademy Vs Udacity- User Interface
Codecademy and Udacity, both have a user-friendly interface and smooth navigation.
The minimalistic design of the website makes it easier to navigate through the various courses offered on the platform. Signing up for Codecademy is quite easy, you can also join in through your Google, LinkedIn, or Facebook account.

Once you sign up for Codecademy, you are ready to go and learn new courses in coding. However, there would be some restricted courses that only come with the pro version of the platform. You can take up a quiz after signing in which gives a background of your personality and also gives you suggestions about which coding language you can opt for.
The courses are segregated bases on their program strand and also the language that they are offered in.
Udacity offers various other features to explore through the courses and the website platform. It also has the feature of creating a classroom that would store all the courses that you opt for, so the next time you need to continue another lesson, you can easily do it.

The website has its blog which keeps you updated about any further opportunity for learning new courses.
Coding is a wide field and consists of many languages and coding tracks. These languages help you create software and applications.
Codecademy and Udacity offer their courses based on the following coding languages, however, additions are being made frequently to keep you updated with the current trends in coding tracks.
When it comes to education, there is no such thing as the expensive the better; however, you can be assured that the one which takes a toll on your pocket will offer you support and material which is exclusive.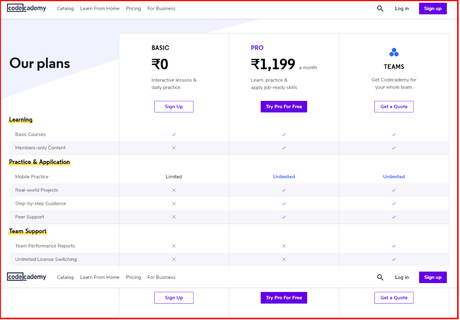 Udacity is a completely paid platform to learn coding and various courses related to coding, but it is as good as studying in a college.
Considering the price, it is quite expensive. The subscription for Udacity will allow you to take up as many courses as you want, without any limit to the resources as well. It also offers you high flexibility to learn the course at your own pace.
This will cost you around Rs. 22,849 per month, which is $ 301.60.
If you plan to stick to the platform, you can opt for a subscription of Rs. 77676, which is $ 1025.29 for 4-month access.
According to me, opting for the 4-month access will be a better option, because it brings down your monthly cost to Rs. 19419 around $ 256.32. It is a good deal.
Let us talk about Codecademy.
It offers three different packages, let's have a look at them.
Basic - The basic pack is offered free of charge. It allows you to access 25 courses only, and that is without any access to paths.
The basic package also offers you limited mobile practice. It also offers you interactive courses and daily practice.
Codecademy Pro - Codecademy Pro is priced at Rs. 1199 per month, which is billed as a yearly amount and would cost you Rs. 14,388. It offers you access to all 65 courses and all 14 access to paths.
Along with it, Codecademy Pro offers you unlimited mobile practice, real-world projects to work on and practice, step-to-step guidance along with the courses for better learning, and peer support.
Codecademy Teams - Codecademy Teams is the pack that offers you access to all the programs for all the people of your team. The price is sent via a quote, this quote is decided based on your requirements and the number of members in your team.
It offers access to all the features as Codecademy Pro along with specially formulated Team Performance reports, flexible start dates, and unlimited license switching.
This is where it gets interesting, let us compare the different program fields under Codecademy and Udacity.

Let's take an in-depth look at program strands offered by Codecademy. These Program strands will help you decide which course you can take up based on your requirements to learn to code.
The courses that Codecademy offers under the Web Development strand, allow you to create a user-friendly, interactive website to support your Business or tell a story, or just learn new skills for professional development.
The courses under Web Development are offered in these 4 languages JavaScript, HTML, CSS, and React.
26 courses are offered under Web Development, out of which 15 are Pro courses.
Also Read: Udacity Vs Treehouse
Sciences and Technology are moving forward or let's say taking a jump, along with this it is also creating a lot of job opportunities in the Data Science field. To keep up with the latest trends, you should learn the technology behind them and how you can be a part of the expansion.
The courses under Data Sciences are offered in Python, SQL, Data Visualization, and Machine Learning. 18 courses are offered under this strand out of which 13 are Pro courses.
The courses under Computer Science are designed to give out basic but in-depth knowledge about the programming languages. It also gives you the apt knowledge you need to create computer programs. The skills that are embedded in these courses, will help you to ace interviews that are based on your technical knowledge and also give you enough practice to make your codes even more effective.
The strand of Computer science deals with the major regions of Python, Data Structures, Command-Line, and Git. It deals with coding languages such as Java, C++, C#, and Python.
The courses under Computer Sciences are 15 in number, out of which 8 are Pro courses.
The strand Developer Tools is the one that has the least number of courses. But the 2 courses included are both exclusive and only available in the Pro version.
The developer strand allows us to learn all the tools that are available to you while developing a program. Hence the name Developer tools.
Machine Learning strand takes you to the level, where you start understanding how machines work based on the responses. it deals with the programs required to learn how voice assistants like Alexa and Siri work.
The courses under this strand will also allow to learn how you can program Alexa. Along with it, you can also develop your skills in to building Chatbots with Python and building a machine a learning program.
It consists of 5 courses out of which 2 are Pro.
The other strands offered by Codecademy are Code Foundations, Web designs, Game Development, Mobile Development, and Data Visualization.
Udacity offers many nano degree programs that are segregated in the following program strands.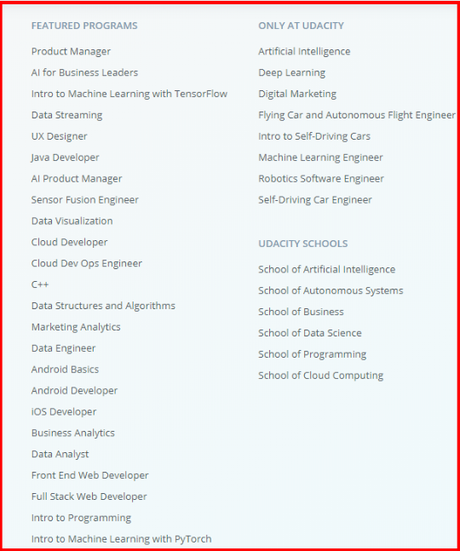 Around 137 courses fall under this strand. The courses under this strand deal with Blockchain, iOS software development, data structures, software debugging, C++, 3D graphics, and much more.
These courses of programming and development give you access to the skills that you need to obtain job opportunities in companies dealing with software development and application development.
Artificial Intelligence offers 40 courses. These courses cover topics such as Machine Learning; developing AI for a different field like healthcare, business, IoT, and many more; Deep Learning, Natural Language Processing, Educational AI, and basics of AI for Robotics.
There are 3 courses under cloud computing, out of which 1 is advanced and 2 are intermediate level. These 3 are rather new courses that deal with skills such as Cloud Infrastructure, Configuration Management, AWS, and Cloud security.
Autonomous systems deal with fields related to physics and engineering. Offering a sum of 9 courses, if you're techy, this would prove to be the best strand for you.
The courses under this deal with C++, programming self-driving cars its fundamentals, and flying cars too. You would find a lot of these courses are in collaboration with big shot companies such as Mercedes, BMW, McLaren.
Other than these, there are other 2 program strands such as Data Science, and Business. These 3 strands also contain programs ranging from an intermediate to the advanced difficulty level.
Apart from all these pre-designed program strands, you, however, will have an option to choose your course based on your skills, duration of the course, your mastery over coding, and required industrial skills.
Codecademy Vs Udacity: Features
Codecademy Features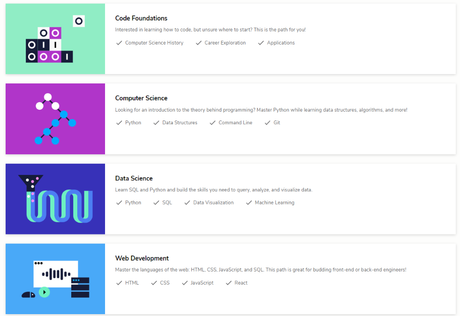 Free user account: You can directly start working on your enrolled course by signing up for a user account on the Codecademy website for free. Most of their basic courses as mentioned above in the course details.
Student community: This platform allows users to seek help from other students taking the same course so as they can interact support each other. This also helps build a strong community for coders, which helps open many opportunities for projects and jobs in coding.
Student badge: To keep the students motivated during the course, Codecademy offers them a student badge which is displayed on your dashboard. It shows all your achievements.
Written documents along with tutorials; Codecademy usually offers all the details and material of the course in the written form of documents. These documents consist of the instructions and projects that you need to conduct to complete the course in due time.
Lessons: Codecademy uses the strategy of focusing on one particular skill in every lesson, to embed that skill deep enough, and then develop further skills over it.
Udacity Features

Khan Academy Model: Udacity adopts its model of learning from Khan Academy in the form of general computer education.
Free trial: Once you have joined a specific course, Udacity gives you a 7-day free trial. This allows you to enjoy your payable course free for a week. By the time the free trial period is completed, you can decide if you want to go ahead with the course or drop it.
Flexibility: Codecademy offers the users a bit of flexibility to complete the course at your own pace, which makes it easier for the students to take time and understand the material very well.
Job opportunities: With Udacity, you have the opportunities of getting an internship of a job in the companies that partner with them. This ensures that the skills you have learned are not just used to update your knowledge, but also used to earn bread and butter.
Whenever comparing two platforms or material, it always is beneficial to go through the pros and cons of each. These pros and cons are the ones that make it easier for you to make your decision in choosing one of those.
Here are the pros and cons of both Codecademy and Udacity.
Pros - Codecademy
Signing up and using Codecademy for the basic version is pretty easy, which also makes the courses available to you, though they are smaller in number. So, if you just want to have the basic information about coding, Codecademy is the best option for you.
The instructors at Codecademy are always up for giving feedbacks, this lets you know what could have been improved in the coding
User-friendly environment
The information provided in the courses is very short and crisp. The apt amount which is required for a person with little or no knowledge about coding, to complete the task at hand.
Though knowledge is important and holds a lot of value, you cannot prove it without holding a certificate, which is not provided by Codecademy.
Once you are done with a topic, you cannot revisit reappear for it. This makes it hard as a learner to remember all that you had learned.
Most of the courses at Codecademy will give you the information to code, but in the form of syntax, this makes it difficult when you try to program in real life.
As mentioned above, the information is short and crisp, this pro might also turn in to a con if the appropriate amount of theory is not linked to the practical. Like using a symbol, but not knowing why!
Pros - Udacity
The courses offered at Udacity give the flexibility and freedom to the user to complete them at their own pace.
Most of the courses that are offered on Udacity are designed and formulated by leading professionals from the coding industry, which makes them as good as university-styled courses.
The tutors are Udacity are very fast at giving feedback, so rest assured, your doubts will be cleared in a jiffy.
The tutorials at Udacity are administered by professionals.
Better job opportunities as compared to Codecademy.
Nanodegree options are available at Udacity, which hardly lasts for a week or two. So, if you have little time and want to make the most of it, learn to code at Udacity.
At Udacity, their main focus is learning-by-doing, which emphasizes practicing every bit of the information that you obtain.
The degrees offered at Udacity are nano degrees, but they are too expensive unless you plan on learning to code professionally don't go for it
Limited revision resources
Their free lessons come with no live tutorials and minimal customer support, so unless you pay, the major resources at Udacity will not be available for you
Codecademy Vs Udacity Customer Reviews & Testimonials?

Codecademy Reviews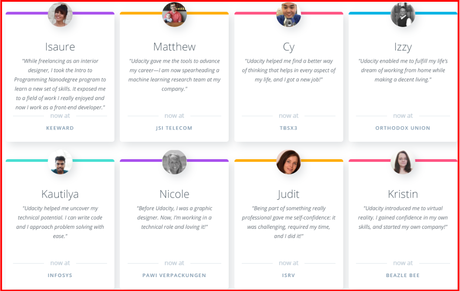 Codecademy Vs Udacity FAQs:
TLDR: Codecademy vs Udacity Final Comparison Answer
Udacity Reviews

🔥 Codecademy Pro is an very much interactive platform with a focus on beginner and intermediate programmers using courses and paths.

✅ Udacity is generally geared towards leveling up existing tech skills with its multi-course Nanodegree program.
Conclusion: Codecademy Vs Udacity Comparison 2021
At the end of the day, it all comes down to your personal preferences and learning style. In my opinion, Udacity is the best choice if you're looking for a wide range of courses.
While Codecademy offers a single course per coding language, Udacity provides a wide variety of courses pertaining to different fields to choose from.
In simple words, Udacity is a marketplace of videos, whereas Codecademy offers online coding exercises.
I hope this has been helpful to make your choice.
Quick Links: