Code School Vs Pluralsight? If this is a question going in your mind right now then you are at the right place where I will be reviewing these two learning tools. I have noted down a few points about the factors which will give us the ultimate answer, which is the best of these two.
As everyone who is knowing about Code School knows that it got merged with the Pluralsight entirely in 2018. After that, there were questions going around what happened to Code School. So, continue reading this article in which I will go through both Code School and Pluralsight. So let's Begin the comparison Between Code School Vs Pluralsight.
Code School Vs Pluralsight: Overview
Code School and Pluralsight both are on-demand classes that teach us professional courses such as web designing, coding, web development, JavaScript, etc. on a monthly subscription basis. By completing these courses you are prepared for a variety of career paths from portfolio projects to job-ready developers if you do the complete beginner to professional level study.
Code School Overview
Code school is a school for striving developers who can learn in an entertaining and interactive way. The theme of the videos is creative and in the form of a storyline which makes it more engaging to watch further. These are breaking the norms of the classroom where everyone is forced to study at a speed set by the teacher. Here you are the controller as you set the speed at which you understand them no matter how many times you have to repeat it.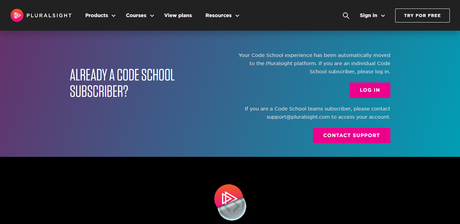 In recent times code school has been taken over by Pluralsight and the content from the code school is only accessible to their premium subscription. Which has put down the hopes of their students as the way Code School interacted with the student was the thing that made Code School popular around students with there fun and creative lessons, the unique challenges, and the free courses that made them popular and ranked 4th on the list of the top coding learning sites on the earth.
Pluralsight Overview
Pluralsight is an American publicly held online education and training platform that offers a variety of videos on training courses like Software Development, IT administrators, Architect professionals, and creative professionals. They are quite a name in the market for their options they provide their students with, let it be with career paths or the courses on their website.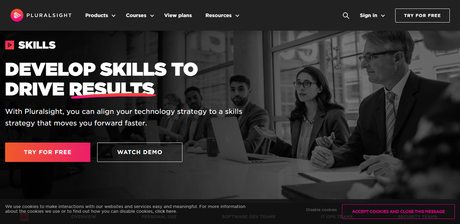 The quality of the content is very good looking at the price. The courses are detailed up to advanced level and are in such a way that the order they are taught gives clear importance for learning these things.
Their User Interface is appealing, with no compact and complicated style. Their page is designed remarkably with keeping in mind it's users. It is compatible with all ages.
Code School Vs Pluralsight- Features
Code School Features
It is the program specifically designed for the ones who have no past relation with coding and want to learn it from the beginning. This is Code school' s most popular program and many people have said that it is the best program for a newbie.
The name itself says that it is a free course. It has a library of its own which is a vast one. In this course, you will be taught basic HTML5, basic JavaScript, Intermediate front-end development, and advanced algorithm scripting. You must be thinking, are there any advantages when it's just for beginners? Then you are wrong! With this course certificate, you can work for as a junior developer or work in a nonprofit organization that always has new applications coming in for web developers.
You become a part of this free code camp community with the interactions you have on the online room chats. This course gives you the experience you need for the real world coding through its courses and the projects.
Code school provides you with a great set of podcasts. In these podcasts, you will show how coding helps them in real life, how creative you can be with the things you are learning. Few of them are part of the courses you will be learning. The rest of the podcast's topic can be seen in their features column.
Not only you get podcasts but screencast video shows which help us in algorithms and scripting. Screencast videos are loved by many as they have a good look at what they are typing, which tools they are using while coding, etc.
Pluralsight Features
With the merging not only Pluralsight has access to the Code school content but your accounts are also transferred to the Pluralsight account. Many of you who had a Code school account or were in the middle of your course got worried if they had to again create an account and eventually pay for it. No, your course and your account will be continued on the Pluralsight. You don't have to create a new account you can continue with your Code school account.
Pluralsight has a very active blog section with an enthusiastic community. These blogs are not redundant and these are not only on your learning topics but other trending topics are also covered in them.
In recent times everyone is familiar with the word webinar but Pluralsight is doing it from way before the trend. These web seminars or webinars are on the topics of your courses which definitely adds to the list features you get with the subscription.
Pluralsight has various events on web development, and Leadership quality, etc. Few of these are free for you and these are announced 1-2 months prior to their date.
Many times it's difficult to explain programming or coding related things orally. To tackle this problem Pluralsight came up with guides. These are the textual articles that help you in your coding and scripting. They have a very interesting set of articles on topics like Javascript, geo plot, and bootstraps.
Pluralsight has training courses for company employees. Due to the constant upgrade in the technology these company employees are trained to upskill in the technology that brings changes to the company.
There are a set of plans which specifies the amount of customization one company can have on their training. Pluralsight gives you their popular features like skill IQ and role IQ to assess your staff on their training progress.
There are certain traits you get with your Pluralsight account. These traits are not restricted to a certain course but you can only use them when you buy a Premium subscription. These traits are:
Code School Courses-
Code school is known to give more focus on web designing, development, and mobile development. But they not only teach these but some other major topics as well.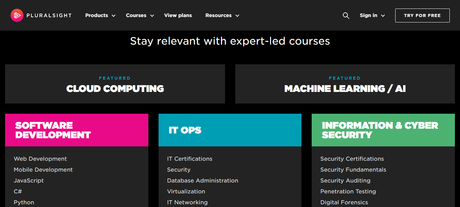 Pluralsight Courses
Pluralsight is known for its vast library. There are many courses available for different aspects of IT jobs and these crucial topics are an integral part of them.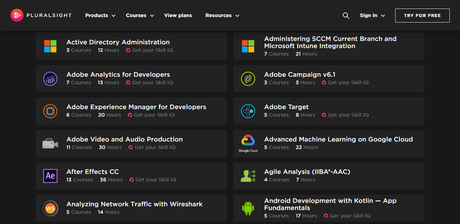 These are just a few courses I conveyed to you. And this shows us how serious Pluralsight is when it comes to IT-related skills.
Code School Vs Pluralsight- Pricing Review
The price difference between them is not that much. Code School even after merging into Pluralsight the starting or basic package price is the same as it was for the Code School.
Them keeping the price the same doesn't give learners much of a headache as to should I choose it or not, as the learners can easily sign-up for it. The fact that Pluralsight also has the Code School content in these subscriptions gives them an upper hand.
Code School Pricing
The Pricing plans of Code School are simple to understand with having each one of them separated from a monthly to yearly basis. There is a discount provided to the Pro/Premium if bought with a group.
There are two options for pricing:
Basic plan:- $29 /month
Pro plan:- $39.99/month. With a discount on a group of 10.
As Code School is famous for its budget courses as these are some reasonable prices for the courses as few of the courses are free for the beginning just to get an idea about what it is and how you will be taught. These low prices are one of the reasons that make Code School a preferred option for many people.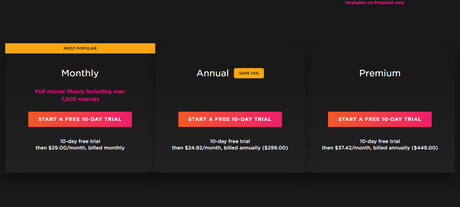 What profits them is that their other competitors have a price difference of up to $15-$100, This is quite a difference. It makes students easy to choose Code School as the content is good and at an affordable price.
Pluralsight Pricing
Pluralsight provides us with various plans not only for learners but also for the businesses also these are simple and clear with billing annually.
There are options for the pricing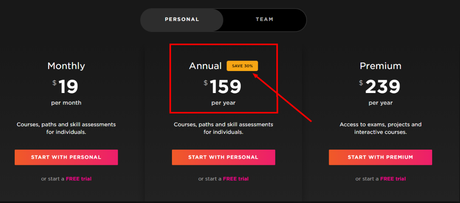 Pluralsight made a smart move with keeping the learning plan exactly as Code School as the learners can easily get transferred to Pluralsight as it isn't much different in price. Though their Premium plan is a tad bit expensive, the content accessible through it is worth it. As the training they provide is worth it and it helps us professionally by making us academically sound.
Pluralsight also let us in on their business plans which are designed for the companies as they need to train their employees with the new technology every single time.
Code School is appropriate for someone who has never learned anything about coding, because of the way it is taught creates intrigue in our mind about coding. They are just hooked to the screen as they enjoy what they are discovering about coding and about themselves as they never thought that they can learn coding and learning coding skills can be this entertaining.
Pluralsight is for somebody with an ambition for an IT-related job in their mind as Pluralsight can guide them to the career path of their ambitions and have mastered that skill for the job. Even though they have courses for other fields, they clearly have superiority in IT-related courses. And looking at the difficulty of the courses it favors more towards someone having previous knowledge of these courses.
I will list down the pros and cons of both Code school and Pluralsight the E-learning coding. This Pros and Cons list will definitely help you in selecting the appropriate website for you.
Code school Pros:
In the age of video-lectures how your content is structured makes a big impact. Code school is famous for its way of conveying their course to you in a fun and creative theme.
Code school has maintained its creative way of learning through these challenges which they give to you frequently.
You are bound to get good at the course when you get daily practice after every video in the course.
Code school has very good quality free courses. Their Free Code Camp course is one of the most popular and high rated courses.
Code school gives you a very clear, high quality, and precise screencast experience.
When our study is totally dependent on the videos, the quality of the video should be impressive. A good video quality helps you in quickly covering the course.
Code School Cons:
Code school lacks detailed and advanced level content. When you look at their competitors they provide these courses for a job perspective where Code school may not give you that level of academic proficiency.
Code school doesn't have a vast library which will give you a wide range of courses. You have to take the limited courses you get.
When you are an e-learning website you can't just give a limited number of courses. There is a constant need for updating and adding new courses. Code school doesn't quite often add new courses and update their existing courses.
Pluralsight Pros:-
As Code school has a limited library Pluralsight has a vast library with a variety of courses. Some of the courses are software which is useful to other fields.
Pluralsight is many ways opposite to Code school. Where I suggested Code school for newbies here Pluralsight is excellent for advanced learning. Their course difficulty increases from beginner to advanced.

With newer codes there is always a need for updating and Pluralsight does it extremely well with timely updating the content.
Pluralsight has a premium subscription which gives you access to download the videos. These videos are helpful to you and are optional so if you want you can skip them also.
Pluralsight subscription gives you access to premium tools like Skill IQ, Role IQ, etc. This helps them assess your own or the instructor from the company to assess your progress.
Pluralsight Cons:-
There are not many exercises given to you by Pluralsight themself in between courses. They recommend you to get the Premium subscription and use their Skill IQ and Role IQ for your assessment.
They conduct forums with others doing the same course. These forums have difficult procedures and are not very interactive.
Some courses like SQL, MYSQL, and, Oracle are basic courses. Few companies expect advanced or some other courses, but Pluralsight can't offer them that courses. Even after having some impressive assessment tools, they can't offer them those courses.
For me as I'm very new to the whole coding thing. I don't know I'm made for this or not whether I'm made for such a thing. So, Pluralsight is for me it seems. It will guide me according to how I do on their assessments if I'm going to be a full-time coder.
If you are not sure of whether you are meant for it then there is a constant conflict in your mind about am I good at it or it's just simple that's why I'm able to do it this easily.
Even Though Code School is popular for the unique and creative way the content is presented, I choose Pluralsight, as my priority will be more towards how I'm guided in the future.
Quick Links
Students Reviews & Testimonials
Code School Testimonials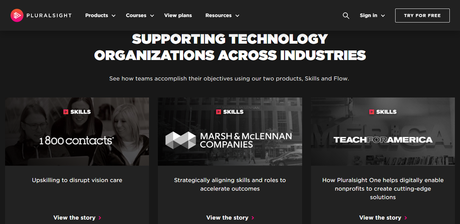 Pluralsight Testimonials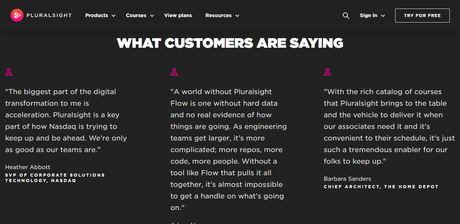 FAQs
While concluding this Code School vs Pluralsight let us take a look at how it panned out. The content quality of both Code School and Pluralsight is second to none, that's why these are at the top of the tree when it comes to coding.
As we saw above there are some differences in the features they provide, but their audience is accustomed to a certain manner. They are bound to be different than each other if your audience has different needs. Even though both are coding related.
I tried to cover up all the good and bad aspects of Code School and Pluralsight to make sure you choose the right tool for you.