It's your rogue baker back with yet another easy simple delicious recipe that's sure to bring smiles. This coconut yogurt blueberry pie is simply divine!
Kind of like a cheesecake. But, not a cheesecake. Kind of like a yogurt cake, but not a cake. It combines some of my favorite flavors, like blueberries and coconut, together!
I'm using shaved unsweetened coconut. Don't want to put too much sweetness in it. The sweetened condensed milk gives enough sweet flavor as does the packaged yogurt. And, that brings me to the yogurt. I used a coconut flavor. You can certainly choose your preference, blueberry, vanilla, lemon or something more exotic like ginger orange. Once you infuse with the coconut, it kind of dominates the flavor profile.
As with all my recipes, I love for you to tweak and make it your own. If you want to make your own crust, certainly that's an option. I just know that many folks, especially Millennials and GenXers just don't have the time and energy to go through those steps and giving this alternative for a refrigerated pie crust, which actually is quite good, is a great option. One of my big goals of creating recipes is to do so making them easy and quick so you'll be inclined to actually get in your kitchen and make your own dishes!
Here's another of my recipes for a cheesecake, Lemon Cottage Cheesecake. Interestingly, it seems to be trending according to my FEB 2020 Google Analytics! Yeeeehawww! xoxo ~ally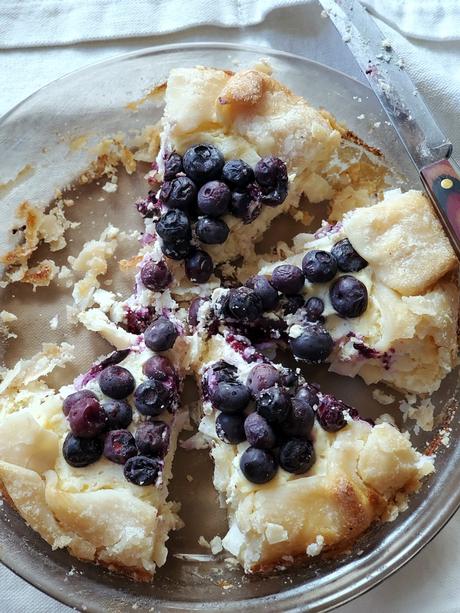 Preheat oven to 350
1 refrigerated pie crust, room temperature, roll out
2 containers (5-6 oz./each) coconut yogurt
3 eggs, divided
2 cups unsweetened coconut shavings
1/4 cup sweetened condensed milk
Pinch salt
1.5 cups fresh blueberries
2 tsp. sugar
Ingredients
Instructions