Before I get into today's recipe, I just want to say thank you to everyone who left sweet comments here or on the SITS page yesterday for my SITS feature.  I cannot describe how much all the love and encouragement means to me.
And with that let's get to a pie recipe

Last week, I finished sharing the beach anniversary pictures that Mr. A and I took with our wedding photographers to celebrate our 1 year anniversary.  Our photographers did such an amazing job (shooting us for a crazy 5 hours) that I wanted to find a way to personally thank them.
Since it has become my thing to bake people things for special occasions, I figured I could thank them by baking something special.  Jason, the husband from our husband and wife photography duo, is obsessed with pie.  Every time we talk to him, he finds a way to work pie into the conversation.  Since both he and his wife, Cicely, are from Florida, they have a special love for the Floridian classic, Key Lime Pie.
So even though I had never made a pie before, I figured I dive right into it by making a Key Lime pie from scratch.  That's right.  I didn't cheat and use pre-made graham cracker crust or packaged lime juice.  I went all out.  It might have been hard work but trust me the result was beyond worth it.
Normally, I try to make these kinds of treats in a vegan, healthier fashion.  In fact, I attempted to make my own soy condensed milk for this recipe.  But it was a horrible failure which resulted in me remaking pies at midnight.  I wouldn't suggest it.
So for now, this recipe is hideously bad for your health but I promise a slice or two won't kill you.  But it may make you dream about Key Lime Pie.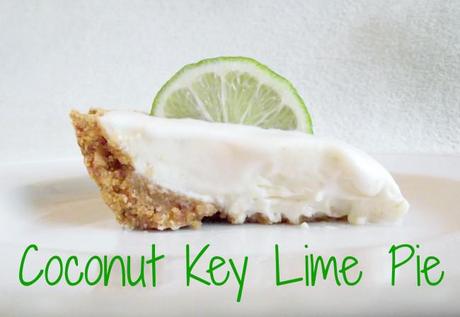 Ingredients:
Pie Crust:
1 1/2 cups graham cracker crumbs
1/4 cup organic cane sugar
1/3 cup coconut oil (or you can use butter or margarine)
1/2 teaspoon cinnamon
1/2 teaspoon nutmeg
Pie Filling: (adapted from here)
3 cups condensed milk
1/2 cup greek yogurt
3/4 cup lime juice
1 tablespoon lime rind
Pie Topping:
1 15 ounce can of coconut milk (left in the refrigerator overnight)
1/3 cup powdered sugar
1 teaspoon vanilla
Makes one 9 inch pie
Method:
You want to start first by making your pie crust…or skipping this step if you bought a pre-made pie crust.
Preheat your oven to 375.
If you don't have graham cracker crumbs, you can make you own by crushing 10 large graham crackers (this should yield you about 1 1/2 cups of crumbs).  I like to crush mine in a gallon Ziploc bag with a rolling pin.  It's less messy than whipping out the food processor.
In a large bowl, add the coconut oil and heat the bowl in the microwave for 90 seconds.
Once your coconut oil is melted completely, remove it from the microwave and mix in the remaining ingredients, graham cracker crumbs, cinnamon, and nutmeg.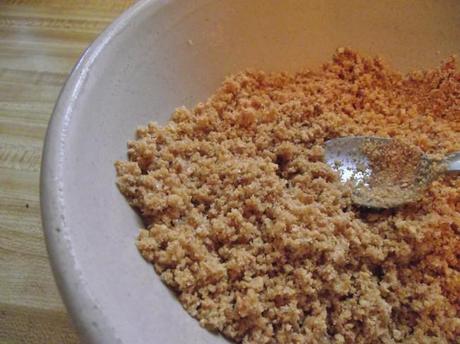 After the mixture is fully blended, add it to your pie pan and use your fingers to press the crumbs around the pan.  You want a uniform thickness around the entire pan and up the sides so keep working it with your fingers until you see a uniform thickness.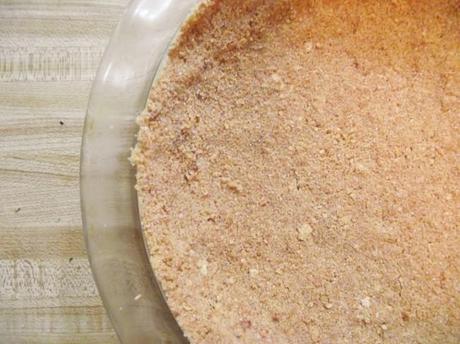 Once your pie crust is all smoothed out, it's ready to bake.  Stick it in the oven for 8 minutes.  And then remove it to cool while you make the pie filling.
Turn your oven down to 350 degrees.
If you didn't buy pre-squeezed lime juice, you will want to start your lime prep now.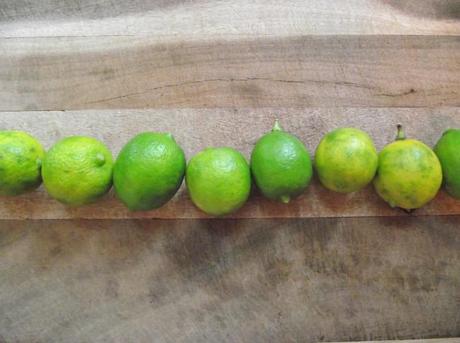 I actually found adorable key limes at our local grocery store.  They are like cute little babies.
Until you have to squeeze them and you realize that they have seeds and it will take you about 20 of them to make 3/4 cup of lime juice.  Oh well, in this instance the juice was worth the squeeze

You want to squeeze and zest enough limes until you have 3/4 cup of  lime juice and 1 tablespoon of lime rind. It took about 20 key limes to do that which would be equal to about 8-10 normal sized limes.
Now add the lime juice and lime rind to a large bowl with the condensed milk and greek yogurt.  Whisk until blended and smooth.
Pour your pie filling into your pie crust.  If you need to, use a spatula to make the filling level.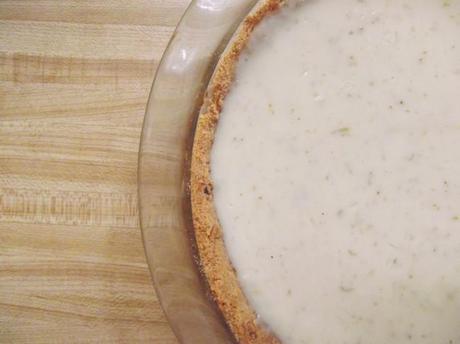 Stick the pie in the oven for about 10 minutes.
Remove it from the oven and allow it to cool while you make the coconut topping.
Remove your coconut milk from the refrigerator and take off the top.  You will notice that thanks to the cooling powers of your fridge the coconut cream has risen to the top and the coconut water has sunk to the bottom.
Use a spoon to scoop out the cream and place it into a large bowl.  Make sure that you avoid scooping out any coconut water.  The more coconut water you have the harder it will be to get your topping to become creamy.
Once you've got out all the coconut cream, add your powdered sugar and vanilla to the bowl.  Then whisk on high for 5 minutes or until the mixture is smooth and creamy.
You can either save the coconut cream to add to the pie as you serve it or you can layer it on top of the key lime filling like I did.
Pour your coconut cream topping on top of the key lime filling.  Use a spatula to even it out.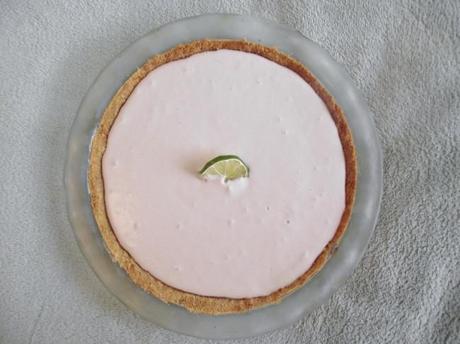 Then stick the pie in the refrigerator for at least 3 hours to chill.
This pie was a huge hit with our photographers.  Jason even ate a piece for lunch the next day.
I also made sure to make an extra pie for our house.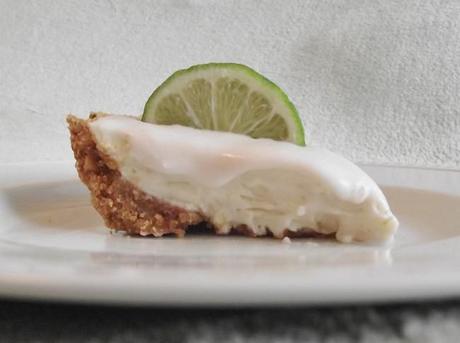 Let's just say I couldn't stop licking coconut cream off my fingers.
It's been a real challenge not eating key lime pie for dinner every day this week.
I think have a new addiction.