There's a little local market I go to when we're living in Colorado. It's not part of any chain. Just a mom and pop store where everyone works really hard, takes huge pride in their job and duties, and where there's always a smiling face. Hang with me because there's a link to the story and this coconut ginger broccoli carrot soup.
The checkout lanes are like something from the 1960s. And, there's always someone at the end of this lane bagging your groceries. Sometimes there can be a 'waiting line'. Maybe four or five people, mostly holding what they're buying in their hands. And, even if there's just that small line, someone usually jumps to another of the three registers and opens it.
I like this place. When I walk in there's the produce and flower department, nothing big mind you, but a quick glance at the products and you know a lot of care and concern has been put into the placement of every Roma tomato in the pile or berries stacked in the bin. Usually there working is Manny. A Hispanic gentleman who's head of this department. It's like his child. He never misses a moment to grin, ask me how my day's going and point out what he's just marked down. Yeah, Manny's my buddy and what a great bud to have!
Inevitably, each time I go in, I play the 'I Spy' game. I'm looking for the small bright orange stickers that say half price! It's really uncanny how many fresh products are marked in half at least two days before their actual expiration date. Many organic items, bags of organic greens, mushrooms, fresh herbs, bags of small artisan potatoes. It's a heyday for me. And, whatever I buy I use within a day or two!
That's how this coconut ginger broccoli carrot soup came about. Several bags of organic veggies, prewashed and precut (I mean how convenient is that!) were marked half price. I promptly bought three of them. Yes, I got three for the price of one and a half. Isn't there something gratifying about getting a 'bargain'. Especially, a bargain that's good for you. So, with one bag, the broccoli and carrots, I made this soup. With the other bag, just broccoli flowerettes, I just steamed them in a skillet with a tad of oil, salt and pepper and had them for lunch. All about 12 ounces of them! Later on that evening, this flavorful soup was served as a first course at a small dinner party. It got rave reviews!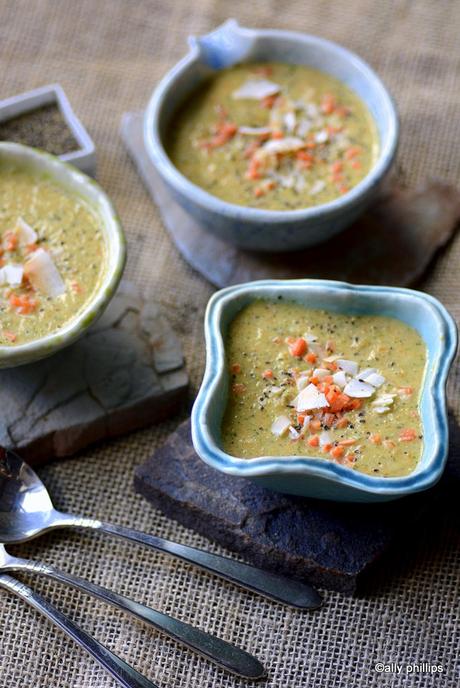 Ingredients
Serves: 6
1 pkg (12 oz.) broccoli flowerets and carrots
2 Tbl. coconut oil
½ cup sweet onions, chopped
1 tsp. sea salt
1 tsp. coarse ground pepper
1 can (13.6 oz) coconut milk, light, divided
½ cup heavy cream
½ tsp. red chili flakes
GARNISH:
Minced carrots
Coconut shavings, unsweetened
Instructions
Notes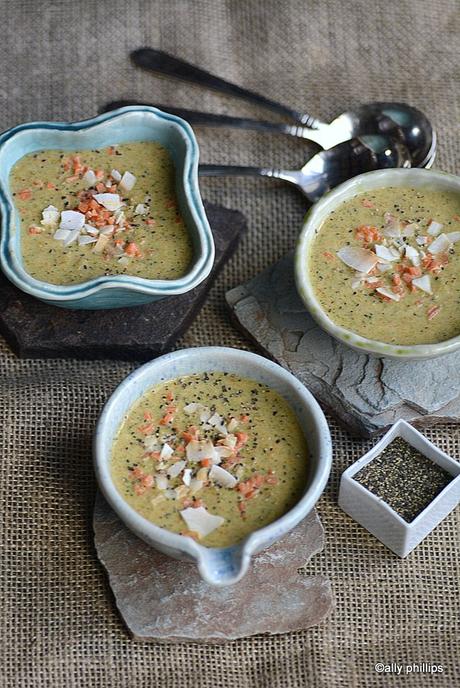 Comments