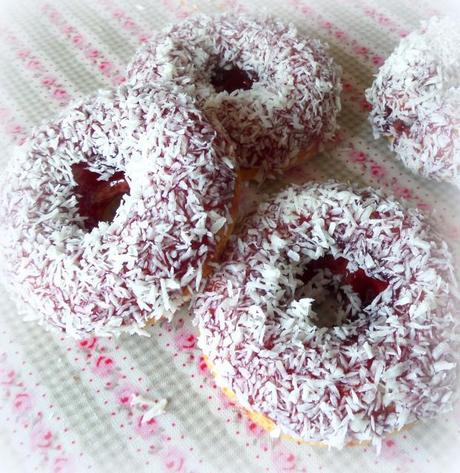 Usually on the weekends I like to make us a little bit of an indulgent treat to have with out cuppa's at tea break, or as a quick dessert after supper with some ice cream.   Little delights such as these baked doughnuts fit the bill perfectly, without going too far over the top as far as calories and indulgence goes.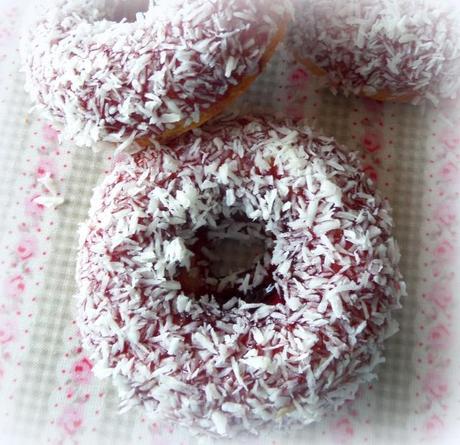 These are baked instead of fried, but that doesn't mean they can't be every bit as exciting as a traditional fried doughnut.  We rather like our doughnuts baked in this house . . .  tis true!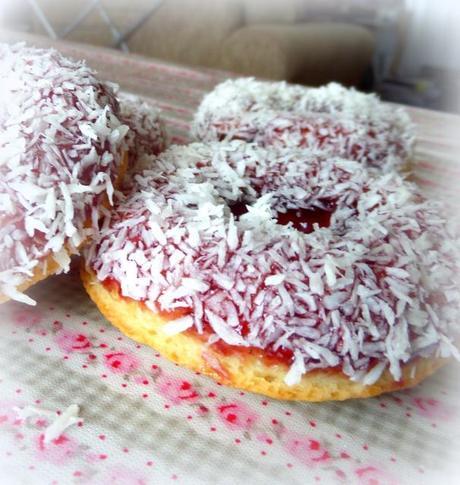 These little indulgences are as light as air and chock full of coconut flavour, from both the use of coconut milk in the batter along with dessicated coconut.  I also like to use coconut oil instead of regular butter, for an additional burst of coconut, and it's really quite good for you, don't you know?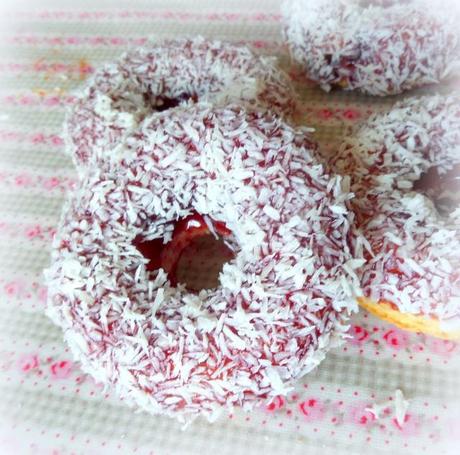 I bought myself two six hole doughnut pans, because most recipes make 12 anyways, and it saves me from having to stop and wash a pan and re-butter it to make the second six doughnuts!  It's worth the expense to me, as I am rather lazy.  It will pay for itself over time.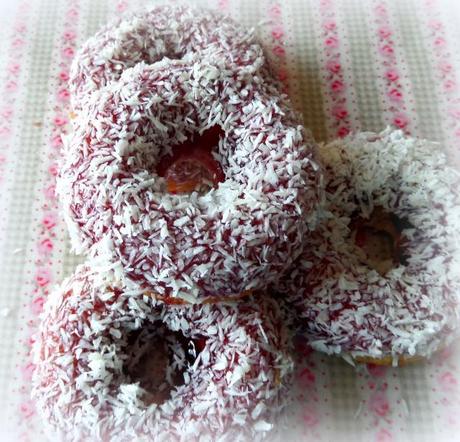 The finished light little puffs are dipped in melted seedless raspberry jam and then rolled in dessicated coconut for a really tasty coconut finish. I recommend Hungry Jack's Organic Dessicated coconut myself.  It's what I use and I like it.  You will love these doughnuts.  I guarantee!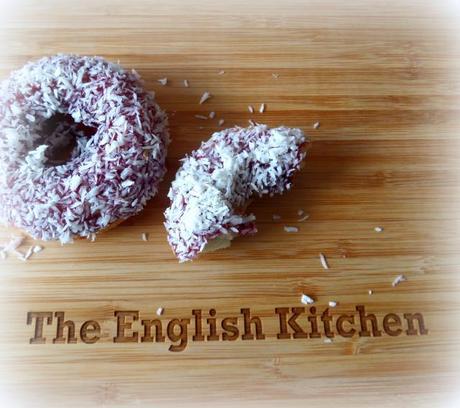 *Coconut Doughnuts*Makes 12  
Printable Recipe  

These are light as air and covered with delicious jam and coconut.  You can toast the coconut if you wish to give them a nuttier flavor.
175g of self raising flour (1 1/4 cups) 1 tsp baking powder 115g of caster sugar (6 1/1 TBS) pinch salt 150ml coconut milk (5 fluid ounces) 1 large free range egg, beaten 25g butter, melted (2 TBS) (I use coconut oil) 100g dessicated coconut (1 1/3 cup) divided 5 TBS seedless raspberry jam, warmed through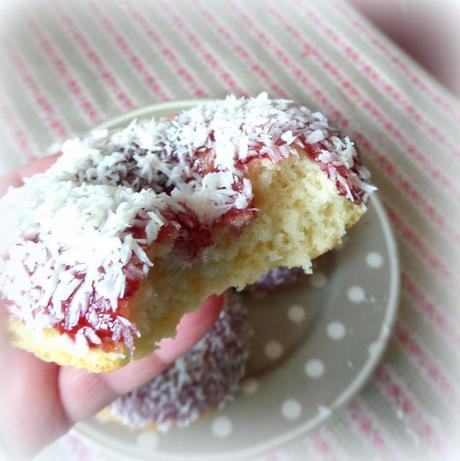 Preheat the oven to 19C/375*F/ gas mark 5.  Butter two six hole doughnut tins really well, or spray well with baking spray.  (Don't skimp on greasing these.   They will stick if you do)
Sift the flour and baking powder together into a bowl.  Whisk in the castor sugar and salt.   Whisk the coconut milk, egg, and butter together.  Make a well in the dry ingredients and add the wet all at once.  Mix until smooth and then stir in 1/4 of the coconut.  Spoon into the prepared doughnut pans.  (I find each receptacle takes about 3 spoons of batter)  Bake for 10 to 15 minutes, until risen and golden brown.   Turn out onto a wire rk and allow to cool.
Sprinkle the remainder of the coconut onto a large flat plate.   Dip the cooled doughnuts into the warm jam and then roll them in the coconut to coat.  Allow to set before serving.  Store in an airtight container.  These are best eaten on the day.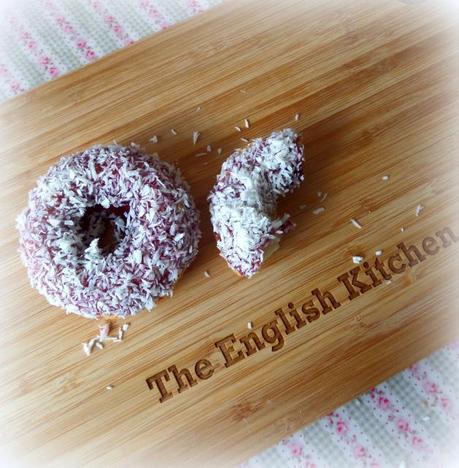 Did you notice this really super cutting board with The English Kitchen name on it?    It comes from a really neat site called Getting Personal.co.uk.  GettingPersonal.co.uk is the leading online gift shop in the UK which specialises in personalised gifts and cards.
It can be very tricky ifinding a unique present for your loved ones, especially if they have unusual names, and  so  the Getting Personal site specializes in offering you original gift ideas, many of which are designed and produced exclusively in-house by their team. Being able to add the recipient's name or a personal message to a present means that it is created especially for that person and will be like no other gift they might receive from someone else.  I was really happy to see this bamboo cutting board with The English Kitchen name carved into it.  It makes the perfect prop for my food photos!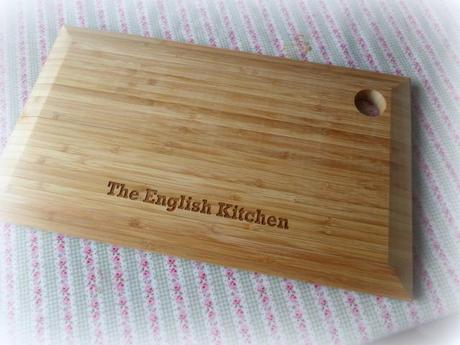 Not only that, but it is of excellent quality as well.  Made from beautiful and sturdy bamboo, it features sleek, tapered edges so it isn't going to move anywhere on a kitchen surface when used. There is also a nicely drilled hole that makes it easy to hang in the kitchen.  I love it.  It sells for £24.99 and you can have anything you want personalized on it.  I just love it!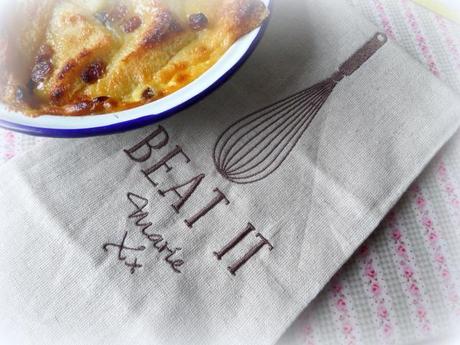 They also sent me a really nice personalized linen tea towel.  I love it.  The first time I catch Todd wiping up something with it he shouldn't be . . . he's in big trouble!
Many thanks to the people at Getting Personal for sending them to me!   With Mothering Sunday just around the corner, this could be the perfect place to find that perfect gift for your own mum!