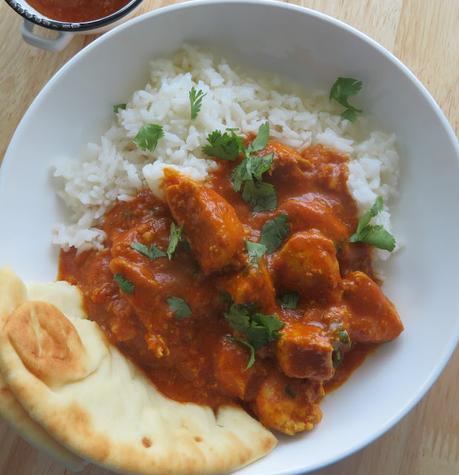 I am a huge fan of curried chicken.  One of the first things I learned to cook when I was going to college to become a chef was Chicken Tikka. 
That dish was quite different than this creamy curry dish that I am sharing with you here today.  It was a dry curry, in that the chicken was rubbed with all these spices and yogurt and then grilled in the oven on top of a bed of onions.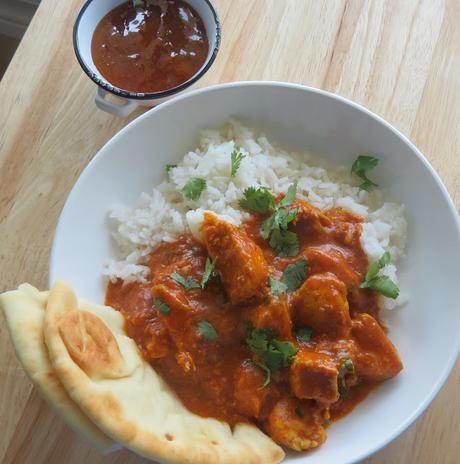 Chicken Tikka Masala however, is a creamy curry, not a dry curry.  It has a lush creamy sauce, that is rich in spice and tomato flavors.  It is the tomato that gives it that lovely reddish hue.
This particular recipe is one that I have adapted from the half baked harvest tikka masala recipe in her book Half Baked Harvest, Super Simple.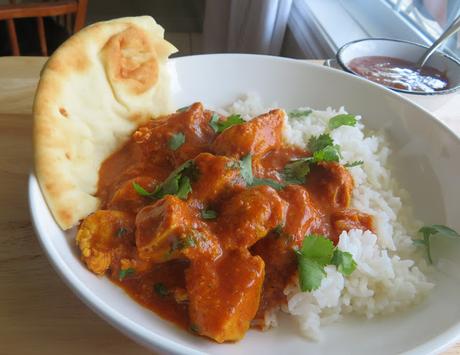 I have both of the Half Baked Harvest Cookbooks and I have to say I just love them. Teighan Gerrard is a master at combining flavors and at presentation. She cooks beautiful food that tastes good.
I have been a huge fan of curry for many, many years, having first tasted it back in the early 1980's.  It was not something which I grew up with. My parents had very simple tastes, there was nothing out of the ordinary included in our diets.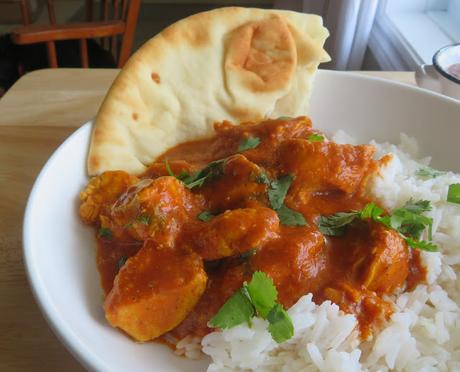 I had to move away from home and go out into the world before I could taste the world.  I have been tasting the world ever since!  I am a lover of all kinds of foods and cultures, one of which is curry.
I have not actually been to India myself, but my brother has many times.  On his recent visit home here to Nova Scotia, I did a Curry Roast Chicken that didn't turn out exactly the way I wanted it to.  I would have been far better off cooking him this curry, as simple as it is.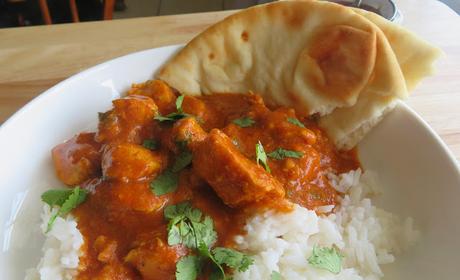 Not that the other one wasn't tasty. It was. It just took twice as long to cook as the recipe had suggested. This recipe has timings that are spot on.
I did take the liberty of cutting the recipe in half for the smaller family, of which I am one.   If you are looking for the full sized recipe, I suggest you check it out on
Teighan's page
. Prepare yourself to fall in love.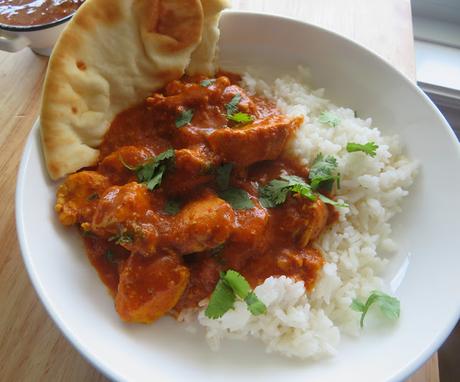 One thing I liked about this recipe is that it used simple ingredients. There is nothing too much out of the ordinary.  Simple fresh ingredients and spices.
You begin by making a curry paste.  Its simply a mix of onion, shallot, garlic, fresh ginger, lemon zest and some spices pulsed together in a blender or food processor until smooth. I took the liberty of adding some light olive oil.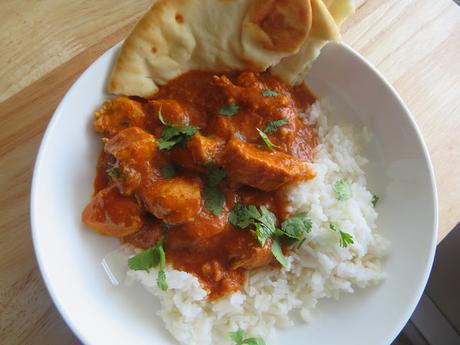 You won't need all of it for this recipe, but never fear. It will keep in the refrigerator for up to a month and it also freezes well. 
To freeze it, I drop it onto a wax paper lined baking sheet in heaped tablespoons and freeze.  Once hard and frozen solid, I peel it off and drop it into a zip lock baggie.  Ready to take out as and when I need it.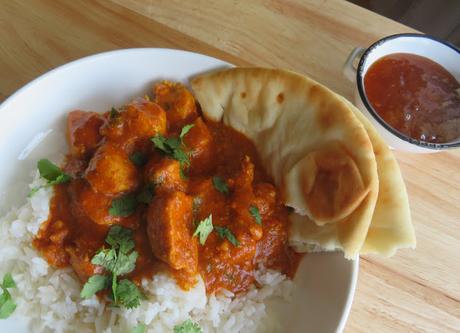 Cubed boneless, skinless chicken breast is marinated in a mix of full fat Greek yogurt and some of the curry paste for about half an hour. 
Once you have done that, more of the paste is heated in a skillet and then you add the marinated chicken and remaining ingredients.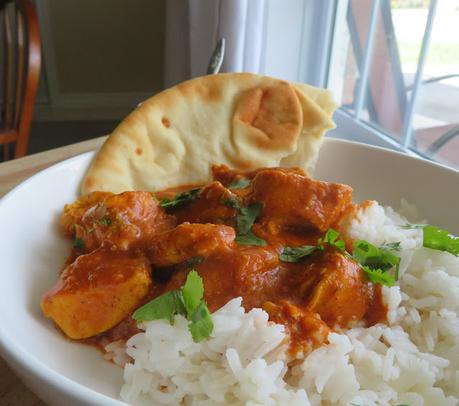 One reason you use full fat yogurt is so that the sauce doesn't split.  It gives you a much nicer finish and richer flavor.
You also use full fat coconut milk, and for the same reasons.  Full fat coconut milk gives you a much richer sauce with a lovely creamy texture.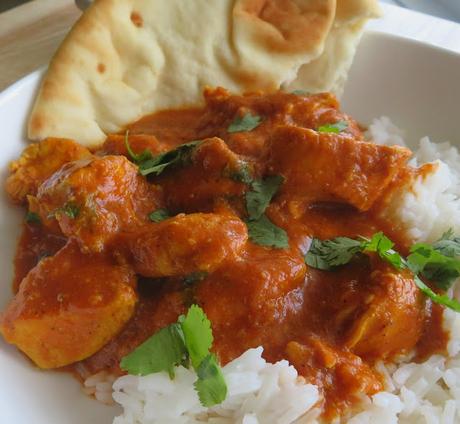 You don't need a full can, but again, don't worry. You can freeze what you don't use for a further date.  Before you use the coconut milk however, do whisk it well together. 
In the can it tends to separate so you end up with a watery liquid and coconut solids. Whisking the two together gives you what you are looking for, and what you need.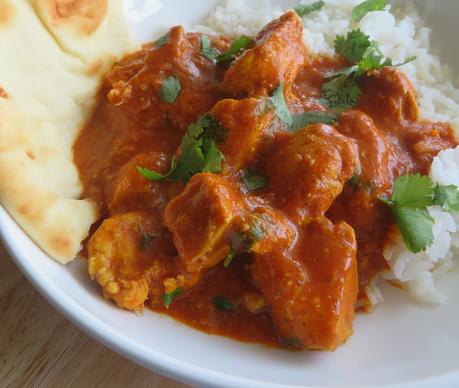 You also won't need a full tin of tomato paste.  This is known as tomato puree in the UK.
Just dollop the bits you don't use onto a wax paper lined baking sheet in tablespoon sized dollops and freeze. Once solid, peel off and pop into a zip lock baggie to use as and when you need tomato paste, be it sauces or whatever.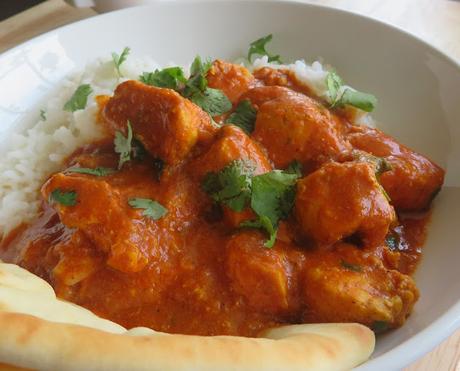 And not just Indian food. It will come in handy for pizza sauce or marinara sauce, etc.  Don't worry, it will get used. 
Chicken Tikka Masala is a bit spicier than a regular Chicken Tikka, but having said that the coconut milk helps to calm that down a bit so that it isn't obnoxious in any way. It has a very tolerable heat.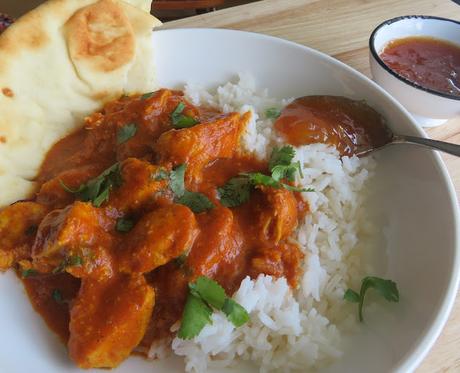 I like to serve my curries with naan bread on the side so that I can sop up all of that delicious sauce. The sauce is part of what I enjoy most about a curry and I don't want to miss out on any of it!
Naan bread is the perfect way to scoop/soak some of it up.  There are some really good ready made naan breads available on the market today, or you can make your own if you are keen.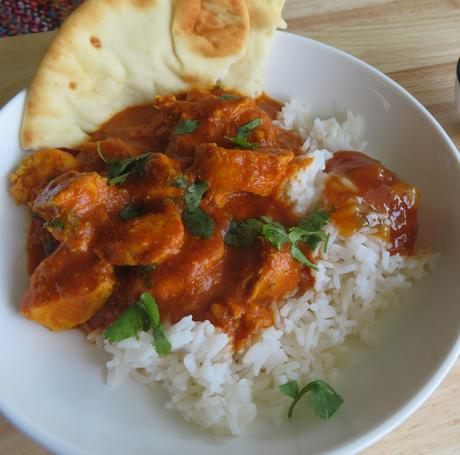 I often make my own and have an excellent recipe here for a no-yeast Naan bread which came in really handy at the beginning of the Covid lockdown when yeast was short. 
You can
find that easy and delicious recipe here
. There is no yeast required and it goes together very quickly.  These are so soft, pliable and tasty that you will find you would rather make your own than buy it!  Trust me on this.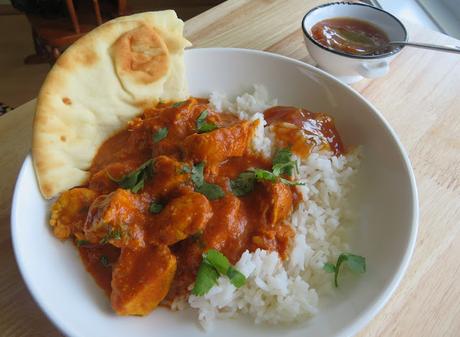 They also freeze well, individually wrapped and then popped into a large airtight zip lock baggie ready to take out when needed. You can thaw them either in the microwave or the oven.
I prefer the oven myself.
They also make great pizza bases.  (just saying) You can find my tasty
recipe for Naan Bread Pizza here
.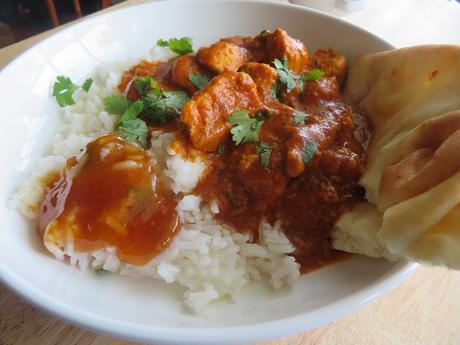 Another must (for me anyways) is a good boiled/steamed rice and some chutney on the side.  Today I used Jasmin Rice, but Basmati is also very good.  I just like it plain.
I like a good Mango Chutney. In the UK I liked to use Geeta's because it had a lovely flavor.  Here I have not found a really good one yet. They have Patak's which is okay. I think I might be tempted to make my own.
I learned how in college, so watch this space. I like a chutney with substance and tasty little bits in it. The Patak's is quite smooth. It tastes alright but I want texture.
In any case, I hope you will want to try out this delicious Chicken Curry. Of course there is only one in my home, me, but I can assure you that none of this went to waste. I enjoyed the leftovers the day after and if anything, it was even more delicious. That's the way it is with things like this. Left to ripen overnight really develops their flavors nicely!!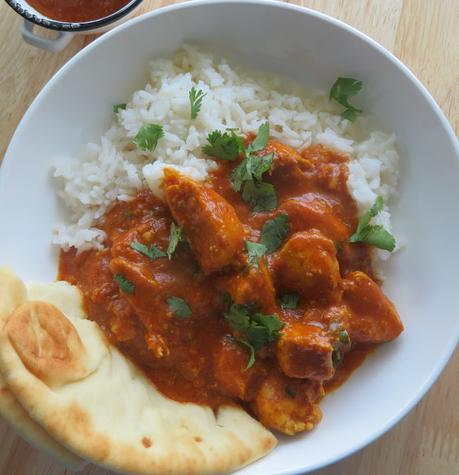 Coconut Chicken Tikka Masala for Two
Yield:
2-3
Author:
Marie Rayner
Prep time: 15 Min
Cook time: 30 Min
inactive time: 30 Min
Total time: 1 H & 15 M
Other than making the curry paste, this has to be one of the quickest and easiest curries I have ever made. Its also incredibly delicious. Served with rice, mango chutney and garlic naan for an incredibly tasty meal! You will not need all of the curry paste, but it freezes well.
Ingredients
For the curry paste:
1 medium onion, peeled and quartered
1 shallot, peeled and halved 
6 cloves of garlic, peeled
2 (1-inch) pieces of fresh ginger, peeled
3 TBS garam masala
2 tsp ground turmeric
1 1/2 tsp fine sea salt
1 tsp crushed red chili flakes
the zest of one lemon
1 TBS light olive oil
You will also need:
1 pound of boneless, skinless chicken breast, cut into 1 inch cubes
1/4 cup (60g) full fat plain Greek yogurt
7 fluid ounces (1/2 can) full fat, unsweetened coconut milk (you can freeze the rest)
3 TBS tomato paste (tomato puree)
3 TBS chopped fresh coriander
Steamed rice for serving
Naan bread for serving
mango chutney for serving
Instructions
First make the curry paste. Put all of the ingredients into the basin of a food processor or into a blender.  Pulse until the mixture  forms a smooth paste. 
Combine 1 heaped TBS of the curry paste in a bowl with the yogurt and chicken pieces. Stir everything together to combine well.  Cover and set aside for half an hour.
Heat a deep skillet over moderate heat.  Add 2 heaped TBS of the curry paste and cook, stirring until fragrant. Add the marinated chicken pieces, coconut milk and tomato paste.  Bring to the boil, then reduce to a slow simmer.
Cover and simmer for 15 to 20 minutes, until the chicken is cooked through and the juices are no longer pink. Uncover the curry and cook for a further 5 to 8 minutes at a slow bubble until the sauce thickens.
Stir in the chopped coriander and serve the chicken immediately, spooned over rice with some garlic naan and mango chutney on the side.
Did you make this recipe?
Tag @marierayner5530 on instagram and hashtag it #TheEnglishKitchen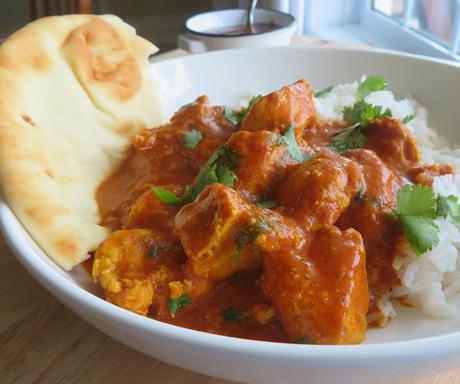 This content (written and photography) is the sole property of The English Kitchen. Any reposting or misuse is not permitted. If you are reading this elsewhere, please know that it is stolen content and you may report it to me at: mariealicejoan at aol dot com 
Follow me on Bloglovin