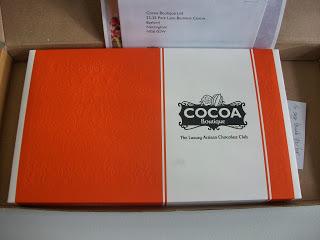 A big thank you to Cocoa Boutique who recently sent me a box of chocolates from their Artisan Chocolate Tasting Club to review recently!
Ripping open the box I was met with this amazing sight: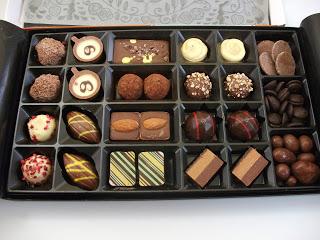 Don't they just look gorgeous?! I couldn't wait to get stuck in, although the chocolates looked so nice I felt bad cutting into them! They smelled as delicious as they looked, too. Below are my thoughts on each chocolate:
Milking Maid Truffle: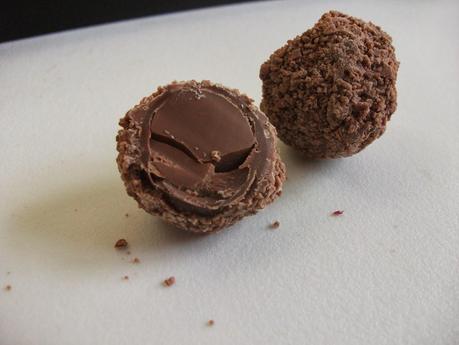 This is a simple creamy milk truffle enrobed in chocolate and coated in chocolate shavings. I expected it to be rather boring but it was actually one of my favorite chocolates in the box. Just proves that sometimes simple is best! 9 out of 10.
Raspberry Champagne Bombe: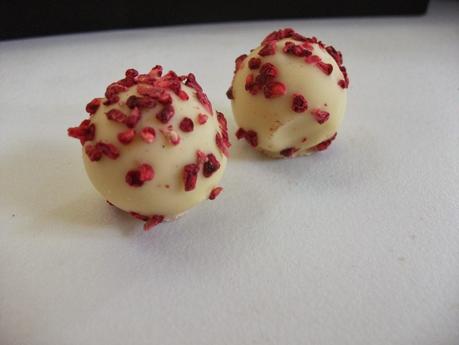 This chocolate contains a white chocolate shell studded with dried raspberry pieces, with a raspberry and champagne truffle filling. I loved how light and fresh it was, but as I'm not a fan of alcoholic flavoured chocolates it wasn't my favorite. It was still very nice though! 8 out of 10.
Gazillionaire's Shortbread: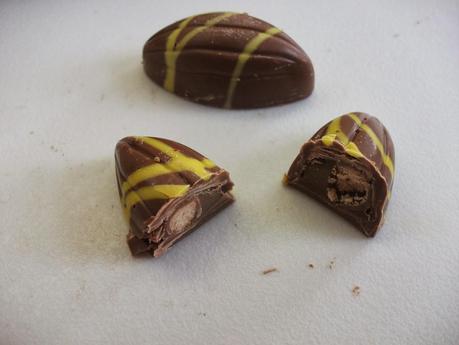 Inspired by the classic millionaire's shortbread, this chocolates contains mini shortbread pieces with a traditional copper pot caramel in a milk chocolate shell. I loved this one - it combines all the best elements of caramel shortbread in one chocolate. The caramel was buttery and gooey and complimented perfectly with the crunchy, buttery shortbread. Divine! 9 out of 10.
Cafe Brew: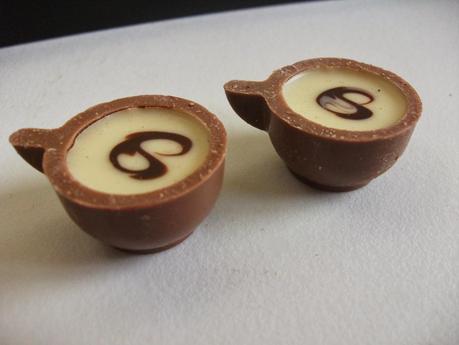 This truffle contains a delicious creamy coffee truffle filling, topped off with white chocolate and surrounded in a 30% milk chocolate shell. I loved the design on this one - the chocolates look like mini coffee cups! They tasted sublime - extremely creamy, and with a subtle but not over-powering coffee flavor. 9 out of 10.
Lemon Meringue Pie: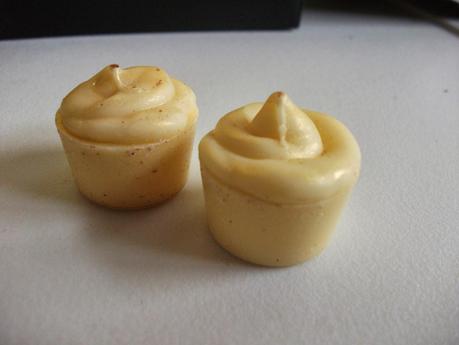 This is of course inspired by the classic dessert, with the extra sweetness of added white chocolate. This was by far one of my favorite chocolates in the box; they've recreated the taste of lemon meringue perfectly! The filling had a lovely fresh lemon flavor and the creamy white chocolate complimented it beautifully. 10 out of 10.
Passion Fruit Burst: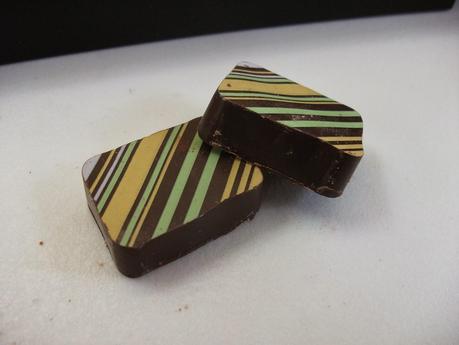 This award-winning chocolate contains a zingy passionfruit filling encased in a crisp dark chocolate shell. Be warned as it's intensely fruity! I really enjoyed this but wasn't quite expecting just how strong it would taste. If you love your fruity chocolates then this is definitely one for you! 8 out of 10.
Cocoa Dusted Salted Caramel: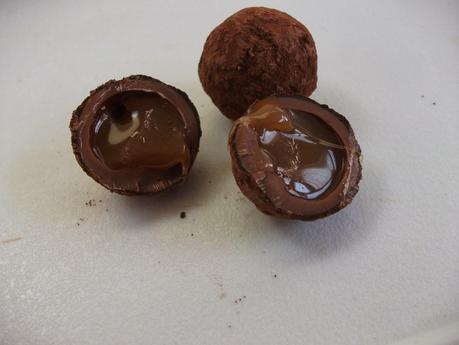 Being a salted caramel convert I couldn't wait to try this one. It's apparently won a "Great Taste" award and contains salted copper pot caramel, enrobed in dark chocolate and dusted with cocoa powder. As delicious as it was...I felt the caramel was a little too runny for my liking. I know salted caramel is usually very runny but personally I prefer it slightly chewy and sticky. Still, it's an excellent quality chocolate! 8 out of 10.
Praline Sliver: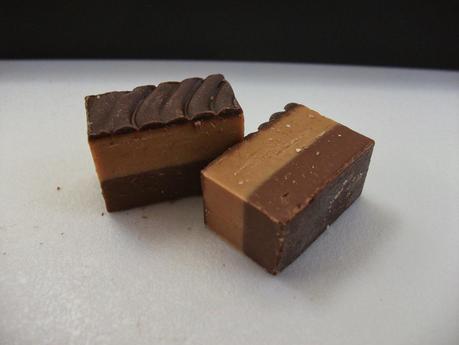 Two layers of silky praline topped off with a fine layer of milk chocolate. I loved this one, it was so creamy and nutty and melt in the mouth! Think of the best parts of a Ferrero Rocher and Kinder Bueno (the creamy centres) and make them denser and richer...and that's what this tasted like! Amazing. 9 out of 10.
Encrusted Hazelnut Truffle: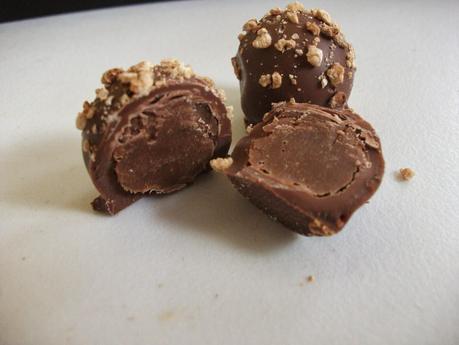 This contains a creamy hazelnut truffle center coated in a 34% cocoa shell, topped with hand-chopped hazelnuts. I enjoyed this one, although the hazelnuts weren't quite as fresh as I would have hoped. It's still far superior to a Ferrero Rocher though! 7 out of 10.
Nib-let Bar: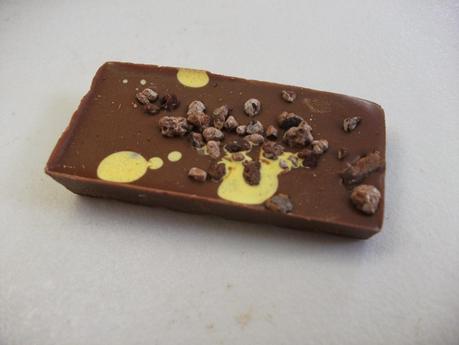 This is a simple milk chocolate bar with cocoa nibs and a dash of white chocolate swirl. Despite its simplicity, I loved it! The cocoa flavours really shone through and the bar tasted smooth and rich, with the cocoa nibs giving it a nice crunch. 9 out of 10.
Almond Cube: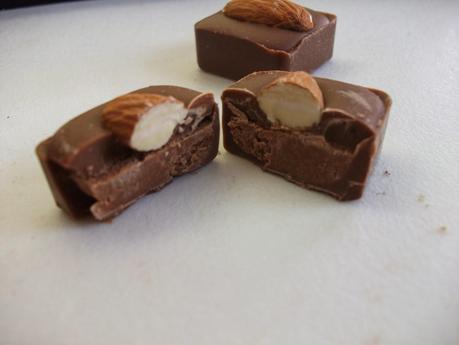 This contains almond praline spiked with a hint of salt, enrobed in 40% Ghana milk chocolate and topped off with a whole almond. I loved this one, it had all the best elements of a chocolate - smooth nutty centre, crunchy nutty topping and rich milk chocolate. The lick of salt brought out the savoury moreishness even more. I could happily eat a box of these! 10 out of 10.
Other varieties in the box included: Honeycomb Bites, Smooth Caramel Buttons, Steeped Cherry Brandy and 72% Venezuelan chocolate drops. All were delicious and of excellent quality although the cherry brandy wasn't for me.


Overall:


Well I have to say I am extremely impressed with this selection from Cocoa Boutique - initially I assumed they were just a Hotel Chocolat Tasting Club rip-off, but dare I say it I enjoyed them more than some chocolates I've tried from Hotel Chocolat! The variety is fantastic and there wasn't a bad chocolate in the whole box, not something you can often say about boxed chocolates. I would thoroughly recommend Cocoa Boutique if you're a fan of chocolate tasting boxes - they can rival Hotel Chocolat any day!
More info: 
Cocoa Boutique is a subscription-based Chocolate Tasting Club, the introductory box of 31 chocolates and 3 tasting trays costs £34.95, and further boxes cost £19.95. There is a full refund guarantee on the introductory box so you can get your money back if you don't like them.
Cocoa Boutique's Website.
*I received these chocolate for an honest review and all opinions expressed are my own.