Following on the heals of a recent post about the pairing of wine and food versus the pairing of cocktails and food, I thought it only prudent to put, well, my mouth where my mouth was, so to speak. AKA, we created a six course meal for which I paired cocktails to each dish save and except one of them, with which we drank wine. Now, I've done this before and wrote about it in "Dinner for four", but it was about time we did it again with all the more riding on the pairings given my recent commentary.
Here's the first dish and its pairing;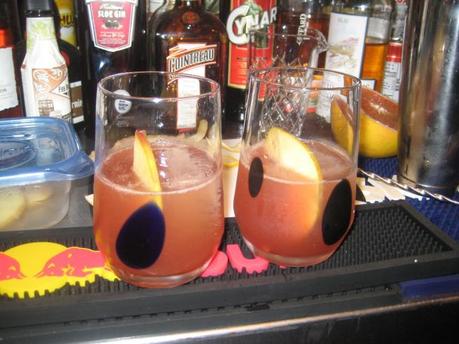 The Amuse Bouche
Seared Scallop with House cured and smoked bacon. Yes, we aged and smoked out own bacon, which is pretty fun and now we actually have a pancetta hanging in an ex-wine fridge to age, and a leg of pork being cured in the "office". The bacon turned out very smokey to taste, so I played on that same note on the nose. I created what I call a "Smokey Sloe Fizz".
Smokey Sloe Fizz
Ingredients:
1.5 oz Gin (Tanqueray)
1 oz Sloe Gin
0.5 oz Fresh Squeezed Lemon Juice
Generous dash of Fee's Whiskey Barrel-Aged Bitters
3 oz Soda Water
Garnish with a peaty apple wheel.
A small amount of peaty scotch.
Method: Shake everything but the garnish and soda on ice. Strain into an old fashioned glass or relatively short collins glass over fresh ice. top up with the soda water to taste. Just be careful this drink dilutes very quickly so don't use too much soda. Garnish with the apple wheel. If the apples aren't doing the trick, you can also float a bar spoon of the same scotch on the top of the drink to give it more smoke on the nose.
Peaty Apple Wheel: Wash and core a fresh crispy apple (Something on the sweeter crisper side is better than tart or soft). Slice the apple into wheels about an eighth of an inch thick. Place the slices (you should be able to get at least 6-8 decent sized rounds) into a small bowl or container with a lid. pour in enough peaty scotch (Lagavulin, Ardbeg or McLellands are good) to soak the apple. Turn the apples and pour on more scotch if needed every hour or so. Ensure that the apples have soaked for at least 4 hours before using them.
Note: I found this drink really interesting because when you lift it to your mouth to sip, you get nothing but the strong smoke from the scotch on the nose. When you take a sip, because there is so little actual scotch in the drink, you get almost no smoke at all, but rather a slightly sweet and refreshing drink. I found this worked really well with the food, because the smoke related the drinkers nose the the taste of the dish, but then they refreshed their palette with what amounts to a half-sweet sloe gin fizz, which is perfect for preparing the tastebuds for more of that seared scallop.
I'll be talking about the rest of the meal in future posts, but give the Smokey Sloe Fizz a try, or let me know of any great cocktail pairings you've had recently.