Coastin' to the Sweet 16, Your Preview and Can't Miss Match ups: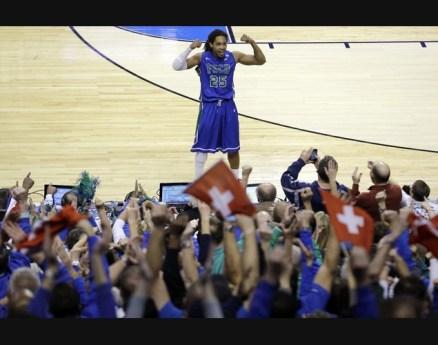 Sherwood Brown and the Eagles are the talk of the tourney, can they ride the wave to the Elite 8?
This NCAA Tournament has lived up to it's billing. If you believe in foreshadowing and logical thought sequences, then the presence of teams like Florida Gulf Coast, La Salle and Wichita State this far in the tournament shouldn't really surprise you.  This season has been a crapshoot if there has ever been one. Out of the 16 teams still remaining in the tournament, I correctly predicted 11 of them (stealth brag), but guess what, FGCU, La Salle, Wichita State (hell, even Oregon) are understandably absent this deep in my bracket.
Aside from this, we have a full slate of great games this Thursday/Friday, and like the teams themselves, we have the luxury of over-analyzing every matchup and trying to gauge the strengths/weaknesses of said matchups.
1).The Game You Can't Miss: Alright, admittedly you shouldn't miss any of these games if you have ever called yourself a "college basketball fan". This time of year is what you live for. Smack talk, ripping up your bracket, then cooling down and re-printing it, sending menacing texts to your friends when you know their pick is going down the drain, it's a great time to be anyone who cares about college hoops.
Its only obligatory to start with Florida Gulf Coast. If you miss Florida Gulf Coast v. Florida, I am inclined to question your dedication to March Madness, or whether you are aware of it's existence. For those who haven't climbed on the Eagles Bandwagon yet, get on it now, unless you're a diehard Hoya or Aztec (honestly, don't be mad, you were outplayed by a team that has a motor while you road your tricycle around the block). FGCU shouldn't just be "happy to be here", they have legitimate talent. That, mixed with their seemingly endless amount of energy and conditioning makes them a huge threat.  
Sherwood Brown is a complete and utter badass, and Reggie Miller loves shaking his hand at the end (well almost the end) of every game. The Eagles have beaten two teams that are honestly better than them by 10 points each time. This isn't your typical Cinderella team that won on a half court heave from the heavens, or by some bad call, or had one good showing and fizzled. They got better versus San Diego State. They punched them in the mouth and as good as Jamaal Franklin is, he had no response but to go up to Brown after the game and basically tell him "this is your show, don't let up".
I won't sit here and say FGCU is the favorite, because they aren't. If I could redo my bracket and have this matchup printed on paper, I would pick the Gators. Florida Gulf Coast is going to lose.  I think the Eagles are a great team (I even picked them to give Gtown a huge battle, I just didn't know they would come out victorious) but everything good comes to an end in life.  Florida provides plenty of matchup problems for the Eagles. Patric Young should have probably 20 points and 20 rebounds. Kenny Boynton is going to run all over them and throw alley-oops for days. The magic of Florida Gulf Coast is over (that being said, I really want them to win).
The Eagles are no doubt going to give the Gators a shot, but if you think the Gators are going to come out flat and unprepared, then maybe you haven't watched them enough this year. With that being said, if Florida comes out still thinking this is a joke and an easy win, then I'll be writing a column about "Florida Gulf Coastin to the Elite 8", that's how good they are.
2).Can we please talk about Oregon? Or maybe the fact that they were given a 12-seed, and how this could even be possible for a team once ranked in the top 25? Or the fact that you probably can't name more than zero players on their team? Or the fact that you most likely forgot they were in the sweet 16? Ok yes, they are playing Louisville, who has been completely destroying teams (albeit NC A&T, and an unmatched Colorado St. squad) but we've seen our share of upsets (see above). Arsalan Kazemi and E.J. Singler are huge factors for this team's success but without Dominic Artis, this team gets a 12 seed. Oh wait, that's why got a 12 seed, he was out for a while and they sputtered. He hasn't done much in the tourney, but he provides energy and a spark that makes them dangerous.
You will know Damyean Dotson's name after the Louisville game. The freshman has put together two gargantuan efforts in the tournament, dropping  17 and 23 points against OK State and St. Louis, respectively (including 5-6 from three point range versus the Billikens).  Just watch the game, sure it could be a romp for the Cardinals, but if the Ducks can force Siva and Smith to operate a half-court offense, Oregon could keep it close, and with their 3-point shooting ability, they could earn a trip to the Elite 8.
3).Favored Team Most Likely to Lose:  I'm going with Miami here. I picked them to win it all, but after watching them last night, I'm not too thrilled for them to play Marquette. The Golden Eagles have been battle-tested early in the tournament. Sure, that means they aren't blowing opponents out, but that also has taken the shock of being in a close win-or-go-home game out of the equation. I would say the same thing about Miami, except I truly expected them to dismantle the Illini.  A gracious call late in the game pretty much punched their Sweet 16 tickets, and Shane Larkin had his hands full all game. I hope I'm wrong and that Miami will have time to get their game under control, but be weary of Vander Blue, as he is quickly becoming the player to watch in this tournament.
4).Wichita State Will Win: I love the way the Shockers play, I've watched them all season, they should advance, no real reasoning except that they are the "Shockers" and like to eat Bull Dogs for breakfast (not literally, PETA).
5). The Allure of the Big Ten: 1/4th of all teams remaining hail from the Big 10. Indiana, Michigan, Michigan State, and Ohio State all beat the living you know what out of each other during the regular season, and it's paying mad dividends right now. Michigan and Michigan State look like Final Four Teams, and Ohio State, backed by the resurgence of Aaron Craft look like juggernauts. Indiana has all the tools to blow teams out, but at times they play down to the levels of their opponents. They're getting the most flack from me because they have the number "1" beside their name, and they should have disposed of Temple far easier than they did. Look for all four Big 10 Teams to advance this weekend.
A).Michigan is too fast for Kansas, and Elijah Johnson couldn't guard Trey Burke if he had rockets attached to his shoes. The Burke/Hardaway Jr./Robinson III combo is too much for Kansas. The only issue is how to handle Jeff Withey. Mitch McGary had a huge outing versus VCU, but Withey is as dominant a shot blocker as I've seen in a long time, and honestly will dominate McGary. It's funny I'm not mentioning Ben McLemore because I don't think he will show up (again). Look for Michigan to dictate the tempo of the game and advance.
B).Michigan State will beat Duke. Adreian Payne and Derrick Nix are too  big and strong, and Mason Plumlee will be overmatched. Keith Appling needs to show up, and if he does, Quinn Cook will have a long day at the point. I love the way the Spartans are playing and think that Duke needed a better showing versus the Doug McDermott's last night to convince me they stand a chance to advance (unintentional rhyme).
C). Ohio State is probably the most complete team left in the tournament. Aaron Craft is hitting game winning 3's. Deshaun Thomas and Lenzelle Smith Jr. are monsters. Mark Lyons from UofA is going to have a rude awakening versus the on-ball defense of Craft, lets hope this one is still watchable by halftime.
D). Indiana and Syracuse is probably the best matchup of all the Sweet 16 games. Syracuse possesses length and athleticism that can match Indiana's energy and tenacity. Syracuse has a real chance to upset the Hoosiers if Michael Carter-Williams shows up, handles the pressure and does not make arrant throws and commit turnovers. When he plays well, so do the Orange. The amount of talent in this game is overwhelming. Oladipo, Zeller, Watford, and the shooting of Hulls, matched up against MCW, Triche, Fair, and Southerland's unlimited range. I have the Hoosiers, but it could be a one-possession game with the ball in Oladipo's hands for the win.
As always, enjoy the madness  this Thursday and Friday. Good luck to your teams, and if they lose, tear up the bracket if you haven't already done so.