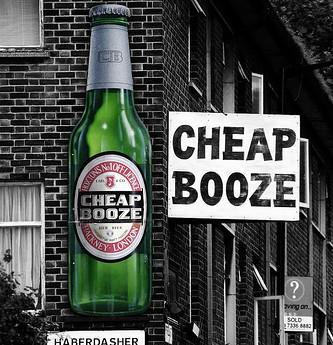 Cheap booze. Photo credit: Fabio Venni
British Prime Minister David Cameron will today promise to tackle the "scandal" of drunkenness and alcohol abuse that costs the National Health Service £2.7 billion a year, as the government prepares to publish its alcohol strategy next month. The most controversial part of the Alcohol Strategy is plans to put a minimum price on a unit of alcohol.
"Every night, in town centres, hospitals and police stations across the country, people have to cope with the consequences of alcohol abuse. And the problem is getting worse. We've seen a frightening growth in the number of people, many under-age, who think it's acceptable for people to get drunk in public in ways that wreck lives, spread fear and increase crime. This is one of the scandals of our society and I am determined to deal with it," Cameron is set to say on a Wednesday visit to a hospital in north-east England, reported The Sun. "Whether it's police officers in A&E, booze buses, or the Drunk Tanks used abroad, we need innovative solutions to confront the rising tide of unacceptable behavior."
The BBC flagged up opposition to minimum pricing" "The British Beer and Pub Association said there was 'a danger it would be done through higher taxation, which would be hugely damaging to pub-goers, community pubs and brewers, costing thousands of vital jobs.'"
Big and growing issue. At his personal blog, ex-Labour Director of Communications Alastair Campbell, who experienced his own problems with alcohol early in his political career, backed Cameron's strategy as "a chance to deal with a big and growing issue … health problems related to addiction are on the rise." Campbell said government "clearly has a big role to play" in tackling alcohol abuse: "When Mikhail Gorbachev led Russia, he decided the country had a massive drink problem, and brought in all sorts of tough measures that did see a big fall in alcohol abuse." That said, Campbell said "it is as much the responsibility of individuals as government to decide how much to drink."
England spends an estimated £20 billion a year on health-related problems caused by alcohol abuse.
Minimum pricing would have a positive impact. Writing at Huffington Post UK, Rupert Wolfe-Murray, editor at Castle Craig rehab clinic, said that a minimum price on alcohol "would have a positive impact on ill-health, offending behavior and wider costs to society." The writer flagged up that the British Medical Association and Royal College of Physicians have said that minimum pricing for alcohol would be the most "simple and effective mechanism" for tackling the health problems caused by alcohol abuse and that charity Alcohol Concern is urging members to urgently write to their MPs as this "will be our last chance to influence the shape of the alcohol strategy, which will shape public policy on reducing alcohol harm for years to come."
Minimum pricing would cause political controversy and hit poor hardest. Peter Hoskin of The Spectator's Coffee House blog raised questions marks over the minimum pricing proposal: "Last week, it was suggested that a minimum price of 50p per unit could save around 10,000 lives a year. But Tim Worstall spotted a problem with that figure: it's greater than the number of people who die 'alcohol related' deaths in one year. And so the number being peddled today is 2,000 lives a year. And there are other questions around minimum pricing, too. How does it fit in with an approach to alcohol taxation that sees strong beer taxed at much higher rates than strong cider? And will EU laws allow it?" "But this uncertainty is as nothing compared to the political controversy that would be provoked were the government to introduce minimum pricing," stressed Hoskin. "Andrew Lansley has already spoken out against it, and for one major reason: it would hit the least well-off harder. An IFS report last year found that a minimum price of 45p would, as a proportion of income, cost more for poorer drinkers — and much of the money would go towards supermarkets' and drinks manufacturers' profit margins. Few MPs will be eager to back that sort of policy at a time of squeezed living, even if it does guard against the excesses of a minority."