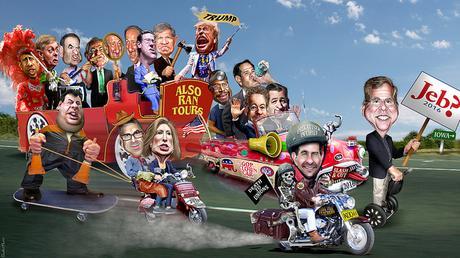 (This image of the GOP clown parade is by
DonkeyHotey
.)
After a somewhat lackluster debate in Cleveland, the GOP's clown parade moves on down the road. The next stop is the Reagan Library in California, where CNN will host the second Republican debate on September 16th.
CNN has announced that they will follow the lead of Fox News, and divide the candidates into two groups -- a top tier of 10 candidates who will participate in the main debate, and a second tier of candidates who will participate in a second debate. There is one difference though. CNN is requiring the candidates to have at least 1% in the polls to participate. That means Jim Gilmore, who has been unable to reach that very low bar, may not get to participate even in the second-tier debate.
It is likely that Carly Fiorina, who was voted best clown in the first debates, will join nine others in the first-tier debate this time. That brings up the question -- who will be relegated to the kiddie table to make room for Fiorina at the adults table? I'm guessing it will be Christie that will be demoted -- but it could be Huckabee or Paul, both of whom have been doing poorly in recent national polls.
------------------------------------------------------------------------
CNN
will also host
the first Democratic candidate debate in Nevada on October 13th. That debate will probably include all five declared candidates (Hillary Clinton, Bernie Sanders, Martin O'Malley, Jim Webb, and Lincoln Chafee) -- and even Joe Biden, if he loses his mind and jumps into the race before than.
In addition to that CNN debate, the Democrats will have five more debates, to be hosted by:
CBS, KCCI and The Des Moines Register in Iowa on November 14
ABC and WMUR in Manchester, New Hampshire on December 19
NBC and the Congressional Black Caucus Institute in Charleston, South Carolina on January 17
And two more will be hosted in either February or March: One by Univision and The Washington Post in Miami, Florida, and another by PBS in Wisconsin.