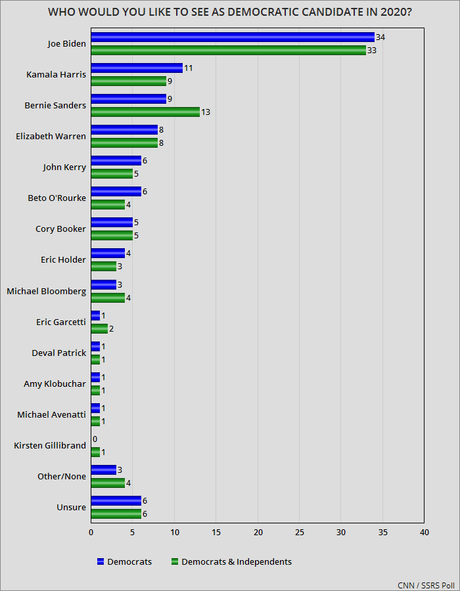 The chart above is from a recent CNN / SSRS Poll -- done between October 4th and 7th of a national sample of 1,009 respondents. This chart only showed the Democrats and Independents, and has a margin of error of 5.5 points.
Respondents were asked who they would like to see as the Democratic presidential candidate in 2020. Joe Biden led the field with 34% among Democrats and 33% when Independents were included. He had a significant lead, but 34% is far from conclusive. It shows that there is time in the next year for another candidate to sell themselves to Democrats.
Kamala Harris seems to be doing that. She finished second to Biden among Democrats with 11%, and dropped to third when Independents were considered with 9%. Bernie Sanders finished third among Democrats with 9%, but climbed to second when Independents were considered with 13%. I have to think those are very disappointing numbers for him.
Elizabeth Warren was fourth with 8% -- both with Democrats and with Democrats/Independents.
It will be interesting to see how this shakes out over the next year or so.