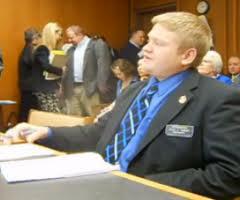 via The Huffington Post
A Republican member of the New Hampshire House of Representatives who once posted a comment on Facebook about shooting at police officers accidentally dropped one of his guns on the floor at the start of a committee meeting Tuesday morning.
State Rep. Kyle Tasker (R-Nottingham) explained to onlookers that he had donated blood that morning and the effects caused him to drop his gun at the start of a House Criminal Justice and Public Safety Committee meeting. The committee was meeting to amend an abortion bill pending in the Legislature. The gun did not fire.
State Rep. Steve Shurtleff (D-Concord), a member of the committee, said that he was sitting three seats away from Tasker in the committee room when he heard "a clang" and saw that the gun was on the floor. Shurtleff said Tasker routinely wears two guns in a shoulder holster to legislative meetings.
There's no excuse, let alone that bullshit story about having given blood. People who insist on carrying guns and have a license to do so, should be held accountable for their irresponsibility. When this level of stupidity is combined with the paranoia of carrying not one but two guns at all times, you've got a dangerous situation. People like this should not be trusted with guns.
What's your opinion? Is it too severe to punish people who make mistakes like this with
the one-strike-you're-out rule
?
Please leave a comment.