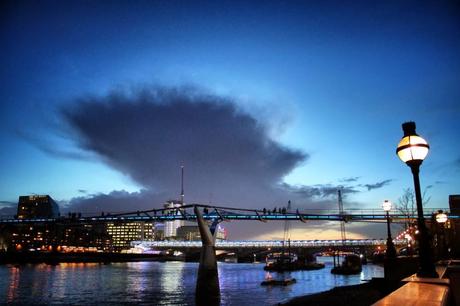 David writes… A London puzzle for you.
A high drama on the high seas game.
It's called Identify the Battleship. And get it in your sights.
You can't see it but you know it's there.
You know it's there because you can see its escort of Destroyers. Seven of them.
Not only can you see them. You know their names.
They are (in no particular order):
More. Passing. Scattered. Felt-tip. Partly. Broken. And Mostly.
So what's the name of the Battleship?
Ok, ok. Felt-tip was a googly. Made it up. Shouldn't be there.
Got it?
No?
The Battleship is The Headline Act of London Atmospheric Conditions. Better known as Cloudy. Or Clouds.
When it's not gun-running as Overcast.
And that's not to mention the other big boys in the fleet. You know, Rain. Showers. Fog. Snow. Etc.
I mean, how many adjectives – and adverbs – do you need to describe cloudy?
Well, now you know. (Know for London, that is.) Six. Plus the stunt double Overcast.
London weather. You gotta love it.
And if you're from Phoenix – or Luxor – no, I'm not making this up. It's a straight lift from London's weather history for this past week. A London Walk costs £9 – £7 concession. To join a London Walk, simply meet your guide at the designated tube station at the appointed time. Details of all London Walks can be found at www.walks.com.