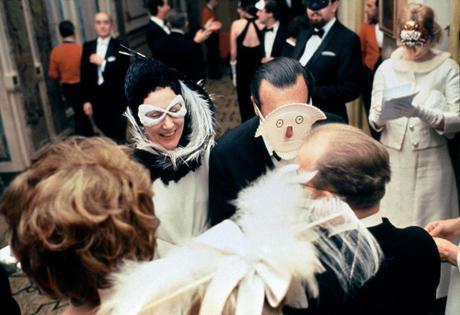 Parties used to require some pretty remarkable clothes. In 1951, eccentric millionaire Carlos de Beistegui threw a masquerade ball at the Palazzo Labia, an old, baroque palace in Venice, located on the banks of the Grand Canal. The theme for the night was Venetian life in the 18th century, just before the fall of the republic, so guests showed up in these fantastic costumes made of embroidered fabrics and intricate lacework. It might have been one of the most lavish social events in the 20th century. Guests arrived by gondola, as motorboats were forbidden, and were then greeted by this surreal spectacle that only a filmmaker could dream of. Nick Foulkes has a nice account of the event in this video.
One of the most legendary parties in the US was thrown by Truman Capote in 1966, who that year saw his social standing reach lofty heights on the success of his book In Cold Blood. The event was held at New York City's Plaza Hotel Grand Ballroom, which Capote considered the last good ballroom in America, and the guest list read like a veritable "Who's Who" compendium of the 20th century. Attendees included Arthur Miller, Andy Warhol, Henry Ford II, Rose Kennedy, Frank Sinatra, Gianni Agnelli, and hundreds like them. As Sarah Jane Rodham put it, "at the Black and White Ball, the Old Guard and the Avant-Garde danced together."
To give the night some visual unity, Capote enforced a strict dress codes. The event was themed after My Fair Lady's memorable Ascot scene, which was costumed by Cecil Beaton entirely in black and white, so guests were required to restrict themselves to those basic colors. Furthermore, everyone also had to wear a mask, which they could take off at the stroke of midnight, and ladies were asked to carry fans (on this last point, Capote was flexible).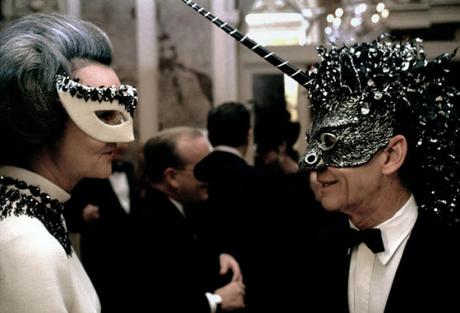 Wealthy fashionistas on the list subsequently split into two camps: there were those who went to Bergdorf Goodman to order custom masks from the store's hat designer, Halston, and those went to his competitor, Adolfo. Vanity Fair has a nice excerpt:
"The ladies have killed me," [said Halston]. Among the perpetrators of this crime of fashion was Babe Paley, for whom Halston contrived a white zibeline mask embellished with a false ruby. Its goggle-like peepholes showcased her eyes, which she considered her best feature. For 19-year-old Candice Bergen, he devised a fluffy, long-eared, $250 white mink bunny mask. And for D. D. Ryan, Halston surpassed himself with a white kid, nose-tip-to-hairline Kabuki mask. "I painted the eyes on myself," Ryan says. "My mask was austere, modern. Everyone else's was encrusted with rhinestones and plumes. If they were giving out a prize, it would have gone to me."

Adolfo, who created about 125 made-to-order masks at his East 56th Street salon and sold about 100 more through Saks Fifth Avenue, says, "A lot of birds donated their feathers to the cause. For three weeks it was a real deluge, one lady after the other. I had to turn some away! Making a mask, you know, is not so easy. The configuration of everyone's eyes is different, so I needed to make a buckram and do fittings for each one. My whole staff was up all night!"

[...]

Other guests relied upon their own ingenuity and made masks themselves: Henry Fonda glued every last spangle on his wife Shirlee's, and Adolph Green's mask was produced by his son and the boy's nanny. George Plimpton bought a cheap white dime-store mask so "full of glue I got high from sniffing it all night." Octogenarian Alice Roosevelt Longworth, Theodore Roosevelt's daughter, economized with a 35-cent white mask which she trimmed into a narrow band and attached to her temples with adhesive tape. Capote's own black domino, from F. A. O. Schwarz, set him back 39 cents.
Outside of Halloween, we don't really wear specific clothes for parties anymore. House parties require a sort of well-thought-out casual, which you might also use for Friday night dinners, while anything fancier is just a suit and tie, which you (ironically) also use for work. Rare is the black tie event nowadays, especially outside of New Year's Eve. It's a shame because a lot of those grand, extravagant balls of yesteryear sound like they were a lot of fun.