When asked at a dance store, "Would you like cloth shoes or leather?", many dancers know exactly what they're looking for. Everyone has their own personal taste and preference and chosing ballet slippers is no different. If you're not quite sure what to buy/what would be best for you then here's a little help with your decision.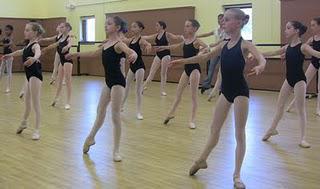 Let's start with my personal favorite, the canvas shoe. Canvas shoes from to your foot and bend with curves of your arch. At the moment I have
Sansha Unisex "#1 Pro" Canvas Ballet Slipper
 and they've lasted since the beginning of summer 2010. The tip of the shoe is now beginning to wear through and there will soon be hole. (That reminds me, I need to get some new ones!) But two years is long considering all of the wear and tear they've been through. I love the canvas and I would highly suggest trying any shoes on before you buy them.
Onto the leather. Rather than forming TO your foot like the canvas, the leather forms your foot. These shoes are more stiff but the leathery material makes for a great turning platform. I've seen many dancers nowadays buying the "split sole" slipper like this one:
Bloch ® Women's "Elastosplit™ X" Canvas Ballet Slipper
. I myself have not tried them on but hey, you never know what will appeal to you, so on my next trip to the dance store I'll have to check them out.
It's really all about personal preference. Try on both types of shoe in your size and see which one you like better. Leave a comment and let us know which one is your favorite!
Thanks for reading, guys!
Ballerinablogger ~