How Organised is Your Wardrobe?
There are lots of different ways to organise your wardrobe and there is no one right way. But there are a few tips I'm going to share with you here and some examples of one well-organised wardrobe that may inspire you as the seasons change and you do a wardrobe reshuffle.
Hangers Are Key
Having good coathangers, as well as pant and skirt hangers is key to making your wardrobe feel organised as well as making it easier to find particular garments. One of the things that make boutiques more attractive is the way the clothes are hung
When you have all different styles of hangers it makes it harder to see what you have, as some hang higher, others lower (and the lower clothes disappear). Investing in hangers of the same style and dimension really does make it so much easier to find things. You can see from these images below how even just changing out the hangers makes the wardrobe feel more organised (and like a boutique).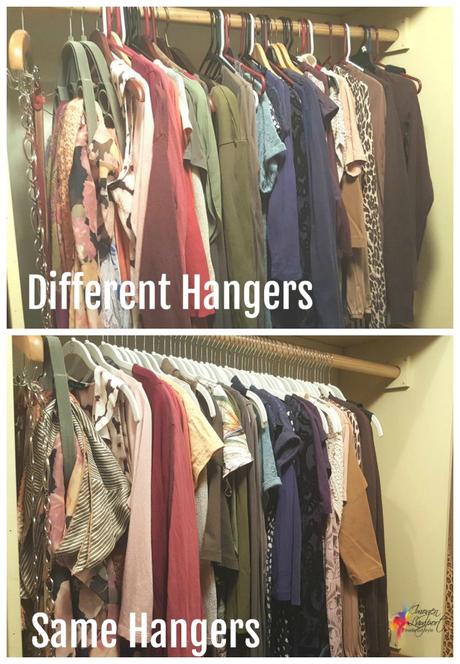 There are lots of different styles of hangers you can try - what you prefer may depend on space and hanging requirements.
If you have limited space, then the velvet hangers are wonderful - they are slim and also your clothes don't slip off them either which is another plus.
Alternatively, wooden hangers are more durable and good for heavier items like coats and jackets, so if you have the space in your closet for them they can be a great option.
Skirt hangers are great - make sure you get ones with quality clips that don't break easil y (like plastic clips tend to).
Trouser hangers come in different styles, if you have more long hanging space, then the ones that clamp the hems together are great. But if you only have short hanging space you may want to go for ones that you clamp the hems together are great.
Do not hang more than one garment on a hanger, because whatever is underneath will most likely be forgotten and so go unworn.
Organise By Type of Garment and Colour
As you can see in this gorgeous picture of an Exotic palette wardrobe below, that you organise by type of garment - tops together, dresses together, jackets together etc. This way when you're looking for a particular style of garment you can see all your options in the one place.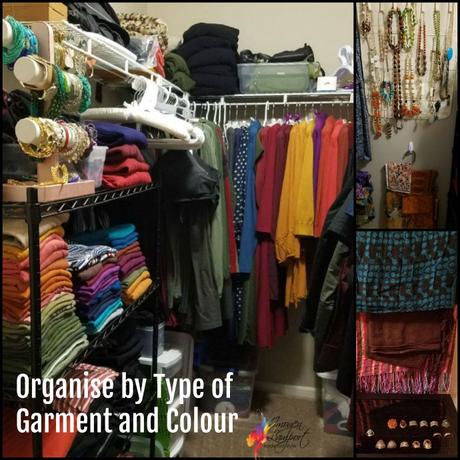 I then like to organise by colour- using the rainbow (or your colour swatch) as a guide, so that you can easily find colours that mix and match with existing garments more easily, particularly if you're matching a patterned garment with a solid. Plus it allows you to see if you have a lot of garments in one particular colour and maybe there are other colours in your palette that you could star looking for to broaden your wardrobe options.
I'll always remember an experience doing a wardrobe audit with a client, she thought she had no green tops, when we reorganised her wardrobe into colour and style of garment, we found she had 20 of them! Yet because they had been hidden in between other garments and colours, she didn't realise she had any, so she kept buying more green tops.
Hang as Much as You Can
Depending on your wardrobe layout and storage options, if you have hanging space, or can make additional hanging space, then hang as much as you can. This is because hanging clothes makes them more visibly accessible, and when you see something, you're more likely to wear it.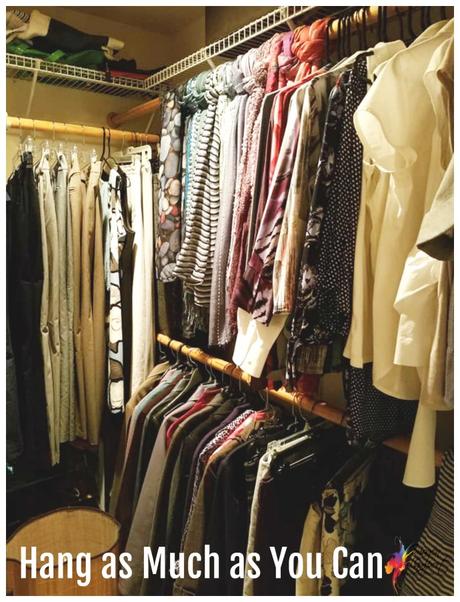 If you only have single hanging rail, see if you can double up rails to create two levels. Unless all you wear is dresses, you need more double hanging space than single in a wardrobe.
Hanging also keeps more creases out of garments. One thing I do after I get my clothes out of the washing machine, is to hang what I can directly onto a hanger, then dry the clothes on the hanger, then more of the creases fall out as they dry and then I've already put them onto hangers so it's quick and easy for me to transfer it directly into my wardrobe.
Create Drawers Out of Shelves
If you have a lot of shelves, rather than stack things on there (unless they are very shallow), turn your shelves into drawers using boxes or baskets as they allow for better accessibility.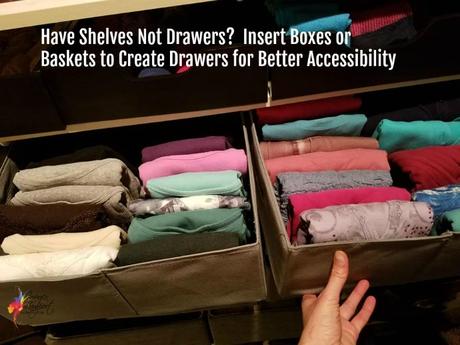 Fold your clothes vertically ( Marie Kondo method) to make your drawers work really well for you as you'll find your clothes more easily and again, can organise by style and colour for ease of finding exactly what you're after quickly (and if it's not in the right spot, then you know it's in the wash).
Make Your Accessories Easy to Access
A jewellery box is often a beautiful thing, but it may not make your jewellery accessible. I found as soon as started hanging my necklaces up so I could see them (and they were not tangled) I started wearing them more.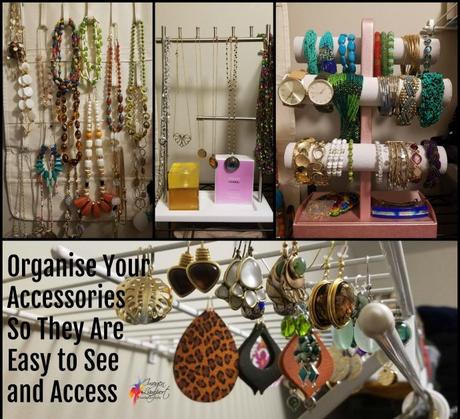 Whether it's a drawer with dividers for your bracelets. A jewellery stand that hangs necklaces and bracelets. or even an ice-cube tray to store your earring pairs in. Cup hooks on the wall or back of the wardrobe door to hang necklaces. Or a jewellery stand that hangs necklaces and bracelets. There are lots of ways to store accessories and I've shared many examples here.
How to Store Accessories
How to Set Yourself Up For Style Success