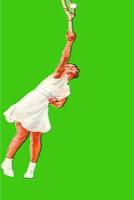 For the duration of the world's greatest tennis tournament – this year from 24th June to the 7th July – CLOSE OF PLAY will bring you a Wimbledon fact of the day. (The London Nightly Photoblog will return on the 8th July…weather permitting!)
To celebrate both the 4th of July (and The Championships at Wimbledon) our London List commemorates Five Trailblazing Wimbledon* Yanks:
1. Maurice McLoughlin (1890 – 1957). The first (of many) Americans to reach a Wimbledon final. Known as The California Comet, he lost 8-6, 6-3, 10-8 to New Zealand's Tony Wilding in 1913.
2. May Sutton (1886 – 1975). The first (of many) Americans to win a singles title at Wimbledon, taking the title in 1905. (Sutton was actually born in Plymouth, England, but her family moved to Pasedena when she was just six years old.)
3. Bill Tilden (1893 – 1953). First (of many) American-born winners of a Wimbledon singles title (1920).
4. Frank Hunter (1894 – 1981). The first (of many) American players to be runner-up to an American singles champion at Wimbledon, losing 6-0, 6-3, 6-1 to Bill Johnson in 1923.
5. Billie Jean King (b. 1943). First American singles champ of the Open era (1969). First of many (see above).
*We were tickled by the story, earlier this year, of the Jeopardy contestant who was penalized for a mispronunciation of "Wimbleton". A little harsh, we thought – you can read the story HERE. 
A London Walk costs £9 – £7 concession. To join a London Walk, simply meet your guide at the designated tube station at the appointed time. Details of all London Walks can be found at
www.walks.com
.