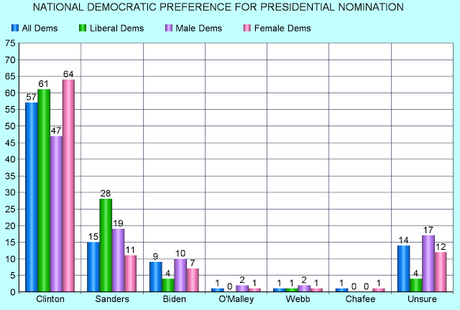 On Facebook yesterday, I saw post after post about how Hillary Clinton is scared of Bernie Sanders. Frankly, I'm just not buying into that. It sounds like a lot of wishful thinking by some Sanders supporters. And the latest national poll shows there is no reason for Clinton to be afraid of anyone.
It is the Quinnipiac University Poll. It was done between May 19th and 26th of a random national sample of 1,711 registered voters, with a 2.4 point margin of error. The survey included 748 Democrats (3.6 point margin of error) and 679 Republicans (3.8 point margin of error).
That poll showed Clinton still has a massive 42 point lead over Sanders (57% to 15%). But that is not the worst news for Sanders. His natural constituency is the party's liberals, and Clinton has a 33 point lead among Democrats who say they are "very" liberal (61% to 28%). He needs to take a substantial majority of the party's liberals to even become a viable candidate, and so far at least, he is not making a dent in the liberal vote. He has simply absorbed those who wanted someone other than Clinton to begin with.
The chart below (from the same poll) shows a bit of good news for Democrats. Polling just in the states with senate races in 2016 shows the Democrats with a 7 point lead (42% to 35%). The biggest advantage is among women, who give Democrats a 14 point lead (46% to 32%). That's good, because women traditionally vote in significantly larger numbers than men. This is one more advantage to having Hillary Clinton at the top of the Democratic ticket, because among women her coattails are very long.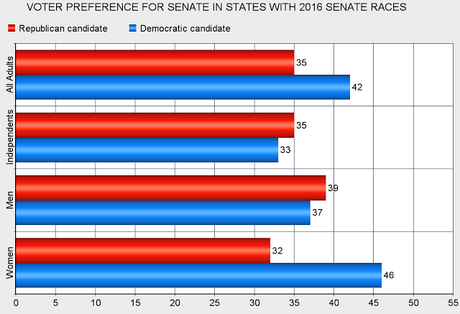 The Quinnipiac University survey also polled Republicans as to their preference, and it showed their is still no leader in the GOP presidential race. In fact, the race seems to have tightened up. At least five candidates are tied with 10% apiece -- and another four candidates are within 6 points of them. This is shaping up to be a free-for-all. Interestingly, the two newest candidates in the GOP race (Pataki and Santorum) didn't get enough support in the survey to even register at 1%. They have a long way to go -- but then, so do all the others.