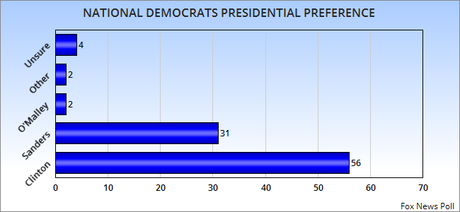 Another national presidential survey has been released. This time it's the Fox News Poll -- done between November 1st and 3rd. About 505 Democrats and 476 Republicans were questioned. While the entire poll has a 3 point margin of error, no margin of error was given for just Democrats or Republicans.
Their were no surprises in this poll. Hillary Clinton still has the support of a majority of Democrats -- and leads Bernie Sanders by about 25 points. O'Malley is still not a viable candidate.
Among Republicans, Donald Trump and Ben Carson still have a significant lead on the field. Trump leads Carson by 3 points, but that's within the margin of error and they should be considered as currently tied. Ted Cruz and Marco Rubio are the only other candidates in double figures -- both at 11%. No other candidate got more than 4%.