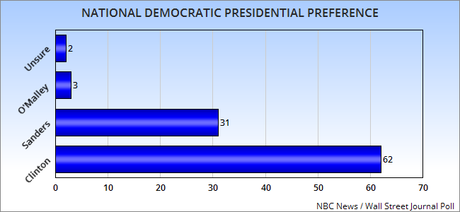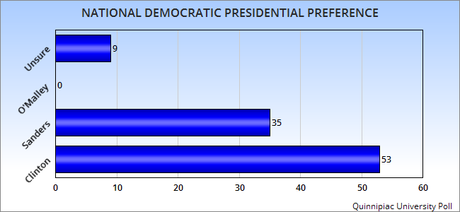 Two new national polls now show Hillary Clinton with majority support among national Democrats. She leads Bernie Sanders by 31 points in one poll (62% to 31%) and by 18 points in the other (53% to 35%).
It gets more interesting among Republicans, where the same polls show support for Donald Trump could be starting to fade. He trails Ben Carson by 6 points in one poll (23% to 29%) and leads him by only 1 point in the other (24% to 23%). I still have trouble believing Carson could win the GOP nomination, and think the importance of these polls is in Trump's inability to grow his lead further. Both polls show Marco Rubio and Ted Cruz support growing, and both are now in double-digits in both polls.
The NBC News / Wall Street Journal Poll was done between October 25th and 29th of a random national sample of 400 Democrats and 400 Republicans, and the margin of error for both is 4.9 points.
The Quinnipiac University Poll was done between October 29th and November 2nd of random national samples of 480 Democrats and 502 Republicans. The margin of error for Democrats is 4.5 points, and for Republicans is 4.4 points.