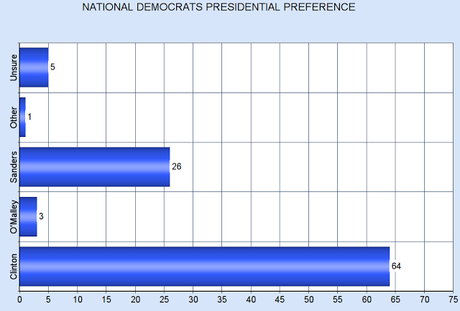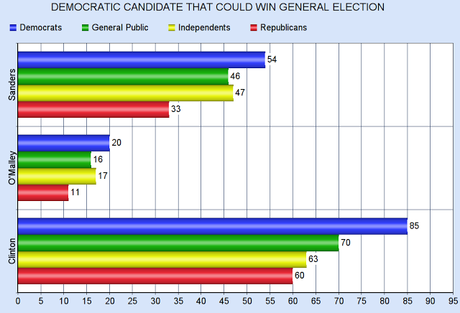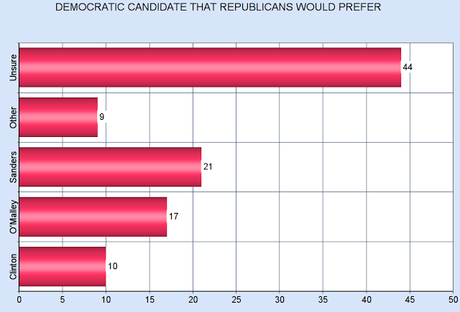 All of these charts were composed from information in the new YouGov Poll -- done between November 19th and 23rd of a random national sample of about 2,000 registered voters. No margin of error was given.
It looks like Hillary Clinton is marching steadily toward the Democratic nomination for president. She has the support of a strong majority of Democrats (64%), and leads Bernie Sanders by 38 points. She also is the candidate that everyone thinks could win the general election. Democrats think so by 85%, the general public by 70%, Independents by 63%, and Republicans by 60%. Only Democrats think Sanders could win (54%), and no one thinks O'Malley could win.
I also thought it was interesting that the Democratic candidate Republicans would prefer to run against was Sanders 21%. It seems that they think he would be the candidate giving them the best chance to win.
The charts below show the Republican presidential preference. Donald Trump still has a good lead (37%).  Marco Rubio (15%) and Ted Cruz (11%) finished second and third. It looks like Ben Carson is fading fast. He got only 10% Republican support -- less than half of what he was polling a couple of weeks ago. Have the Republicans finally figured out he just doesn't have the knowledge or experience to be president?
The poll also asked Democrats who they would prefer the GOP nominee to be. Trump finished in first, but only with 17%. I think Democrats don't see any of these candidates as a real problem for Clinton.