Today I had clinic at harefield, I'm 5 months and 13 days post second double lung transplant. Me and stu turned up bright and early and got to spend most of the day with my friend Emily assin, her baby Sophia and sister Abbey. Emily and Sophia visited regularly when I was in rejection and Sophia would cuddle up with me while Emily made sure I was fed, watered, pain free and calm. So as you can tell already these visits were very special to me. Emily is 7 years post transplant and had her baby through surrogacy. Sophia is 8 months now.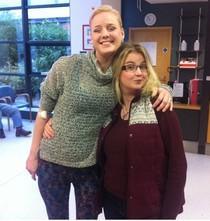 Me and Emily.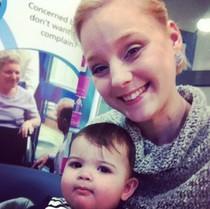 Me and baby Sophia!
Clinic started with blood, an achievement in its self, my veins are now accessible and bleeding well after a well earned break. Yep 4 1/2 months free of un planned hospital admissions, iv only been in for a couple of days for planned bronchs! This feels amazing to me!
Then lung function, my fvc = total capacity = 88% and my fev1 = amount I can blow out in the first second showing how well your lungs are working = 96% so I can blow out 96% of 88% in the first second = 100% amazing!
I them had a 6 month exercise test, walking for 6 minutes I covered 570meters the most my physio had personally ever seen! Which again is amazing!
Also over the last month or so my blood sugars have been playing up first my insulin need went up dramatically, I tried incredibly hard to tackle this, which resulted in a fair few hypos and now after going back to the gym and trying to cut down my carbohydrate intake iv been off insulin for two days and still managed to have a hypo. Obviously a hypo isn't good but it's really something that I'm off insulin I now just have to get the right amount of carbs in to keep my blood sugar stable. So that's pretty.......amazing.
The only slight issue is my white cell count is to low and so are my neutrophils. I have stopped a medication and will have to keep an eye.
I'm really enjoying life and feeling like things are going in the right direction. I'm so happy and thankful it's positively sickly ;-) I'm now on my agents website and waiting for the work to come in, which will hopefully result in being able to leave my job at next and focus full time on public speaking, tv presenting and get back to teaching pole (once my garage is converted in to a studio).
- Posted using BlogPress from my iPad