Our goal in this post is to provide you with a thorough comparison of ClickFunnels and Simvoly so you can make an informed decision.
Before we get started, let's take a quick look at the main differences between the two software.
Simvoly is a popular website builder, whereas ClickFunnels is a popular software for developing sales funnels. Is it possible that we're comparing apples to oranges incorrectly? Did I mention that Simvoly can create sales funnels in the same way that ClickFunnels can? Yes, it also does that.
For marketers and entrepreneurs, ClickFunnels and Simvoly are both landing page software applications. Simvoly is ideal for eCommerce entrepreneurs who require entire eCommerce site solutions, including websites, online stores, funnels, and landing pages.
ClickFunnels is great for high-converting sales funnels, whereas Simvoly is best for eCommerce entrepreneurs who need comprehensive eCommerce site solutions, including websites, online stores, funnels, and landing pages.
What's The Difference Between ClickFunnels and Simvoly?
To be honest, there are more similarities than differences between ClickFunnels and Simvoly.
They're both tools for creating websites, sales funnels, checkout systems, opt-in forms, and other things. They're both compatible with a wide range of different internet services. They've also received good third-party reviews.
However, there are a few major distinctions: ClickFunnels has been around longer than Simvoly (it launched in 2014 vs. 2016 for Simvoly), and it also has a larger user base (over 90,000 vs. just over 20,000).
Simvoly is also significantly less expensive than ClickFunnels (beginning at $12 per month vs. $97 per month).
But probably the most significant distinction between the two platforms is their focus: ClickFunnels focuses on sales funnels, whereas Simvoly focuses on eCommerce businesses.
What are a sales funnel, exactly?
A sales funnel is a collection of pages designed (and tested) to encourage users to take a specific action. Sales funnels convert far better than websites or landing pages because of this single-minded approach.
We give all ClickFunnels customers access to a library of 20+ sales funnel templates that have been shown to convert in hundreds of tests.
Simvoly is a website builder with the ability to create sales funnels. It is a fast and easy website and funnel designer that allow users to fulfill their ambition of owning a website without prior IT experience for themselves or their business.
This enables non-tech people to construct an online presence without the help of web developers or designers in addition to their social networking platforms.
Simvoly has a wide variety of adaptable templates and layouts, a drag-drop interface, and widget blocks. Simvoly is a tool that facilitates the building of websites and is viewed as an ideal alternative for non-IT users to build a website in flash.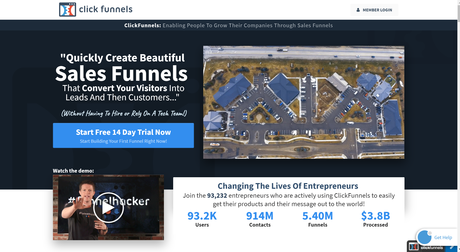 What is one of the first things you do as an online marketer when you start a new business? The first step is to build a working website that will assist you in generating leads so that you can make sales. However, creating one of these websites might be difficult.
Unless you are utilizing an advanced website builder, creating a website from scratch will require a lot of planning, brainstorming, time, and work, especially if you want to make it big in the company.
ClickFunnels ' purpose is to assist businesses, large and small, in achieving their marketing objectives without requiring much technical knowledge. This is why they have one of the most effective tools available.
ClickFunnels is a marketing automation platform that helps organizations grow their marketing operations and generate sales. It makes it simple to create pages that capture consumer information and facilitate sales.
Before we dive into the specifics of ClickFunnels, it's important to understand the company's mission. Prior knowledge of digital marketing and what it can do for your organization, specifically sales funnels, is required to achieve its purpose.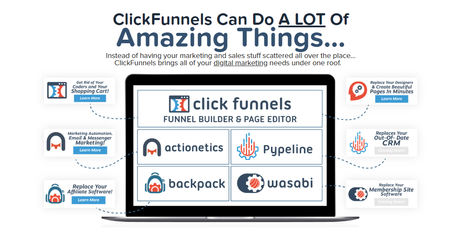 When you join up for the ClickFunnels 14 free trial, you'll have access to pre-built sales funnels as well as a $5,586 prize. That is to say, all of the heavy lifting has been completed for you. You may replicate the exact sales funnels into your ClickFunnels account with a single click. Isn't it incredible?
ClickFunnels features a sales funnel for you whether you're selling digital things, physical things, generating automated webinars, selling online courses, or developing a membership site. These funnels have been proven to convert and have undergone several stages of split testing to ensure that you obtain the most sales possible.
The One Funnel Away Challenge, run by ClickFunnels, is a popular coaching program. It was created with the goal of guiding you through the process of designing and launching your first funnel
in under 30 days. Knowing that people get stuck when it comes to building a funnel, ClickFunnels has made a commitment to ensuring your success with the software.
Email autoresponder and Actionectics are included in the highest-end ClickFunnels Platinum plan. You may establish email lists, email campaigns, and send a broadcast email to your lists using Actionectics.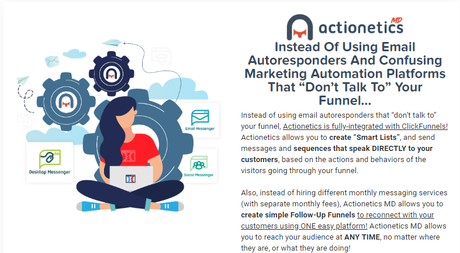 What I appreciate about Actionetics is that you can send emails to the clients you want (the ones who offer you the most sales) based on the measure you've provided, such as the action score.
Without having to deal with any programming or coding, ClickFunnels allows you to modify the pages to feel and look precisely how you want them to.
You may easily customize the logos, videos, items, and text to meet your needs. You may personalize your pages using the built-in editor option, which includes custom CSS, padding adjustments, and color changes.
ClickFunnels tries to keep every customer by delivering helpful training and lesson films that guide new customers through their initial ClickFunnels experience. These instructions are also built in the form of a game, with users being awarded for completing missions, ensuring that users can quickly set up and launch their sales funnels.
Simvoly has a variety of themes that cover practically any niche imaginable, including consultancy, real estate, fashion, and more.
Simvoly has you covered whether you need a website, an online store, a landing page, or a funnel. These ready-made templates can be adjusted to meet your specific business needs.
Simvoly is more than simply a website builder; it can also be used to set up an e-commerce business. This robust platform allows you complete control over payments, products, discounts, orders, and emails, among other things.
You can easily develop and build a website with interactive and adaptable drag and drop widgets.
You'll be amazed by how the Simvoly website builder can improve your blogging experience if you're used to building websites from the ground up.
Simvoly allows you to accomplish numerous activities without having to install several WordPress plugins, such as inserting images and videos into your blog posts and enabling share buttons to allow readers to swiftly share your pieces on social network platforms like Facebook and Pinterest.
You can't improve something if you can't measure it. You can simply track the quantity of traffic to your website with built-in website analytics.
These statistics can include the most popular pages, the best-performing pages, and the country of origin of your visitors. You'll be able to improve based on these numbers from there.
Who is ClickFunnels for?
Small, medium, and large enterprises, as well as solopreneurs, freelancers, information marketers, agencies, and bloggers, will benefit from Clickfunnels.
With pre-built sales funnels and landing pages for any purpose, a template/page builder, and a large number of integrations, Clickfunnels makes online selling simple for everyone. For practically anyone looking to improve sales and develop their list, Clickfunnels has a wide range of application cases.
Simvoly is primarily for eCommerce firms and entrepreneurs that are looking for an all-in-one solution for their eCommerce needs, such as a website builder, online store functionality, sales funnels, membership areas, shopping cart solutions, and native CRM capabilities to improve conversions.
This can be your greatest bet if you're developing e-commerce stores online and don't have any integrated funnel options.
ClickFunnels Vs. Simvoly: Integrations
ClickFunnels Integrations:
Twilio - is a service that allows you to personalize and schedule SMS messages.
Embed A Calendar In Your Funnel - Allow leads to schedule themselves on your calendar by embedding a calendar into your funnel. For integration, a variety of calendar software can be used.
YouZign - You may use YouZign to host bespoke photos and then publish those same photos on ClickFunnels.
VWO Engage - Set up push alerts for your funnels with this tool.
Sales Force- If you want to combine SalesForce with your ClickFunnels account, use this.
Warrior Plus - Use your ClickFunnels site to sell Warrior Plus items.
Disc Delivered - When someone places an order in your funnel, use Disc Delivered to enable automatic order fulfilment.
Stripe Payment - Integrate Stripe as a payment processor and deliver Stripe receipts to funnel consumers.
Kajabi - Use Kajabi to integrate your ClickFunnels items with Kajabi membership areas.
Use PayPal to add a PayPal button to your ClickFunnels page and accept PayPal payments.
WordPress - This plugin allows you to connect your ClickFunnels account to your WordPress site.
Use Shopify to link your Shopify account to your ClickFunnels account.
Slybroadcast - Use ClickFunnels to send voicemails from Slybroadcast to your subscribers.
Use Shipstation to set up order fulfilment once someone makes a purchase through ClickFunnels.
Zapier- Use to integrate your ClickFunnels account with any other popular service.
ZenDirect- Use to send customer information from ClickFunnels to ZenDirect to ship items from ZenDirect.
Simvoly Integrations:
Mailchimp - Use to send email marketing campaigns to your subscribers.
ActiveCampaign - Use to organize your leads and contact them via email.
GetResponse - Use to build an email list and market to leads.
PayPal - Use to create a payment gateway.
Stripe - Use to create a payment gateway.
Zapier - Use to integrate with other popular online services.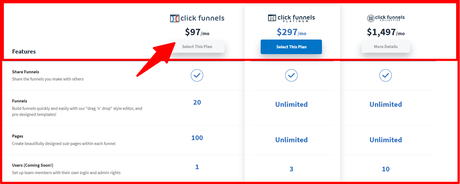 There are two pricing options for ClickFunnels.
But there's no need to get your wallet out just yet; you can test it out for free for 14 days!
Simvoly offers four different pricing options
Simvoly, thankfully, offers a free trial that does not require a credit card. So, before you buy, give it a shot!
ClickFunnels Vs. Simvoly: Pros & Cons
ClickFunnels
You can duplicate or download the exact same funnel into your account using the shared funnel function instead of having to recreate it from scratch.
Due to the straightforward and straightforward design, users may begin constructing and customising their first funnels without much assistance.
You may quickly add product and service upsells to boost your chances of getting more income by using the upsell features.
Risk-free 2 week free trial
Best for sales funnels
Best ROI-value for the price
Includes FlunnelFlix training library
6 pre-built sales funnels included
While ClickFunnels Actionetics isn't as sophisticated as other CRM solutions, it does occasionally experience system issues.
Just funnels, not a perfect solution for establishing a website or a blog.
Support can be slow to respond
Doesn't track across non-CF web pages
Not designed for complete websites
Pros
Simvoly
CONS
Using the drag-and-drop tool and predefined templates, you can construct your own website in about 10 minutes.
Pricing plans are affordable, and unlike other platforms, there is no startup or set-up price.
Risk-free 2 week free trial
Affordable starting price of $12/month
Complete ecommerce solution
Membership site capabilities
White label option and plan
When it comes to constructing complicated sales funnels, they are unable to handle many funnel processes.
The tutorial videos are useful, but they are quite long, and it takes a long time to finish watching them all in order to find the important information.
Very few native integrations
User interface is confusing
Templated designs feel underdeveloped
Can be overwhelming at first
PROS
When it comes to sales funnels, there is no better platform than ClickFunnels. ClickFunnels is the best-in-class at everything from webinar funnels to lead generating funnels.
This is consistent with their firm's mission, which is to become the "category king" of sales funnel software. Another recent addition to ClickFunnels that we really appreciate is "FunnelFlix," a Netflix-style library of training videos on anything from mentality to traffic, funnels, and more.
CONS
It's a fantastic method to serve their customers, and FunnelFlix alone is well worth the investment.
Simvoly's intense emphasis on eCommerce solutions is something we admire. For the modern eCommerce operator, gluing together a Shopify store, sales funnels, membership sites, and CRMs is not optimal.
Simvoly provides you with a fully functional website/store and funnel builder that is tailored to your comm requirements. Simvoly can be used for a variety of projects, including blogging, but its actual strength is in providing an all-in-one eCommerce site construction solution.
We particularly like the white label account option, which allows the platform to be monetized in innovative ways.
What Stands Out For Us When Reviewing ClickFunnels Vs Simvoly?
When comparing these two fantastic items, there are a few characteristics that stick out for us.
First and foremost, they're both excellent products, but they're targeted at different types of entrepreneurs and solve distinct challenges.
Simvoly is focused on creating a complete eCommerce site-building platform for Ecomm entrepreneurs, whereas ClickFunnels is hyper-focused on providing the greatest sales funnel builder out there (that happens to include funnels).
The price gap between these two systems is the second major distinction.
Simvoly has a great starting price, so if you're new to this world and want to get your feet wet without making a major monthly commitment, you'll adore Simvoly's $12/month starter package.
ClickFunnels is one of the more expensive funnel builders on the market, with a starting price of $97.
Integrations are next on our list of significant differences.
When it comes to integrations, Simvoly trails considerably behind the competition, which could be a deal-breaker for many enterprises.
They do integrate with Zapier, however, using Zapier to connect everything becomes overwhelming.
At this point, ClickFunnels has a massive list of integrations, so if certain integrations are a deal-breaker for you, ClickFunnels may be the best option.
With all of the similarities between these two, this comparison has been a lot of fun.
Further, both of these software platforms will be excellent choices for:
Any form of small business is acceptable.
Small and medium-sized enterprises (in terms of size).
As well as any other kind of grizzled veteran.
So, after weighing the pros and cons of these two software options, who will come out on top?
From the start, the answer was quite apparent.
ClickFunnels is simpler to set up and operate.
It's simple to use their drag-and-drop page builder.
They're ideal for selling digital goods or any other form of a deal.
They provide the option of creating both automated and live webinars.
As a result, they've been able to continuously develop their software as a whole.
That is a significant advantage, as evidenced by the fact that it has been demonstrated.
Because:
Furthermore, Simvoly's distinguishing traits aren't particularly compelling.
I'm talking about websites and e-commerce (there are better platforms for those features).
So, at the end of the day, ClickFunnels will be the better option of the two.
More Reviews on Website Builder: