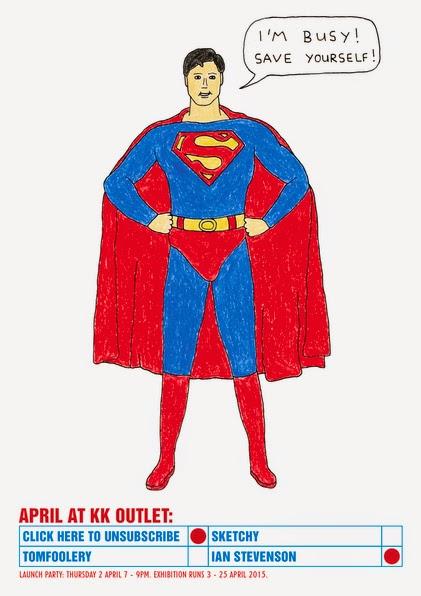 KK Outlet
invites you to the launch party of
Ian Stevenson's
delightful exhibition, Click Here to Unsubscribe. Ian's a London based illustrator, quick witted, with an irreverent stance. He paints on rubbish, takes the piss and has exhibited at Tate Modern. Expect brand new, never seen before, illustrative works from this pencil wielding linear master.
Turning trash into treasure, Ian's work is both engaging and enlightening. Influenced by his immediate surroundings, everyday life and the TV from which he reflects the reality of living in the 21st Century. Ian re-directs his twisted and joshing take on the world to create distorted characters, murals, alternative slogans, animations, sculptures, customised photographs plus anything from coffee cups to record sleeves.
A recent collaboration with Russell Brand, to promote his book Revolution, saw Ian's artwork on the Village Underground's wall in Shoreditch. A larger than life sized mural, jam-packed with blissful characters and hilarious, satirical slogans.
The exhibition's grand opening is going to be a blast!
The beer is free. Everybody is invited. See you there.
Launch Party: 2 April 2015, 7 - 9pm
Exhibition Runs: 3 - 25 April 2015
KK OUTLET,
42 Hoxton Square, London, N1 6PB