So NPR will be losing the Magliozzi boys' new programs every week… but let's hear it from them:
RAY:  Hey, you guys.  My brother has always said, "Don't be afraid of work."

TOM:  Right.  Make work afraid of YOU!

RAY:  And he's done such a good job at it, that work has avoided him all his life.

TOM:  And with Car Talk celebrating its 25th anniversary on NPR this fall (35th year overall, including our local years at WBUR)…

RAY:  …and my brother turning over the birthday odometer to 75, we've decided that it's time to stop and smell the cappuccino.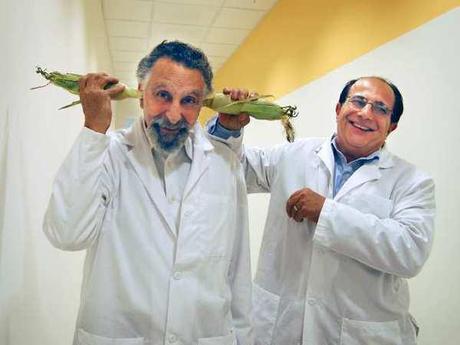 Tom and Ray Magliozzi of "Car Talk"
TOM:  So as of October, we're not going to be recording any more new shows.   That's right, we're retiring.

RAY:  So, we can finally answer the question, if my brother retired, how would he know?

TOM:  The good news is that, despite our general incompetence, we actually remembered to hit the "record" button every week for the last 25 years.  So we have more than 1,200 programs we're going to dig into starting this fall, and the series will continue.

RAY:  Every week, starting in October, NPR will broadcast a newly assembled Car Talk show, selected from the best material in our archives.

TOM:  Sorry, detractors, we're still going to be on the air!
Goodbye guys… take it from me, everyone has to retire sometime.