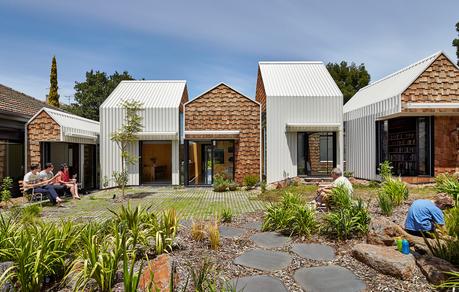 Inspired by Sydney Opera House, the architects Jorn Utzon, Maynard, and Austin paid careful attention to the extension's "fifth elevation"—the way it's seen from the sky. "The roof plan, rather than the street façade, is now the most public face of a building thanks to Google Earth," they explain. Its tiny houses, clustered at the southern end of the property, are clad in white steel panels and western red cedar shingles, contrasting materials that emphasize their geometric forms.
Neighborliness can seem like a thing of the past in many suburbs today, a trend that architects Andrew Maynard and Mark Austin were hoping to counter when they approached the renovation and extension of a weatherboard home outside Melbourne for a couple and their eight-year-old twins.
"Increasingly Australian houses are becoming fortified under the pretense of privacy," Maynard explains. "We try to do the opposite." Instead of designing another closed-off contemporary work of architecture, the architects created a village, wherein a series of friendly, gabled structures lead out from the original house and border an open garden. The front yard has a communal vegetable patch that neighbors are invited to use; the back fence, though tall, is see-through; and the gates are also designed to be left open wide.
But there's still room for introspection. In the the main house, sliding panels divide large, shared spaces into smaller, cloistered ones. The addition also contains cozy reading nooks where the residents can quietly recharge. The home sits in the sweet, thoughtful balance between solitude and community.