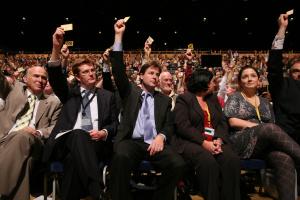 Spare a thought for Lib Dems preparing to gather in Glasgow in under a fortnight. It's the last conference season before the 2015 general election and the last time the public will get to see the party gathered collectively together. And while only obsessive politicos will be glued to proceedings on the BBC Parliament channel those all-important news clips and camera scans of the audience on the 10 O'clock news will tell voters all they need to know about who the party is. So many signals to give the electorate and so little time.
The coalition feast was good while it lasted but we're now finishing desert, coffee is being served, and thoughts turn to facing the hungry chanting crowd outside. Not an entirely inappropriate analogy given the mushrooming of food banks since 2010 and the growth in shoplifting arrests by first-time offenders for stealing food, explored on BBC R4 Today programme yesterday morning. Proof that while George Osborne's luxury wallpaper designs might have images of economic recovery imprinted on them, these are only comforting for those who can afford them. The recovery remains but a mirage to the many in part-time work, zero-hours contracts, those who have seen their real incomes fall, and the unemployed. They would rather build a mound of Lib Dems to climb over in order to reach this fabled recovery.
As Ed Miliband rubs the 'squeezed middle' and Tories focus on the bow-tie upwards who is speaking for the whipped bottom? If the Liberals are not about standing up for the interests of the great mass of people against powerful special interests I don't know what we stand for. Sadly few motions on the Glasgow agenda directly address the victims of the recession, on-going for many and a dark depression for pockets of society. It is the last chance for the Lib Dems to effectively acknowledge the hurt and struggle of the many, apologize for our role in policies that have exacerbated their condition, and articulate progressive Liberal solutions.
We may not convince a sceptical electorate immediately but if we don't venture down the road to redemption before polling day this road will be that much rockier and steeper afterwards. The best way of selling the positive changes Lib Dems have made in government is not to present them as isolated gems but to place them in their proper context of being rare bright glows in Cameron's sludge-tank and argue that we've done our best in the circumstances but its' not been nearly enough when you add everything together, as voters do before placing their cross.
There has never been a more important time for Nick Clegg to earn his crust as party leader as opposed to swanning around as Deputy Prime Minister. He will need to lead from the front at Glasgow, positioning the party for the battle ahead not with a rousing pep talk or a justification for past actions but by outlining a clear vision about how Lib Dems can travel that post-2015 road and how Liberal principles, if put into action, can make a positive difference to the bottom half of society.
As well as speaking to Britain as it is, as opposed to the Britain we might like it to be after five years of being at least partially in power, Lib Dems need to look more like Britain as it is. Given the party don't quite reflect modern society some choreography may be required here. Let's face it even UKIP, with their ranks of Colonel Blimps and BNP-sympathisers, are better at presenting a more diverse face than Liberals. They also have more BAME European MEPs than us. With a bit of will and creativity there is no reason why we can't convey a better image, both in physical and policy terms. This is another area where Clegg can lead from the front. On equalities the party has a progressive policy, adopted at last years' conference, on race equality in education and employment containing several gems such as forcing companies contracted to supply services to the public sector to comply with the Equality Act and reveal how many BAME employees they have, and allowing excluded children who have had the exclusion overturned on appeal back to school. Spring conference saw the party approve a good policy on asylum and immigration, and a new report is coming forward from the party's Equalities Policy group which backs positive action to achieve equality across all under-represented sections of society. These are all positive messages that Clegg can weave into a new narrative. Stronger Equality, Fairer Social Democracy, if you like. He might as well, he doesn't have much more to lose.
Just as Joseph Chamberlain's municipal Liberalism offered radical solutions to Dickensian poverty in the 19th Century, today Britain is crying out for a party that not just decries hard times, as Labour do, but lays out a plan to tackle the forces pushing the poor down and the barriers preventing equality rising. A narrative underpinned by policies that protect individuals from surveillance, guarantee workers rights to freely organize and strike, increase social mobility, dismantle the barriers to equality and redistribute wealth. We need to occupy land Labour have long vacated, land currently populated by one lonely green flag.
Below the grand ideals there is also much work to be done in Glasgow to get the processes right. I was disappointed to see the Federal Executive proposing a motion to 'zip' the proportion of women on party committees but missing out other under-represented groups. Ironically as the only three BAME members on the top three committees are men this measure will see all three lose their seats to be replaced, in all probability, with white women. A retrograde step.
And so far there's been no debate about how to reach out to the working class. Yes, women are under-represented at all levels of the party but a mother living on a council estate may well prefer Dennis Skinner to represent their interests than another middle class woman. As a black man I'd rather see a progressive working class white man raise issues of race inequality than a middle class woman who doesn't, or indeed a BAME man that doesn't. There is no substitute for lived experience, which is why BAME self-representation is so important, but a gender-diverse committee that sidelines race until they find a BAME woman they can trust is cold comfort.
The Glasgow conference should also be the start of a fightback to grow from the grassroots. In the local elections this year the party lost a great many councillors across the country and in London saw many talented BAME councillors lose their seats. We currently have only 19 councillors from a visible minority in the capital, ten of whom are in leafy Sutton. Brent has 34 councillors from a visible minority but the solitary Lib Dem is listed on the council website as "Councillor Dr Helen Carr BA (Hons); M Phil (Oxon); Cert TEFL; Dip; DPil". The only letters missing are BAME.
Sutton, where I stood down as a councillor this May, actually increased BAME representation as well as the number of Lib Dem councillors – a rare success story on an otherwise disastrous election night. Many in the party are asking what the secret of Sutton's success is. How have they held their ground, and even gained more, as the party were pushed back everywhere else? The answer is not in the water. Sutton Lib Dems face a dysfunctional and somewhat jaded and aged Tory opposition while Labour remains squeezed out entirely. Sutton Lib Dems began the process of sounding out potential council candidate early and had diversity in mind. The council is widely seen as doing a good job, there are two hard working MPs, and many retired folk deliver Focus leaflets (I suspect the exercise may be more important to some of them than the stuff in the leaflets). And councillors knock on doors all year round, reinforcing the Lib Dem presence to an electorate that don't see any other party until election time.
In London, a city where visible minorities account for over 3,200,000 people, it is surely possible to find more potential members and candidates. Even if just one in a thousand joined, that is 3,200! The fact that we only have nine London BAME councillors, excluding the Sutton cohort, and with just two of African or Caribbean heritage, should give the whole party cause for serious reflection.
The task ahead for the remaining nine months before the general election may be daunting but with the right leadership there is no reason why the faithful cannot leave Glasgow with renewed faith that the collective family of Liberals will be reaching out to all sections of society with something exciting to offer them. But if delegates leave with a Clegg peptalk but no plan to connect with the electorate that will be a massive opportunity missed; the last opportunity to change direction before the election.