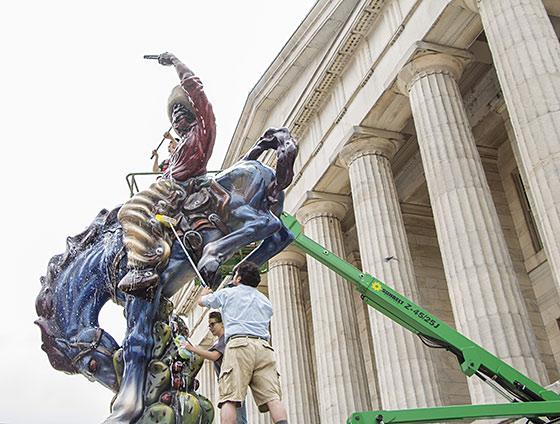 Vaquero, by Luis Jiménez
This past week, the iconic sculpture Vaquero, which was modeled in 1980 and cast in 1990 by Luis Jiménez, received its annual cleaning by museum conservators. A year's worth of acid rain, car exhaust, bird droppings and pollen were removed from the 16-foot-6-inch-tall artwork, and a protective coating reapplied. The vibrant sculpture, which depicts a bucking horse and Mexican cowboy, has become an emblem for the museum since the contemporary take on an equestrian monument was installed at the museum's G Street entrance in 1990.
A team of three objects specialists carefully examined and documented any areas of concern in the fiberglass and acrylic urethane sculpture. Vaquero was then washed from top to bottom to remove grime and residue. Once cleaned and dried, the conservators applied a protective coating of wax to areas of the sculpture that are particularly exposed to the elements. Finally, any sections of the gel coat that were beginning to delaminate and lift from the surface of the sculpture were re-adhered with a specialized epoxy. This preservative treatment prepared Vaquero for its 17th year watching over the museum's entrance.
Did you miss out on this outdoor treatment? Stay tuned to the Lunder Conservation Center's Facebook page for upcoming information on our treatment of Roy Lichtenstein's Modern Head, coming up in June!