This post contains affiliate links which means I receive a commission if you make a purchase using the links in this post.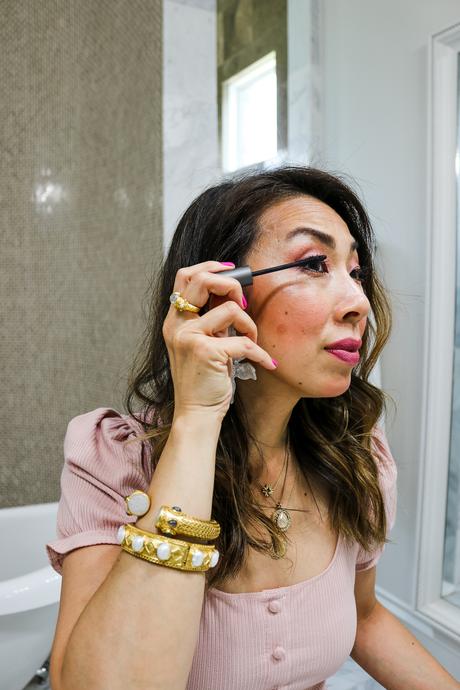 Hey Friends! I'm so excited to share my clean beauty everyday makeup routine with y'all! Keep in mind... I LLOOOVVEEE makeup! (BTW, I used to work at the Shiseido and then Estee Lauder counter in college. Dream come true at the time!) This is what I do as a treat to myself if I have a good 15-20 minutes uninterrupted in the morning. If I only have 5 minutes, then I omit a lot of steps. I can show y'all my FIVE MINUTE makeup routine if you'd like! Just let me know in the comments.
You can watch it on your ipad or desktop computer too! Just click on the pink highlight circle that has "Everyday Makeup Routine" under it. It is in 15 second clips. Also, I realized that I could have added a video to my IGTV (Instagram TV channel) so I may try that next time!
Some things to keep in mind: I'm over 40 so going for more of a hydrated and dewy look versus a matte finish which can show all your fine lines and wrinkles. I have very sensitive skin and an oily T-zone during Summer with occasional eczema/dry patches on my forehead. ( Here is my skincare routine - it's slightly changed.) These are the things that work for me!
I'm breaking it down into different sections so it's easier to read!
COMPLEXION
I've run out of my REN Perfect canvas skin primer, but I normally start with that step. (You can read more about it in this post.) It's silicone free so it doesn't block pores. Hooray! You must wait for it to dry otherwise the foundation can "stick" in certain areas. I put it with my skincare stuff so it's the last part of my routine before I start makeup.
Currently, I'm obsessed with Juice Beauty Phyto-Pigments Youth Cream Compact Foundation (in Sand). I switch between that and Kjaer Weis cream foundation (in Just Sheer). I use the small brush it came with or my fingers to dot in on my face and then use an ARTIS Oval 7 brush to smooth it out evenly. (You can read about my love for them here and here!)
After foundation, I apply W3LL PEOPLE concealer in light to under my eyes, eyelids for a primer, sides of my nose, and any flaws/scars that I want to lessen. It's a light but creamy concealer that blends well. I love that it contains organic algae, coffee, pomegranate and anti-aging peptides which help to depuff and brighten the eye area! I usually apply it under my eyes first and then other places so it has the chance to do it's job!
Then I use a dry BeautyBlender sponge to even it out and apply 100% Pure powder foundation to set those areas.

EYES and EYEBROWS
(Eyelids are primed as stated above.) I LOVE LOVE LOVE the Aether Beauty Rose Quartz Crystal Gemstone Palette. It was developed by Tiila Abbitt, a former product developer at Sephora, and is completely recyclable! Anyhow, ALL colors are absolutely gorgeous in the palette but I've on a pick kick lately so here is how I've been applying it!
Apply Heart Stone all over lids with ARTIS oval 3 brush.
Apply Rose Quartz to the lid portion with ARTIS oval 3 brush.
Apply Aura to under lower lashline (for purply eyeliner effect) with ARTIS Linear 1 brush.
Apply Scorpio to crease of eyes. I apply it above my crease since I have hooded eyes with ARTIS circle 1 brush.
Use ILIA Beauty Silken Shadow Stick in Take On Me at outer corner of eye in a triangle - very eighties but I love the look. Blend with the ARTIS Circle 1 brush.
Line outer half of lower lash line with W3LL PEOPLE liner in black.
Use Juice Beauty Liquid Liner to create a cat eye. I draw a "sideway martini glass" on the outer portion of my upper lash line to make my wings! LOL! I really don't line the top lashline as that can make my hooded eyes look smaller.
I use my ring finger to dot stardust on the inner corners of my eyes - creates a youthful look.
ALWAYS curl your lashes (if they are straight like mine) to make your eyes look more open.
Prime lashes with Jane Iredale lash primer for thicker lashes. Note: they do tend to straighten the curl that I just did.
Add two coats of Ere Perez waterproof avocado mascara.
For eyebrows, I usually just use Juice Beauty Brow Gel in Medium Dark. If I want super defined brows (as I showed you in the video), then I use Zuii Organic Brow Definer in Taupe or 100% Pure Long Last Brow pot to define them first and then follow with the brow gel. I usually draw an outline of my brow and then fill in with short strokes that go in the same direction as my hair growth. You can line under the bottom brow line with a highlighter for a more dramatic effect.

CONTOURING and HIGHLIGHTING
I wrote about an easy way to do it in this blog post. Lately, I've been using the bronzer in my Beauty Counter palette for a contour and brushing it on my forehead, hollows of my cheeks, and under my jawline with the ARTIS Oval 4 brush. Any easy way to think about it is drawing a three on your face and the reverse (an uppercase cursive E) on the other side.
For the highlight (and blush), I've been using a new Kosas Cream Blush & Highlighter Duo in 8th Muse after having it used on me for a photo shoot makeover. Again, I'm OBSESSED. I use the highlighter on the top of my cheekbones, under my brows, down the center part of my nose, and on my cupid's bow. I just use my fingers to apply and blend.

CHEEKS AND LIPS
For cheeks, I use my middle and ring finger to apply cream blush on my cheekbones and then set by patting with a powder blush ( Sappho Beauty in Tutz) with a synthetic brush. You don't have to do that step, but cream blush tends to fade if you don't reapply, and this my trick to keep it long lasting.
After I have applied one coat of mascara, I usually do my lips so the first coat has time to dry. I line my lips using 100% Pure in Cognac (a neutral color) then apply Tata Harper Lip Treatment in Be Smitten. I could stop there but I usually add long-lasting lip color by LAWLESS. Applying the Tata Harper Lip Treatment keeps my lips from getting too dry since the LAWLESS lip colors are matte. First I apply George (neutral brown pink) and then a smidge of Alex (pink) on top! I can go almost all day without reapplying lipstick if I'm careful about the way I eat! #timesaver

And there we have it! This is my everyday makeup! Once you get used to getting a routine down, it goes by very quickly. My 5-minute routine is slightly different and I've ordered a new tinted oil to try for that routine.
Let me know if this was helpful and if you have any questions!! I seriously LOVE makeup. P.S. The picture below is an iPhone shot of my makeup so you can get the full frontal! ;)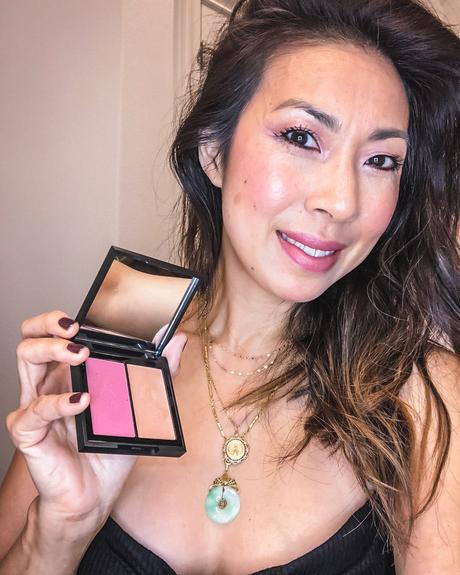 Happy Tuesday Friends! We had such a wonderful weekend with our good friends coming to visit us from Temple, TX. I've decided that everyone who lives there is "good people"! I'm a bit partial since we both did our residencies there and have a lot of friends in that area. Anyhow, this is a crazy work with but lots of fun stuff going on blog-wise! I hope you are having a great week so far!
Thank you so much for stopping by and supporting SOS! I truly appreciate it!
JOIN THE #SAMFAM // SIGN UP FOR THE NEWSLETTER BY CLICKING HERE.
CHECK OUT MY INSTAGRAM SHOP HERE TO SHOP ALL OF MY INSTAGRAM LOOKS!