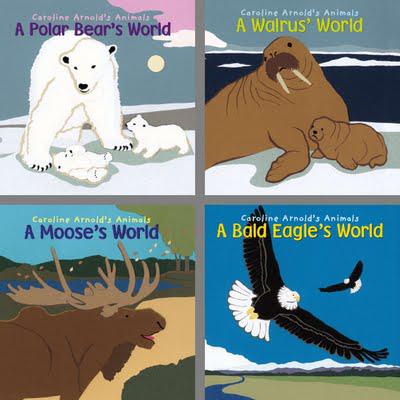 I was pleased to learn that my books, A Bald Eagle's World, A Moose's World, A Polar Bear's World, and A Walrus' World (from the Caroline Arnold's Animals series published by PictureWindow Books) have been awarded The Best Written and Illustrated Suite of Nonfiction for Children by the Children's Literature Council of Southern California.  I will receive the award at the CLC Gala, Saturday, November 5th.  The featured speaker at the luncheon was supposed to be Australian author, Mem Fox, author of Possum Magic and many other best-selling books but she has had to cancel.  Instead, the keynote speaker will be two-time Newbery winner, Lois Lowry.  I have heard her speak before and she is always outstanding.  The CLC (formerly known as SCCLCYP—Southern California Council on Literature for Children and Young People)

is a non-profit organization that promotes greater interest in literature for children and young people and encourages excellence in the production and selection of books in that field. It

will be celebrating its 50th anniversary this year!The annual fall Gala honors southern California children's book authors and illustrators.  Hope to see you there! 
The Gala will be from 12:30 to 4:00 pm, on Saturday, November 5th at the Romanesque Room, 50 East Green Street, Pasadena, CA 91105.  Go to the CLC website for information and to make reservations.