How do you imagine your dream wedding to be? Would you want it dreamy, whimsical or nostalgic, perhaps? Whichever way you like it, for certain, you should have been in a fog in choosing the best among the long list of classic songs you would want to play in your wedding day. To help you out, plug in your earphones, as this article fetch you the oldies-but-goodies wedding songs that will both give you the romantic wedding feels and likewise, take you back in time.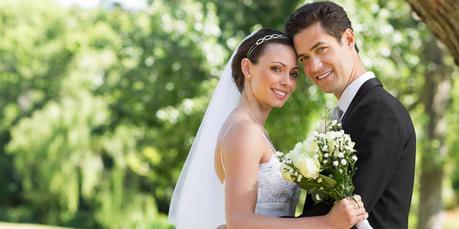 The Way You Look Tonight
This exceptionally lovely song by Frank Sinatra was an Academy winner for Best Original Song way back in 1936 for the movie Swing Time. Ever since then, it always has been mandatory in weddings following the 1942 movie Once Upon A Honeymoon. For sure, you will fall in love with the intro lyrics which are: "Someday, when I'm awfully low, When the world is cold, I will feel a glow just thinking of you. And the way you look tonight."
Moon River
If you and your partner have a love for the timeless classics, then for sure you will love this song. You may have heard it in the well-known movie Breakfast at Tifanny's sung by the ever adorable and iconic Audrey Hepburn. This song is perfect for grand and formal ceremony space, and you may like to play the powerful rendition by the London Philharmonic Orchestra. Admittedly, it will blow everyone off as the harmonica solo will provide the perfect point for the bridal entrance.
Isn't She Lovely
In apprehension to celebrate the birth his daughter Aisha, Stevie Wonder composed the classic song Isn't She Lovely to become a worldwide hit.It usually played as the herald of the momentous arrival of the bride at the wedding reception.
Make You Feel My Love
If you didn't know yet, this is a classic song originally sung by Bob Dylan. But when Adele made a cover on this masterpiece song in her album 19, it gained an outdoing worldwide recognition and eventually, made it to the top wedding songs list. It also made a significant highlight in the film as it was featured in the 2010 US rom-com movie When in Rome.
Endless Love
Superstars Diana Ross and Lionel Richie's Endless Lovehas been synonymous with wedding ceremonies. When these two souls and voices combine, it vents out the essence of true love becoming a picture-perfect wedding soundtrack. It was the official music of Endless Love, the movie, but it outshined the film when Ross' 1981 single topped the Billboard chart to become Ross' maximum selling record. The song itself truly is endless.
Can't Help Falling In Love
From Elvis Presley's movie Blue Hawaii in 1961, Can't Help Falling In Love has always been in attendance to weddings. The song's wondrous melody is based on the 18th-century French love songs. Presley's magic touch had its way of immortalizing the song although there were numerous covers present herein today. The King's resonant tender rendition led the chart in 1962. This enduring classic is just so perfect for wedding ceremonies as it transcends every listener to that peak of romance and to that of dreamy euphoria. Recently, it became the soundtrack of the film Crazy Rich Asians where it was played in the wedding scene as the bride walks her way to an exceptionally watery aisle.
From This Moment On
This country-pop ballad is a must-played song in weddings around the world. The song was stapled in the name of the country music superstar Shania Twain in her 1997 album Come on Over. The dynamics of this song lets you feel soaring emotions that will give you tears of joy. Distinctively, the best thing about this song is the lyrics were fashioned out to be just like a wedding vow starting from the very beginning: "From this moment, life has begun. From this moment, you are the one."
My Heart Will Go On
Just like the title, Titanic's theme song went on and on through the years. It makes a fittingly beautiful wedding song as it conveys a message of unyielding love to the newly-weds. Its worldwide appeal made the song Celine Dion's biggest hit with some 50 million copies sold, making it one of the greatest singles ever. Feel in love with the promise of loyalty that the song brings: "Near, far, wherever you are. I believe that the heart does go on."
I Will Always Love You
As the timeless theme song of the film The Bodyguard, I Will Always Love You was considerably Whitney Houston's signature song. This single earned an astonishing success selling more than 4 million copies in the United States alone. The song is impossible to forget as Houston delivered this spheres ballad with all-out emotions. Music lovers and moviegoers cannot resist it, and neither wedding singers and music DJs.
Time After Time
Singer-songwriter Cyndi Lauper's voice never sounded better than it does in on this tender ballad that catches the heart of the world. This song was Lauper's first number 1 hit in the United States. It is lyrically a song of devotion, that is why it is fir for weddings. Happy tears are sure to flow as you hear the promise of lyrics: "If you're lost, you can look, and you will find me. Time after time."
Music will always play a huge part in everything we do, especially on the most romantic day of our lives—our wedding day. List down your top classic wedding songs picks and send it as a must-play list to your wedding DJ. You would want everything to be perfect, from the decorations to the music arrangements, or even in choosing the best mats for turntable that the DJ will use. Weddings are just once in a lifetime. But the special memories that come with it are timeless, like the classic songs that inspire a lot of people to believe in the power of love.