Original content: Classic Rock Wedding Songs To Rock This Party
If you are a rocker at heart and can't imagine having your event without some rock music, then you might consider a few classic rock wedding songs for your big day. From your procession to recession, first dance and even last dance, we have more than enough romantic classic rock songs to fill your playlist.
ADVERTISEMENT
We have here some of the best classic rock wedding songs to inspire you when creating the list for your wedding songs. The classics hold the type of music that is easily remembered and loved by all. Watch as each of these tunes pull your guests to the dance floor as they sing along.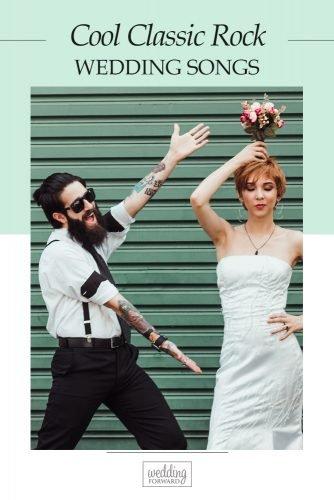 classic-rock-wedding-songs-couple-newlyweds-doing-silly-pose-334x500.jpg', null)" data-vars-social-target="https://www.weddingforward.com/feed/ -> classic-rock-wedding-songs-couple-newlyweds-doing-silly-pose-334x500.jpg" href="https://www.pinterest.com/pin/create/button/?url=https://www.weddingforward.com/classic-rock-wedding-songs/&media;=https://www.weddingforward.com/wp-content/uploads/2019/12/classic-rock-wedding-songs-couple-newlyweds-doing-silly-pose-334x500.jpg&description;=Classic%20Rock%20Wedding%20Songs%20To%20Rock%20This%20Party%20%E2%98%85%20classic%20rock%20wedding%20songs%20couple%20newlyweds%20doing%20silly%20pose" rel="nofollow" class="icon-pinterest pin-nd">Pin It
classic-rock-wedding-songs-couple-newlyweds-doing-silly-pose-334x500.jpg" rel="nofollow" onclick="ga('send', 'social', 'Facebook', 'SC - Btn Click','https://www.weddingforward.com/feed/ -> classic-rock-wedding-songs-couple-newlyweds-doing-silly-pose-334x500.jpg', null)" class="icon-facebook wwm_socialshare_imagewrapper facebook_custom">Facebook
1. "You Really Got Me" by The Kinks
If you're looking for a non-traditional song for your wedding, then consider this classic rock wedding song with its iconic riff. A tune that your guests will instinctively remember and enjoy singing to, it can be used in any part of the wedding, from procession to exit.
2. "No One Knows" by Queens of the Stone Age
From our list of best rock wedding songs, we bring you this sentimental number. This song has the perfect lyrics if you are searching for romantic songs for her that will be loved by all at your wedding.
3. "Brown Eyed Girl" by Van Morrison
This popular classic is a must for any wedding that has a brown-eyed bride. Apart from being a beautiful top rock wedding song, it is one that is loved the world over, and will definitely be loved at your wedding. This number from Van Morrison is great for a first dance but will also work for a father-daughter dance.
4. "She Drives Me Crazy" by Fine Young Cannibals
For the couple who is crazy in love, this 80s number is a great rock classic to have play at your wedding. A perfect song to dance to, be it for a first dance or when you open the dance floor to your guests.
5. "Marry Me" by Train
This is a major classic rock wedding ceremony song that is perfect as a non-traditional processional tune. The walk down the aisle will never be as memorable, as when you use the song, "Marry Me", as the soundtrack that leads your bride all the way to you.
6. "White Wedding" by Billy Idol
If you're looking to add some good luck to your big day, then consider including this song to your wedding playlist. A song that tells everyone how nice a day it is for your white wedding is definitely one to consider for such a day as this one.
7. "I'd Do Anything for Love (But I Won't Do That)" by Meatloaf
Anyone searching for classic rock wedding reception songs will definitely come across this priceless number from Meatloaf. We have no idea what he won't do for love, but we know he would do just about anything, and that is good enough.
8. "Love Her Madly" by The Doors
Another number that is great for two people in love, particularly the groom. If you love your bride so madly that you would love to express it in song, then consider this number by The Doors. As one of our favoriterock n roll wedding songs, it stays at the top of our list and should be in yours.
9. "I Don't Want to Miss a Thing" by Aerosmith
A love story would be incomplete without this beautiful classic from Aerosmith. A song that is just as good, if not greater than the collection of new wedding songs out there. When trying to express your love for your partner in a first dance, you cannot go wrong with "I Don't Want to Miss a Thing".
10. "Iris" by Goo Goo Dolls
Any rock fan would enjoy using this song for their first dance. If you're in need of a number of soft rock wedding songs to add to your playlist, then consider this sentimental number from Goo Goo Dolls. A sentimental tune that is sure to rock your world.
11. "How Sweet It Is (To Be Loved by You)" by James Taylor
Another one of our rock songs for wedding reception that shouldn't escape your wedding playlist. This is a more upbeat number with the right lyrics and a beautiful tune that will lead your guests onto the dancefloor, singing along as they do.
12. "Wild Horses" by The Rolling Stones
If you know that even wild horses couldn't keep you away from the one that you love, then you need this song playing at your wedding. If you would love to have Rolling Stones wedding songs, this number is at the top of our list of favorites.
13. "Shut Up and Dance" by Walk the Moon
A perfect song for the dance floor, this number from our list of rock and roll wedding songs is sure to get the party started at your wedding reception. It is not one to overlook when making a playlist of rock love songs for weddings.
14. "On Call" by Kings of Leon
One of the best rock songs for weddings if you're looking for something meaningful and sentimental. This number by Kings of Leon talks about being all there for someone, and it what you would want for the one you love, to be "On Call", always.
15. "Starlight" by Muse
A truly pretty song, this is one that would be great for an outdoor wedding. And appropriate for the wedding reception where you could have some dancing underneath the stars.
You won't need to look far for classic rock wedding songs for your big day. We have here a comprehensive list to inspire you, from memorable classics to use for your procession, to sentimental numbers that will guide your very first dance.